How to Plant, Grow and Use Chamomile
Learn to grow and care for chamomile in your garden and use it for herbal tea, hair care, natural dye, floral arranging and more.
Keep in mind: Price and stock could change after publish date, and we may make money from these affiliate links.
Chamomile is the common name for a few plants in the Aster Family, including German chamomile, Roman chamomile and dyer's chamomile. With daisy-like blooms and feathery leaves, these beautiful and incredibly useful plants add graceful color to the herb garden, cutting garden, dye garden and to container plantings; chamomile has been used for centuries in making herbal medicine, beauty products and natural fabric dye and in floral arranging. The fragrance is often described as apple-like, and the name chamomile refers to the word for apple in Greek.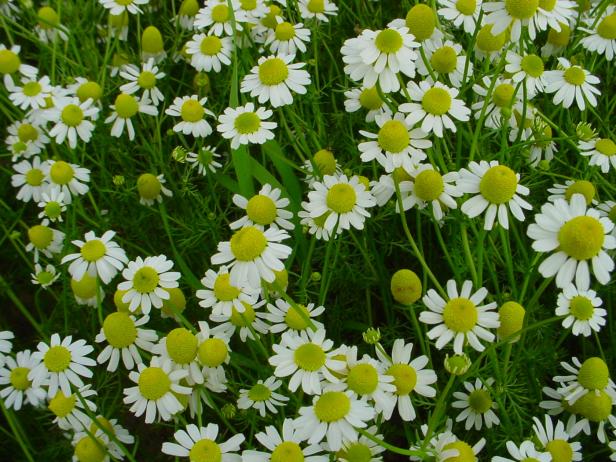 Chamomile
Dried chamomile flowers, which are rich in antioxidants, can be steeped in hot water to make an earthy-tasting tea. The herb is also said to help with insomnia and indigestion, and its anti-inflammatory properties may even protect against certain kinds of cancer. If you don't want to drink chamomile tea, dab it on your skin to help fade spots, fight breakouts and guard against free-radical damage.
Ball Horticultural Company
German chamomile (Matricaria camomilla or Matricaria recutita) – Annual, with an upright habit and profuse white-and-yellow blooms, good for making tea.
Roman chamomile (Chamaemelum nobile) – Low-growing, leafy perennial, the "original chamomile" doesn't produce as many blooms, makes a good groundcover.
Dyer's chamomile (Cota tinctoria) – Perennial, its all-yellow flowers are best for making dye.
Wild chamomile

(Matricaria discoidea) – Also known as pineapple weed, native to Asia and naturalized in the U.S., grows along roadsides and other disturbed areas, not grown in gardens.
While German chamomile is an annual, Roman and dyer's chamomile are considered perennial in zones 4-7, but they are short-lived perennials and often grown as annuals, re-sowing seeds every year or two or allowed to self-sow. Chamomile can be grown from seed easily and self-sows vigorously. Sow seeds in well-draining soil in late winter to early spring. The seeds should germinate in a couple weeks and plants will flower in spring and summer.
Chamomile grows best in full sun but will get leggy and bolt in hot summers. Sow early in warmer climates to allow the plant time to bloom before the heat of summer. In hot climates, you can also grow in a little shade, but not too much.
This easy-to-grow herb doesn't require a lot of water or fertilizer. In fact, avoid growing chamomile in nitrogen-rich soil or adding fertilizer, which can promote more leaves and fewer blooms.
Companion Planting With Chamomile
Like marigolds, chamomile is known generally as a good companion plant for most anything in the vegetable and herb garden. In fact, it used to be known as the "plants' physician" for its ability to promote the health of other garden plants. It attracts beneficial insects including helpful flies, wasps, beetles and bees, and the strong scent of chamomile can be used to mask pest-prone plants from their insect attackers. Chamomile also makes a good companion for harvesting and using in teas and health and beauty projects with other fragrant herbs. Consider planting chamomile alongside:
Broccoli
Brussels sprouts
Cabbage
Cauliflower
Cucumber
Dill
Lavender
Mint
Peas
Potatoes
Roses
Squash
Tomatoes
Johnny's Selected Seeds
In commecial growing operations, chamomile flowers are harvested with an actual hand-rake. In your own garden, mimic this method by "raking" with your hand.
Pick flowers when fully open and fragrant. You can snip them off individually or try raking your hand through the blooming tops of plants to remove flowers in bulk. You can use chamomile blooms fresh but they're most often dried.
Dry flowers in a warm, dry environment. You can dry them on a screen to promote good ventilation. Once flowers are dried, store them in an airtight jar.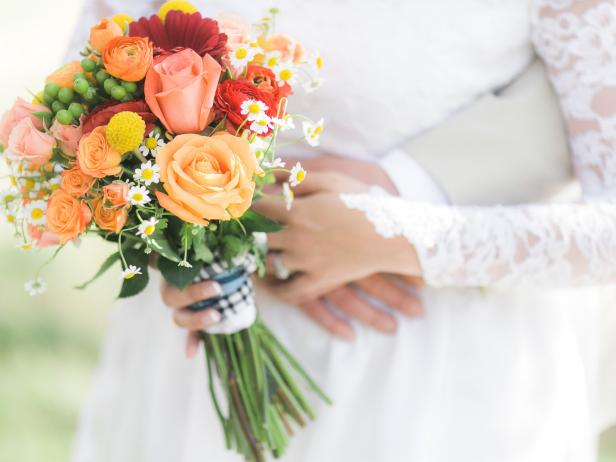 Spring Wedding Bouquet With Mix of Ranunculus, Billy Balls, Roses and Chamomile
This bride's bouquet includes a gorgeous blend of spring colors, including peach and red ranunculus, yellow billy balls, peach roses and chamomile. The arrangement is bright and colorful, perfect for a spring wedding, and it complements the lovely femininity of the lace details on the dress.
This bride's bouquet includes a gorgeous blend of spring colors, including peach and red ranunculus, yellow billy balls, peach roses and chamomile. The arrangement is bright and colorful, perfect for a spring wedding, and it complements the lovely femininity of the lace details on the dress.
There are so many documented ways to use chamomile in the kitchen, medicine cabinet, beauty and wellness routines and crafting. Here are some favorites.
Chamomile makes a sweet, delicate and fragrant addition to the cut flower garden and to floral arrangements. HGTV.com Editorial Assistant and floral designer Morgan Faulkner offers these tips for using chamomile in flower arranging:
Because chamomile holds up best with a water source, use it in a vase arrangement for a long-lasting display. Make sure to remove any excess foliage or blooms that will sit below the water line to ensure the water stays clean.
Chamomile is a great "filler" flower to include in arrangements. It pairs well with sunflowers, blue delphinium and thistle for a wildflower look as well as cabbage roses, peonies and dahlias for a garden-style arrangement.
The beauty of chamomile is its versatility. It's a popular addition to wedding bouquets but can also be a stunning display by itself. Give an arrangement featuring the bloom to a friend to brighten their day or add a few stems to a spring tablescape for a happy addition.
For bouquets, nestle the stems between larger blooms or around the edge for a whimsical addition. Avoid using chamomile in corsages or boutonnieres as they have a high chance of wilting without water.
Chamomile is perfect for "picked-from-the-field" wildflower bouquets with lots of texture and organic style.
Chamomile is known to promote relaxation and better sleep, and it's used as a calming tea as well as in massage oils and bath soaks.
How to Make Chamomile Tea: Add 1 teaspoon dried flowers, or 2 teaspoons fresh flowers, per cup of just-boiled water. Steep for up to 20 minutes. Drink at nighttime or anytime to promote rest.
James Young, co-owner of Grand Prismatic, says dyer's chamomile is just as easy to grow as other chamomiles. "It does well being directly sown in the garden or started indoors for transplanting," James says. "Unlike culinary varieties like Roman and German chamomile that are surface sown and require light for germination, we lightly bury our dyer's chamomile seeds right below the soil's surface, and thin or transplant the seedlings to 1-foot spacing. When the plants start to bloom, heavy harvest will encourage increased flower production."
Grand Prismatic Seed
With bright yellow petals and centers, dyer's chamomile is grown specifically for making a natural dye that produces beautiful butter-yellow pigment.
When harvesting for dye, it's important to pick at the right time. "We pick the flowers once they fully open, and before they start to drop their ray petals," James says. "You can use the flowers fresh or dry them for later use. When drying flowers, make sure to store them away from direct sunlight to avoid sun bleaching of the pigment."
How to Make Chamomile Fabric Dye: James shares his tips for make a chamomile dye bath.
For dyeing with dyer's chamomile, the pigment needs to be extracted in hot water.

Add dried or fresh flowers to a non-reactive pot and bring the heat up to a very light simmer, or right below simmering for about an hour. Boiling dye plants can destroy pigment, so you need to closely monitor the temperature.

After an hour, use a strainer to remove the flowers.

After the dye bath is strained, you can add your mordanted natural fibers, and bring the temperature back to a low simmer for another hour while occasionally stirring your fibers.

When using wool, make sure to gently stir, and raise or lower the temperature very gradually to avoid felting.
Chamomile can brighten blonde and light-colored hair and has been used as a highlight-enhancing hair rinse for centuries.
How to Make Chamomile Hair Rinse: Add four teaspoons dried chamomile flowers to one quart water. Bring to boil, then simmer for 15-20 minutes. Strain out the flowers and keep the remaining infused water. Use a cup at a time to rinse hair after shampoo and conditioner, bringing out natural highlights. Makes about four applications.