Tips for white kitchen cabinets make the whole kitchen sparkle like new.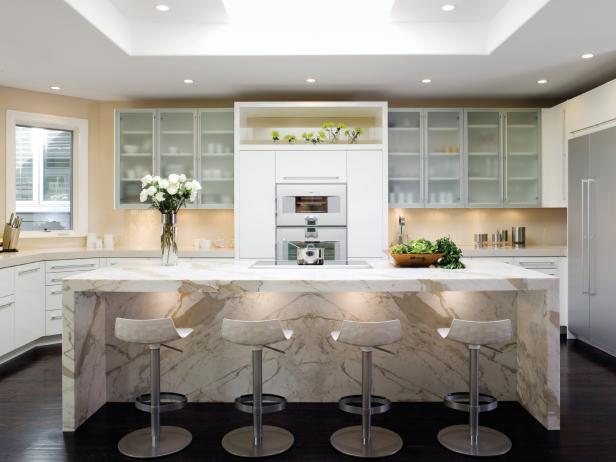 Contemporary White Kitchen With a Waterfall-Style Calacatta Marble Island
Clean and contemporary describe this beautifully composed open-concept kitchen. Frosted glass cabinet doors, neutral walls and an abundance of natural light are grounded by dark wood flooring. A Calacatta marble island with waterfall sides is illuminated by puck lights and serves as an artful anchor for this space.
White kitchen cabinets are easily the most popular color choice, and there is something special about the color white. It's like a new start on life for your kitchen, where everything sparkles and looks clean, wholesome and fresh.
Kitchen Cabinets
Learn more about beautiful, efficient kitchen cabinets.
So versatile is this color, it can be paired with anything. It's interchangeable and complements any style, tone and attitude.
For a throwback retro look, go with glossy white cabinets and a high-gloss red island in the center. Finish the look by adding shiny new red and stainless steel appliances. Or maybe you prefer the more subdued, cool and calm look of a muted white paired with a pale green or blue. Or maybe the bold contemporary look of white cabinets on top, black cabinets on bottom, with black countertops, stainless steel accessories and black-and-white checkerboard-patterned flooring is more your style.
Whatever your preference, the possibilities and choices are endless when white is the dominant color. Personally, I love the sunny, fresh look of white kitchen cabinets and countertops complemented by yellow walls and orange accessories, with an orange island in the center. Black trim rounds off the look nicely for a bold contrast that is fun and energizing, but not overdone.
Another popular choice is to go with all-white everything and just accessorize with a complementary pattern or color, like red or orange or yellow chairs, a cookie jar, a knife rack, blender, etc., just to add a touch of color to break up the monotony while maintaining the integrity of the clean, crisp look of white.
And then there's the regal look of all-white cabinets and countertops with only dark wood floors to contrast it, or the more subdued look of white cabinets on top with muted, calm blue-green teal or gray countertops and bottom cabinets, accessorized with white tiled walls.
Muted colors go really well with white if you want color that doesn't upstage it, merely complementing the white for a functional and interesting kitchen. If you do choose a bold color, like red or black, just be sure to balance it out so it doesn't overwhelm the senses. Too much red, and it hurts the eyes and gets the heart racing. Too much black and you've got a depressing dungeon-like tomb.
This is what is so wonderful about white. It gives just the right balance to lighten and tone down any color so that it just works. It truly is the perfect color for any personality and accommodates even the quirkiest left-of-center tastes.
Other Kitchen Cabinet Colors and Finishes
Kitchen Cabinet Inspiration