Painting Kitchen Cabinets Antique White
Get ideas for painting kitchen cabinets antique white.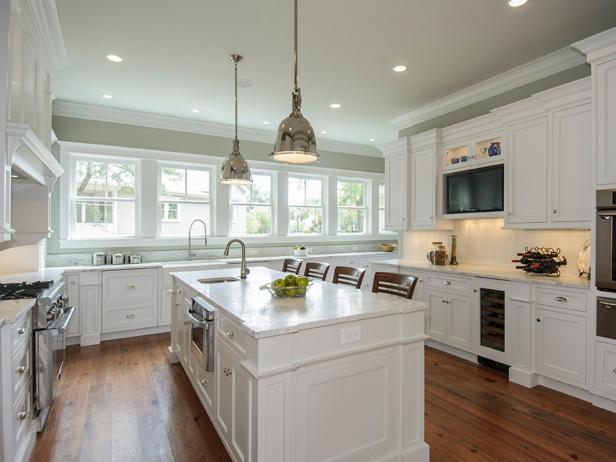 White Cottage Kitchen With Metal Pendants
Pale gray-green walls make a serene backdrop against the crisp white cabinetry of this cottage kitchen. The hardwood floors add a note of warmth to the cool color palette.
John D Smoak III, John D Smoak III
Since cabinets are such an important part of a kitchen, it's important to have some in a style and color you love. Consider painting your kitchen cabinets antique white for a color that works well in a variety of styles.
A creamy or antique white is a great neutral choice that will look good on cabinets in most kitchen spaces. Antique white kitchen cabinets can create a dreamy vibe in your kitchen and are a great way to calm a usually hectic space. If cabinets feel very old and outdated, use faux finishes to enhance this look in a cool way.
Choosing the right white for your kitchen cabinets can be an overwhelming process since there are so many different shades to choose from. Whites that feel stark or cold will work well in a more modern space with bold colors while antique shades will shine in vintage style or country kitchens. To select the right white, look at the other colors and furniture in your room and choose the white that works well with these other elements. If you want to keep things neutral, use antique white on all of your cabinets. If you want to inject a little color, consider using gray, beige, blue, yellow, or green on your bottom cabinets.
Glazing and distressing are two techniques that can also be used to give your cabinets an antique look. To glaze your cabinets, you'll create or choose a glaze mixture and brush it onto your cabinets using a paint brush or foam brush. You'll need to repeat this process until you get your desired look; it can take a while.
Distressed cabinets appear older than they are and work well in a shabby chic space. When distressing your cabinets, roughen them up using a key to create lines and indentations. An ice pick or fork can also work to create holes in the surface, or you can strike the cabinets with a chain to create indentations and other imperfections. Sanding can also give cabinets a worn appearance, especially if your cabinets are painted.
A crackle finish can make your cabinets look like the paint is old and sun-cracked. Paint your cabinets with a store-bought crackling medium and let it dry. While the medium dries, it tends to shrink or crack and will make your cabinets look old and aged.
Ideas for Painting Kitchen Cabinets
Kitchen Paint Color Inspiration