Learn about the features seen in the highest quality kitchen cabinets as you imagine the luxurious entertaining space of your dreams.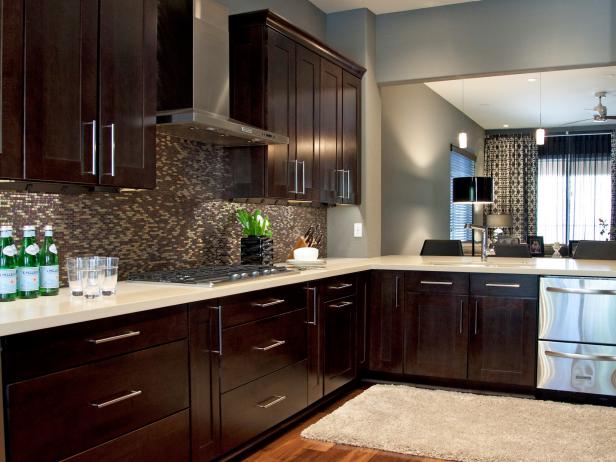 HSTAR7_Britany-Simon-Black-Gray-Contemporary-Kitchen-2_4x3
The client for this complete home renovation requested a luxurious, modern feel. The high-end kitchen remodel features warm walnut floors, dark espresso cabinetry and quartz countertops. Britany tied the look together with a modern glass and metal backsplash.
As you begin your kitchen remodel, one aspect that will become readily apparent is that quality kitchen cabinets are an essential element of your design.
Not only do quality kitchen cabinets serve the important practical purpose of storage, but they take up the most amount of real estate in your kitchen. This means they'll play a big role in determining the overall look of your space.
In general, the quality of the cabinets you choose will be determined by your overall budget for the project. There is a wide range of cabinetry available in the market today, from the highest-end custom cabinetry to the ready-to-assemble or stock kitchen cabinets you can pick up at your neighborhood retailer. Materials and labor go a long way in determining cost, as do the additional features and accessories you add to your cabinetry.
The highest quality kitchen cabinets are typically a combination of high-end materials, quality workmanship, and unique finishing touches. Materials used to create quality cabinets tend to be the more luxurious ones found on the market.
Wood is more expensive than any of the composite cabinet materials available, and solid wood doors and drawer fronts are typical in high-quality cabinets. Examples of the more luxurious woods used in quality cabinets are cherry, mahogany, chestnut and cypress. These woods are durable, naturally beautiful, less common and therefore significantly more expensive to use.
When considering the quality of your kitchen cabinets, the insides matter as well. The boxes of cabinets themselves are often made of particleboard or even medium-density fiberboard (MDF). These compressed-wood options are often used by cabinet builders to reduce the cost of the project. In high-end cabinetry, you might find solid-wood cabinet frames as well as doors; however this drives up the cost of your cabinets significantly. Regardless of the material used, the insides of high-quality cabinets should be smooth, not rough to the touch, with shelves at least three-quarters of an inch thick. Dovetail construction is recommended over glued joints to provide cabinets that hold up to heavy use. This mortise-and-tenon or dovetail joinery is seen in the highest-quality cabinets and will definitely drive up the cost of your remodeling project.
In terms of finishes and accessories, high-end cabinets will have the most bells and whistles. Unique color-matched finishes are available with custom cabinetry, along with hand-painted faux finishes, glass-paneled doors, and decorative wood carvings. Additionally, internal accessories such as lazy Susans, gadget garages, recycling bins and spice or wine racks can be added to meet the homeowner's unique functional needs. High-end hardware is also found on the highest-quality cabinetry, often made of unique materials and high-end metals.
If you are someone who lives to entertain, quality kitchen cabinets should be considered as they give off the high-end kitchen vibe that is appealing to discerning homeowners. Custom cabinetry is made to order and offers the most diversity in style and finishes. They are one of a kind and are therefore tailored to each unique kitchen in which they appear. Quality construction and unique finishes and accessories allow a personalized style and beauty that costs more but will give you a truly luxurious dream kitchen.
More Kitchen Cabinet Options
Kitchen Cabinet Inspiration