Learn about the different options of modern kitchen cabinets and how they translate into a spacious and airy dream kitchen.
Modern design can mean different things to different people, but in general if your design style is less traditional and more contemporary, you may favor using modern kitchen cabinets in your remodel.
The Origin of Modern Kitchens
Modern design started around World War I and featured flat surfaces, geometric forms, and minimal ornamentation. Modern kitchen cabinets are characterized by this sleek, more angular design with a simplicity in their doors and frames. Recent modern design reflects a trend towards midcentury modern furniture, which features bold angles and curves. This design can be translated into modern kitchen cabinetry as well. Modern kitchen islands can harbor modern cabinets that reflect this angular or curved look and also feature up-to-date components to store cookware and dishware.
A Focus on Man-Made Materials
Modern Kitchen With Flat Front Walnut Cabinets and Stainless Steel Appliances
This updated kitchen features flat front walnut cabinets paired with sleek white stone countertops. Stainless steel appliances and natural hardwood floors complete the look of the space.
Materials common in modern kitchen cabinets are often man-made and can include metal, plastic, concrete and glass. Semi-opaque or frosted glass is definitely a popular look for modern kitchen cabinets. Replacing old cabinet doors with frosted glass ones is a simple and cost-effective way to make your kitchen more modern. Modern kitchen cabinets can also be faced with wood veneer or plastic laminate. To achieve the characteristic modern look, you can use wood veneer with an exaggerated horizontal grain pattern. Mixed materials are also featured in modern kitchen design.
While traditional kitchen cabinets tend to be made of one type of wood throughout, modern kitchen cabinets can combine materials like wood, laminates, glass and metal to achieve a more unique feel.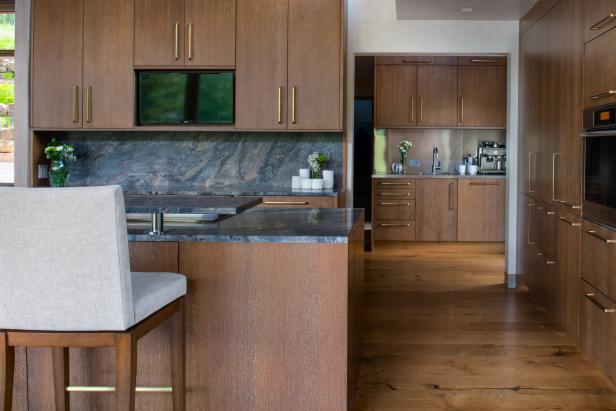 Contemporary, Rustic Kitchen With Sleek Wood Cabinets and Gray Granite
This contemporary, rustic mountain kitchen features sleek wood cabinets, gray granite countertops, minimal brass hardware, and white walls.
Wood Veneers and Bold Colors Often Define Mod Kitchens
Color is another unique feature in modern kitchen cabinets. While the natural colors of wood veneer are popular in this design aesthetic, so are bold, less traditional colors. Deep reds and blues and fluorescent yellows, oranges and greens can be been seen in more daring modern kitchen designs.
Simplicity and Lack of Extraneous Detail Is Key
Regardless of the color or material used in your modern design, the most important thing to consider is the shape and form of your cabinet doors. Modern kitchen cabinets feature flat slab doors that avoid excessive details. No crown molding, raised panels or decorative carvings are seen, emphasizing flat, sleek surfaces instead.
The simplicity of a modern kitchen design allows for a more spacious and airy feel in your kitchen. Therefore this design style is favored among those with lots of windows in their kitchen as well as those with few. Homeowners who are working with small angular spaces may favor the look and function of modern kitchen cabinets as they favor function over ornamentation.