Kitchen Cabinet Paint Colors
Your personality will really shine through with the paint colors you choose for your kitchen cabinets.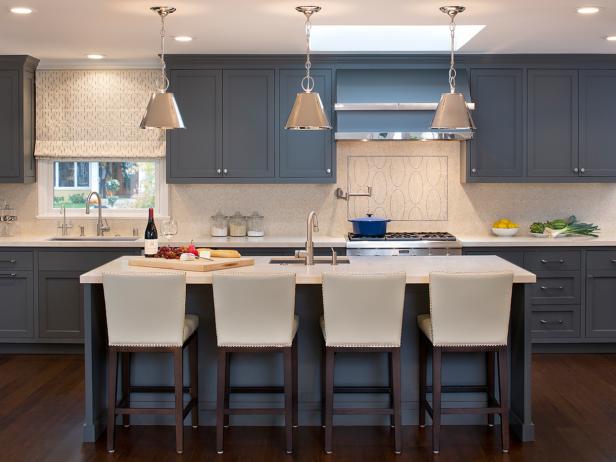 Transitional Kitchen With Blue Cabinets and White Barstools
A white tile backsplash provides contrast to the blue cabinet color. A row of white barstools complements the white backsplash and countertops while chrome pendant lights over the large island add an industrial flair to this sleek space.
Your color choices set the tone throughout your home. Choosing kitchen cabinet paint color is about as personal as it gets, and it will make or break how you feel each time you step into your kitchen.
The best way to narrow down a decision is to look at color palettes from various paint manufacturers and see which colors stand out for you. You'll know which one you like most by the smile it puts on your face. Once you decide on a dominant color, you can narrow it down even more by choosing the complementary colors for trim and accents that are provided for you on the color wheel. Narrow down your color scheme and you're halfway to getting your beautifully updated kitchen cabinets. Now you can decide on what style and tone you want those colors to represent and choose your finish accordingly.
See gorgeous designer kitchens where color is highlighted through the cabinetry.
Do cool greens and blues make you feel relaxed and at home, or do they fade into the background, barely noticed? Does red energize you and make you feel alive, or does it set you on edge unable to get comfortable? Maybe black cabinets with white walls and countertops are more your style. If you like the warmth and tradition of deep reds, browns and golds, then these are the dominant colors to start with. Just be sure to balance it out with lighter walls and accents so the room isn't too dark or overwhelming. If you're more into sunny yellows and oranges, then begin with these colors. White is always a good choice, as it is the most popular for kitchen cabinets, and blue accents add a fun and calming effect for a two-toned look.
Neutrals, like white, beige and gray, work well for a clean, understated modern look—or you can create something funky and eclectic with stripes or an unusual color trim. If you go with a bold color, use it sparingly for the most dramatic effect. To do a two-toned look with one color on the top cabinets and a different color on the bottom cabinets, be sure to put the darker color on bottom to anchor it. For the two-toned effect of two colors on the same cabinets, use the lighter color as the accent, such as in the recesses and center panels for an interesting effect. Color is as varied and unique as you are, so have fun picking the combination that is just right for you.
Kitchen Cabinet Inspiration