These tips on green kitchen cabinets will help you transform your kitchen into a gathering place your whole family will love.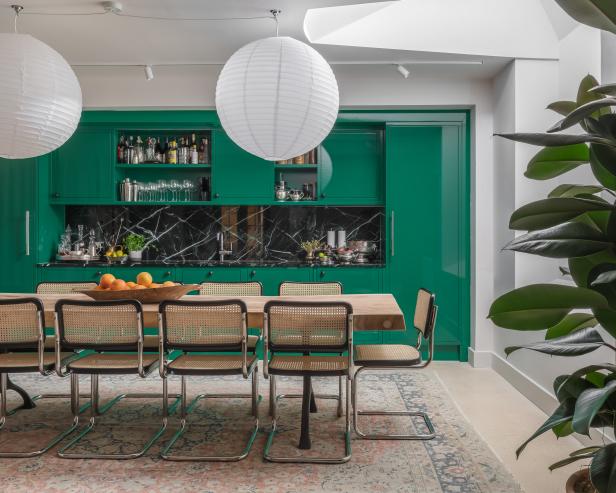 A Green and White Kitchen in London Co-Living House Mason and Fifth
People around the world have experienced a whole new level of isolation since the start of the pandemic, yet those who live in cohousing communities seem to have fared better, according to a study published in late 2020 by the journal Interpersona. The study's researchers analyzed people living in Germany during lockdowns of 2020 and found that cohousing residents had less depression and anxiety and even fewer eating disorders than people living in traditional neighborhoods.
It is only fitting that green kitchen cabinets, which reflect the color of renewal and rebirth, should be dominant in the room of the home that's specifically designed to sustain life.
Like bringing the heart of the outdoors into your home, green is everywhere—and finding a shade you will love for your kitchen cabinets is as simple as taking a look around wherever you happen to be standing. It is the vibrant color of limes, Granny Smith apples, grass and the leaves on trees; or the cool, calming subtlety of celery, jade, sage and mint; or the deep bold combination of warm and cools in the color of olives, cucumbers and avocados. The list of greens in nature is endless, and their complementary shades are as bountiful as nature itself.
To create a kitchen with green cabinets is to create a sense of calm, good health and good times in the most popular room in the house. Whether you decide on the cool, calming look of a subtle creamy green complemented by a white subway tile backsplash or the warm, deep, rich traditional opulence of olive green trimmed in a snowy "polar bear" white with dark-stained pine wood floors, green is universal and always welcome; it immediately puts any guest at ease. Conveying a natural organic look and feel, green creates a smooth transition between outdoor and indoor spaces, blending a kitchen loaded with plenty of windows and natural light with a connecting outside deck or even a small breakfast nook.
Mix up your color palette with the calming pale of celery on your kitchen cabinets and intersperse it with an unexpected deep violet or a candy apple red cabinet here and there for a touch of surprise. Turn a monochromatic sage into a daring and fun showpiece by adding a cabinet or two in a complementary rainbow of stripes. Apple green cabinets on top accented with white walls, white countertops and white bottom cabinets—and complemented by a shiny, high-gloss wooden floor painted the color of a light blue sea—gives your kitchen the bright airy feel of being at the ocean and boldly walking on water. Go retro with pale mint accented with stainless steel and Formica countertops and tables, or futuristic and modern with green cabinets and bright red accents. Pair your green with the warmth of yellows or the cool of blues, or a mixed combination of both.
Other Kitchen Cabinet Colors and Finishes
Kitchen Cabinet Inspiration