Learn about the different options for country kitchen cabinets and how they translate into a warm and cozy dream kitchen.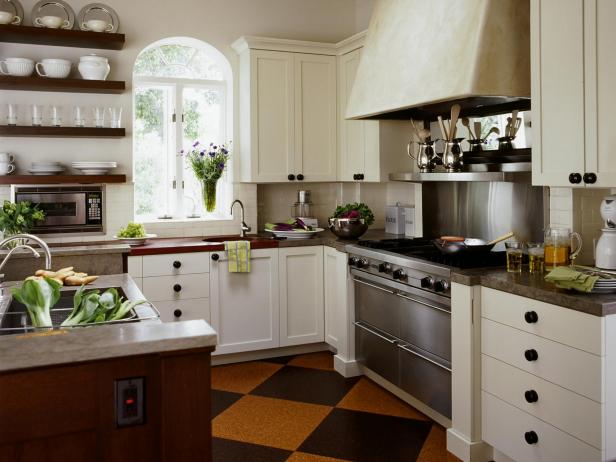 White Country Style Kitchen
This kitchen features 10-foot ceilings, limestone counters and a work surface made of African bubinga wood. The Venetian plaster range hood, simple cabinets and floating shelves evoke an earthy English cottage look.
Country kitchen cabinets are meant to be warm, comfortable and inviting with a timeless, natural appearance. They fall under the traditional kitchen design category and use specific cabinetry to complete the signature country look.
Because country kitchens are meant to be used rather than admired, cabinets are usually made with durable, lasting materials such as wood.
Pine is a popular wood choice as it displays the visible knots and wood graining that country cabinets are known for. Pine is also readily available and budget friendly. The only con to using pine is that it is a fairly soft wood and can dent and scratch easily. Cherry, oak, maple and hickory are also popular wood choices for kitchen cabinets. They come in a wider range of colors and costs but are more durable than pine, so they may hold up better in a well-used country-style kitchen.
Painting and glazing wood cabinets is also common in country kitchens. Charming colors such as butter yellow, cream, mint green or light blue are common. Distressing techniques, milk paint and glazes may be applied over paint to enhance the country look further.
In terms of cabinet style, raised-panel doors, beadboard, and decorative panels such as stained glass, wire or tin are commonly seen. These added features give warmth and character to your cabinets and also allow charming country collectables to be displayed and to show off your own personal taste.
As final flourishes in your dream country kitchen, consider leaving some open shelves to give a warm look and to display unique family antiques or collectibles. Also you may choose to leave off cabinet doors under your sink and replace the doors with a fun patterned curtain to cover the open space. Finally dress up your finished cabinet doors with antique metal hardware such as rubbed brass, wrought iron, bronze or glass.
Country kitchens often evoke a down-home, charming feel for homeowners, family and guests. Cabinets are given decorative colors and flourishes to accentuate this charm, leaving anyone who enters with the desire for a cozy cup of tea and a warm slice of apple pie.
More Kitchen Cabinet Styles
Kitchen Cabinet Inspiration