Kitchen Cabinet Colors and Finishes
Find helpful tips for choosing colors and finishes for your kitchen cabinets that reflect your personality and style.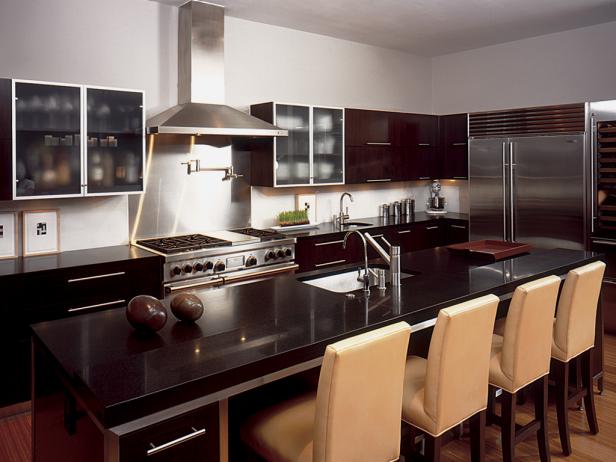 august_modernkitchen_4x3
Dark walnut cabinetry, paired with thin bar-style door and drawer pulls, builds a modern foundation for this kitchen. Materials such as stainless steel, custom glass backsplashes and granite further the modern aesthetic while remaining elegant. Butter yellow hand-tipped leather stools add the perfect accent to the restrained color palette. Design by Gregory Augustine
Kitchen cabinet color and finish choices are plentiful. Choosing colors, for me, is the happiest, most rewarding aspect of any home improvement project; it's a chance for me to play with different ideas until I hit on one that clicks.
With kitchen cabinets, you can choose one solid color throughout or go with the two-toned design that is really hot right now. Top this off with the antique distressed look, and your kitchen is instantly transformed into a timeless showpiece. You can have a solid base color for all of your cabinets, and then spice it up with a contrasting and/or bold color for the island in the center. You can choose several complementary colors to accent one overall base color. It really is up to you to follow the color wherever your heart leads.
For a bold, contemporary, sleek look, you really cannot go wrong with black cabinets, or the contrast of black and white, with stainless steel and grays mixed in. White as the dominant color tends to be the classical, most popular choice for a clean and functional look. Red conveys drama, energy and passion, something I personally think every kitchen needs. Another classical, traditional cabinet color choice is espresso, a rich, beautiful, elegant deep brown that speaks to the soul. For the cool, upbeat, sunny summer kitchen, yellow is always sure to bring a smile, whereas green kitchen cabinets simply feel like "home" and invite a sense of renewal. Blues are very calming, and pinks are playful and sweet.
The real challenge is in choosing a color for your kitchen cabinets that truly reflects you—and mixing and matching it with other complementary colors (as well as the countertops, floors, hardware, etc.) so that everything results in a beautifully woven kitchen experience. An expert designer can be an invaluable resource for helping you put it all together. The style you choose in your overall design will determine the kind of finish you use. A high-gloss finish is great for an ultra-contemporary, shiny, clean and modern look. Semi-gloss is the most traditional and functional with most colors and design styles. Matte works well for a more subtle look.
The easiest way to get an idea of what you like and don't like until you latch onto something more specific is to use samples, and browse photos and design books. Mark the ones that really speak to you. Go to your design expert prepared with this, and your project preparation will go a lot more smoothly.
Other Kitchen Cabinet Colors and Finishes
Kitchen Cabinet Inspiration