Choosing Kitchen Cabinets
Get tips on how to find the right cabinetry for your remodel.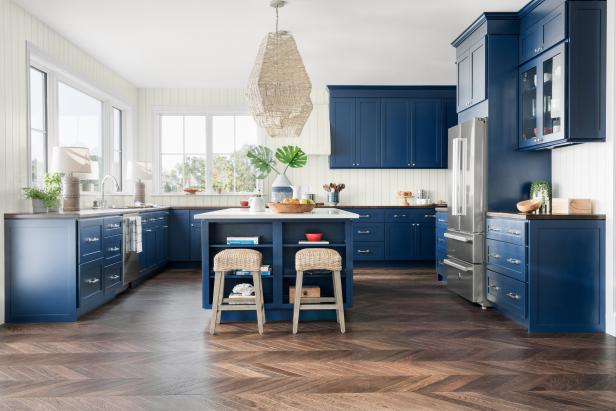 Coastal Culinary Style
From port to starboard, nautical detailing infuses every inch of this spacious and functional kitchen.
Robert Peterson, Rustic White
Cabinets form the backbone of the kitchen. Configure the cabinetry to make the most use of your kitchen's size and floor plan. Consider different layouts and looks.
Base cabinets get the most attention, whereas hanging wall cabinets are sacrificed for aesthetic features—windows, dramatic backsplashes—to create atmosphere and a living room appeal in the kitchen. That said, base cabinets are moving away from doors and toward drawers. Drawers make storage more accessible for more people.
More Ideas
From cleverly concealed appliances to unique cabinetry hues, explore the latest trends and styles for your kitchen.
"Ergonomically, it brings contents to you rather than you having to bend over and dig through layers to get what you need," says Dennis Poteat of Blum Inc.. Hardware accessories neatly organize plates, pots, pans and lids, plastic-ware, you name it.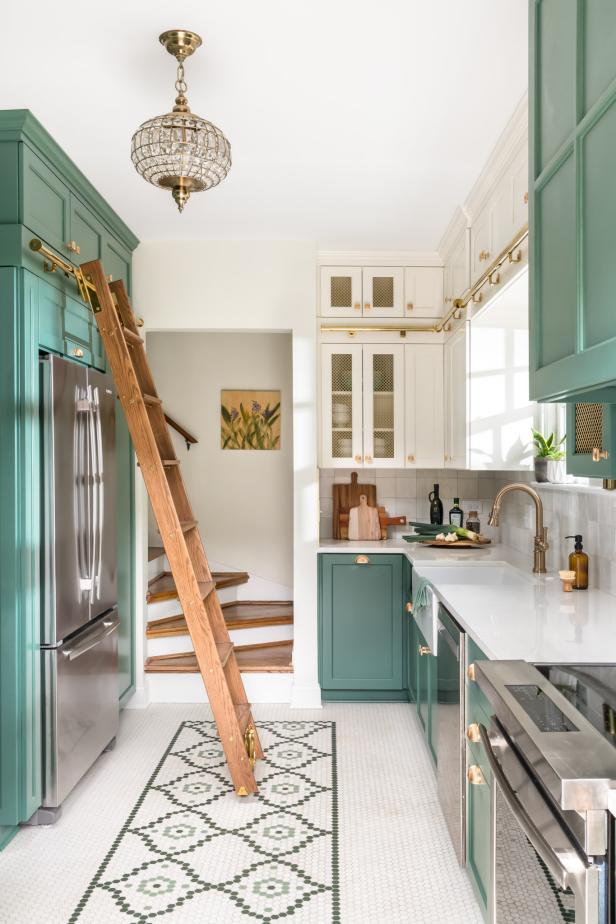 Small Green & White Kitchen With a Library Ladder
To maximize storage and efficiency in this small bungalow kitchen, designers included cabinetry to the ceiling with a library ladder for easy access. With no stone left unturned, even the flooring boasts a beautiful penny tile rug design that perfectly matched the green lower cabinetry.
Wall cabinets today extend to the ceiling, making use of high-up space for storing infrequently used specialty serving-ware and cookware. Or, wall cabinets are blown to full-length proportions, stretching from floor to ceiling to create an accent wall that can house everything from cookbooks to appliances.
As for materials, Brad Burgin, president, California-based Burgin Construction, says "no one wants particle board." And no one wants melamine, which is basically particle board with a coating. Plywood is preferred and it doesn't off-gas from coatings. "Getting cabinets made out of plywood is a good move for resale here in California," he adds, noting the durability and longevity of this material.
Style. Cherry wood is big for cabinets with rich, dark finishes. For a more exotic look, go for alternative woods such as mahogany, bamboo, sapele and anaglade. These can be stained or even lacquered to provide a sleek finish (show image). The glazed cabinet treatment is phasing out with the rise of textured looks: wood grain peeking through brushed finishes—a more natural look.
Hardware can refresh the entire look of a kitchen. Get inspired by these photos of stylish kitchen hardware.
Function. European-style frameless cabinets afford more storage than traditional rail-style cabinets that are typically found in U.S. kitchens. Soft-close on drawers and doors is a must. Some hinges have this feature built-in, but it's an add-on cost for other models—about $5 retail, according to Burgin, adding up to $350 to $500 for an entire kitchen, depending on size. Touchless cabinets are a luxury add-on that Poteat thinks will move into the mainstream before long. This application is especially convenient for waste/recycling drawers.
Hardware. Don't forget about hardware. It's the jewelry of your kitchen.
Keep these tips in mind when considering cabinetry:
Request fully adjustable door hardware that allows the installer to adjust doors so the gap between them is uniform. Also ask for recessed bottoms or a valence to hide under-cabinet light fixtures.


You don't have to invest in luxury cabinets to get high-quality features. Moderately priced, semi-custom cabinets offer many organization solutions like spice organizers and pull-out pantries.


What are you going to do with that dead space in the far back corner of your cabinets? You might not even know this space exists—sometimes the blind corner is closed off completely. A pie-corner base cabinet pulls out and utilizes the space; and an old-fashioned Lazy Susan spins and brings stored items within reach.
Kitchen Cabinet Organization Tips
Updating Existing Cabinets. Nothing shines a light on a boring, outdated kitchen better than shabby, forgettable kitchen cabinets. Luckily, updating kitchen cabinets is a relatively easy fix that transforms the entire room.
Ranging in price from less than $100 all the way up to $20,000+, the possibilities and options for updating your kitchen cabinets are limited only by your imagination. Once you determine your budget, check out the different options to determine which approach is the right fit for you and your needs, and then dive into a whole new kitchen experience you'll love for years to come.
Want to give your outdated or builder-grade kitchen cabinets a fresh new look? Add style and functionality for a fraction of the cost of installing new cabinets with these tricks.
Refinishing, painting or staining kitchen cabinets can be an easy and inexpensive way to make the old look new again—and it's a fun way to upgrade your color scheme and add a touch of flair. It is a process of cleaning the doors, shelves and hardware; sanding and/or stripping the old paint, blemishes and flaws off the surfaces; and adding new paint or stain for a fresh, new look. The cost is usually less than $100, but it can go up depending on the size and scope of the job.
By refacing or resurfacing kitchen cabinets, you're adding a layer of laminate or wood veneer over existing cabinet surfaces for an instant new outward appearance. Such is the variety on this option that you can instantly change the type of wood, color and style for a complete cabinet makeover. For an average-sized kitchen, laminate veneers generally range in cost from $1,000 to $3,000, and wood veneers can cost anywhere from $2,500 to $6,000. More expensive than a simple refinish but much less than a complete remodel, it adds value to your home at an affordable price.