Sunny yellow kitchen cabinets make the entire house seem brighter.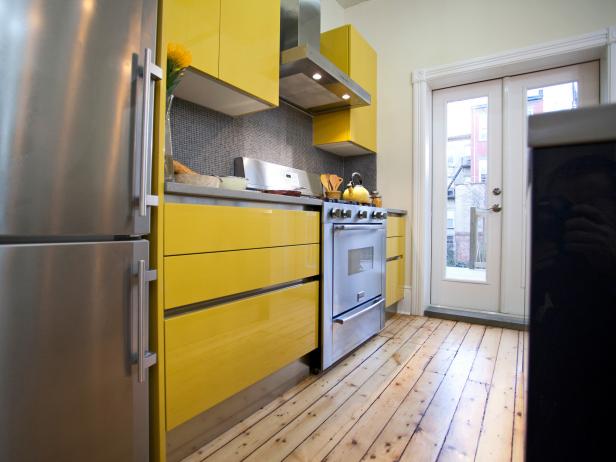 Modern Yellow Kitchen With Rustic Pine Floor
Bold, yellow contemporary cabinets and stainless steel stove appliance juxtapose nicely with the original pine flooring in this modern kitchen. The removal of a wall between the kitchen and dining room provides for a bigger spot to entertain.
Yellow kitchen cabinets are like happiness, positivity and optimism come to life. They brighten any home, as well as any mood, and turn your kitchen into the favorite gathering room for any family function.
Ranging from subtle creams to deep bold gold, yellow can be the subtle background to busy activity or the warm catalyst that invites a sense of peace.
The perfect antidote to a dreary space without much natural lighting, yellow kitchen cabinets naturally give the impression of the outdoors on a sunny day, especially when yellow is paired with natural hues such as lime, green grass, Granny Smith apple green and/or the blues of the sky. A nice alternative to white, a pale creamy yellow gives just a hint of color while still maintaining the crisp, clean modern look usually associated with white. A bold sunflower yellow trimmed with turquoise, black and red accents invites a little spice from just south of the border. The refreshing splash of lemon yellow cools off any space to make your kitchen burst with summer all year around. Yellow is happy. It's cheerful. It's calming and cool.
With yellow kitchen cabinets, it's all in the accents and trims, accessories and appliances, and the creative way you apply the yellow itself. A trend I love that has gotten really popular is the use of a slightly—almost imperceptibly—lighter shade on the top cabinets from the shade of yellow you use on the bottom cabinets. This gives an instant facelift to an overused room, and it lightens and brightens the mood of your kitchen without being overly dramatic. As with any color you use, too much of one color can hurt the eyes and frazzle the nerves. So mix it up and make sure you take care in choosing the complementary colors to show off the tone and feel of the kitchen you want without creating an overwhelming effect.
The yellow and its complementary colors that are right for you can be easily found on any color wheel provided by a home improvement store's paint department. You can also go onto different paint brands' online color studios for virtual tours as you test out your favorite colors and the different looks and styles available to you. There is also software you can download to help you decide on the exact shade of yellow you want for your kitchen. With yellow, your cabinets are sure to be a showplace you'll happily brag about.
Other Kitchen Cabinet Colors and Finishes
Kitchen Cabinet Inspiration