Big ideas for large kitchen windows that reach out to the landscape and bring in natural light and views.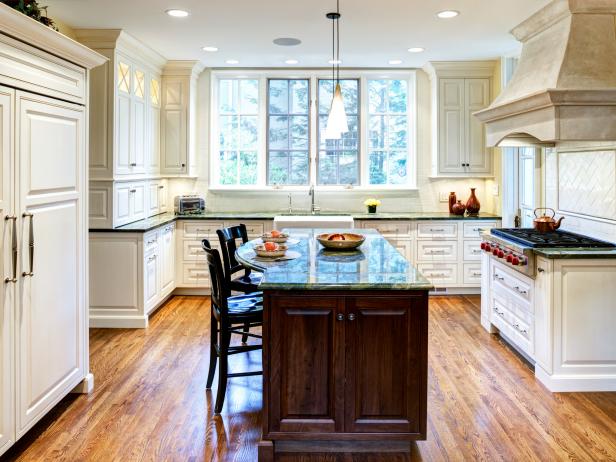 White Kitchen With Green Marble Countertops and Walnut Island
Off-white perimeter cabinets and a large window make this kitchen look spacious and fresh. The wood floors, walnut island, marble countertops and hand-carved limestone hood provide warmth and evoke a sense of welcome.
Large kitchen windows can be a strategic point of view for your space. There are many different styles and designs, so decide which elements are most important to you before choosing. Also, review your kitchen layout and structural points in your home to see if you can expand your existing windows.
One of the typical ways to open up a kitchen is to add a large bay window. Whether it is an angled bay, a box bay, or a bay with a window seat, the bay window will enhance the room with more natural light and make the kitchen feel brighter and bigger.
Other ideas for large kitchen window styles include box and angled bays. They are available as a preassembled in-stock option, but either could be a custom creation. While this will give you unique options in size and design considerations, it also means that it will cost more if you decide custom is for you.
A large angled bay is probably the most popular window that comes to mind when someone says "bay window." A bigger angled bay extends the interior of your kitchen and is finished as an expansion of the floor area. An additional benefit could be a built-in window seat to accommodate more guests.
A box bay is rectangular and very versatile. Not only will a box bay add an abundance of light to the kitchen, but it will also maximize the amount of floor space added. The beauty of the bay options is that they reach out to the landscape, bringing in views as well as natural light.
Large floor-to-ceiling windows are a grand solution for combined kitchen, dining, and living spaces that can absorb a large amount of natural light while ultimately capitalizing on the view. A dramatic wall of windows in an expansive family space also creates a comfortable feeling.
Whatever large window design you choose for your kitchen, keep in mind you will dramatically change the style and function of your kitchen. It can be a most impactful and impressive investment for one of the busiest rooms in your home.
More Kitchen Window Ideas