Modern Kitchen Window Treatments
Swapping out old, drab kitchen curtains for new, modern window treatments can instantly brighten the space. Update your kitchen's window treatments design style using modern covering ideas.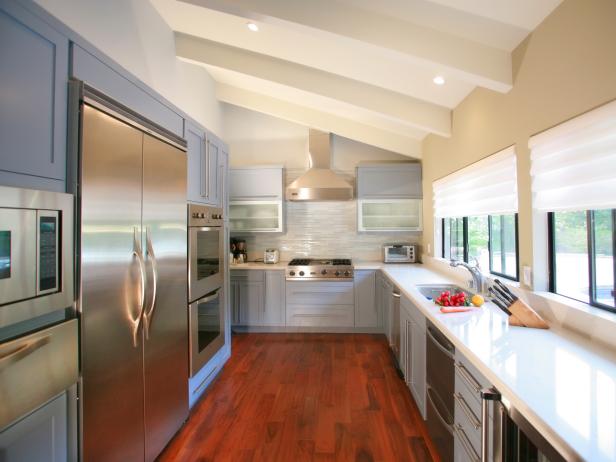 Light-Filled Contemporary Kitchen Area With Modern Appliances
This contemporary kitchen area feels large thanks to the angled ceiling and abundant natural light from the windows. The stainless steel appliances and long countertops are a home chef's dream, and the blue cabinetry and hardwood floors are serene touches.
Modern window treatments tend to draw attention to the windows or tie the windows in to the design features of the room. Classic elements and modern details can offer a beautiful balance. Whatever treatments you choose, they should enhance your kitchen's style, color and design.
Kitchen Windows
Learn how to protect and beautify windows in your cooking space.
Considering there are endless possibilities for window treatments, the shape and style of window, along with a budget, will help you determine the scope of the project. Keeping "modern" in mind, the spirit of the modern movement was to reject designing for mass appeal in favor of starker and more minimalist designs, while on the other end of the spectrum you will find designs inspired by the bold colors used in abstract art.
Some themes associated with modern design include clean and straight lines. Materials often used are stainless steel, chrome and other metallic applications. To achieve a modern feeling, minimalism and lack of clutter (accessories, embellishment, etc.) are fundamental. Primary colors or bold colors can be used for accents. Texture and natural fibers are an excellent complement to achieve a modern theme in the kitchen.
Anything near a stove or sink can absorb odors and soak up spatter. The material for kitchen window coverings can make the difference in how easy it is to maintain your new window treatments. For example, you can launder fabric draperies and other performance materials. You can also wipe down synthetic blinds, shutters, and solar shades with soapy water. But maintenance gets more tedious when you have to manage wood blinds and shutters, which have to be cleaned and conditioned with wood cleaner.
Natural light in the kitchen is essential. Modern designs tend to lighten things up. If your kitchen is particularly small, then light, cool colors can make it look larger and brighter while dark, warm colors can make an oversized kitchen feel more balanced and inviting. Modern curtains should have straight lines. Solid fabrics in luxurious material like micro-suede are a good solution. Simplify window elegance by using a monochromatic color palette. Take down the valance to modernize an existing window treatment. Draperies with grommets easily slide open and balance a traditional-feeling kitchen.
If you are trying to achieve a minimalistic kitchen style, curtains might not work in your design scheme. Bamboo or grass shades add a natural, textural element to the kitchen and still allow some light in.
If you have a wall of windows, floor-to-ceiling sliding screens or shoji screens work with the Zen philosophy of modern design. Rice paper gives privacy while allowing in light. Window film or frosted glass film can hide unattractive views while dressing your windows for the cleanest lines.
Other Kitchen Window Treatments