How to Frost Glass and Other Ways to Make Windows More Private
Wish you could turn transparent glass into opaque glass? Whether it's for privacy or style, or if you're a homeowner or a renter, and no matter your budget, we've got ideas, tips and product suggestions to help you do it.
Keep in mind: Price and stock could change after publish date, and we may make money from these affiliate links.
If you're wondering how to frost glass windows in your home, be sure to consider the full range of options. From simple frosted glass (also known as etched glass, satin glass or obscure glass) to creative installations to enhance obscurity, there are many products and options that make privacy possible.
While all of the following options are viable solutions for homeowners, renters should consider which options are most temporary. When in doubt, always check with your landlord before proceeding with any permanent, irreversible updates. Hopefully, they will be agreeable to get you the privacy you need in your space.
From permanent solutions like glass block window upgrades to stained glass installations all the way down to DIY-friendly options, like etching cream and window film, there are many ways to achieve a frosted glass technique.
Ideal for: Homeowners
Investment: $$$
Many homeowners can appreciate the aesthetic of glass block just as much as they respect it as an option for security and privacy. Glass block windows are a staple for basements and window wells, and many homeowners also use glass block to replace larger windows that compromise privacy. Furthermore, glass block is an affordable, functional solution when incorporated into indoor features, such as for shower surrounds in the bathroom. You can even invest in colorful glass blocks! If you're able to accommodate a permanent change, it should be considered.
Glass blocks come in a variety of patterns and are sold both as individual blocks and pre-sized forms. They're truly modular and can be used in a multitude of ways. Glass block is insulative and offers a great deal of privacy without affecting the natural daylight.
While these DIY-friendly pieces can be assembled easily with mortar and grout, consider hiring out the installation if you need to achieve a professional finish.
Architectural Glass Panels
Ideal for: Homeowners
Investment: $$$
Seeded glass panels can be swapped in many window frames to enhance privacy in a way that creates thoughtful architectural appeal. Pebbled glass and seeded glass (aka Florex) patterns are widely available from glass manufacturers, but you can also source vintage glass from salvage shops. If you order the glass pieces close to the size you need, keep in mind that local glass cutting shops can help you trim it to exactly what you need.
Updating clear glass with decorative glass is a great DIY project if you're ready to learn about window glazing and sealing, but you can also look to a craftsman to help you swap traditional clear glass with an option that is less transparent.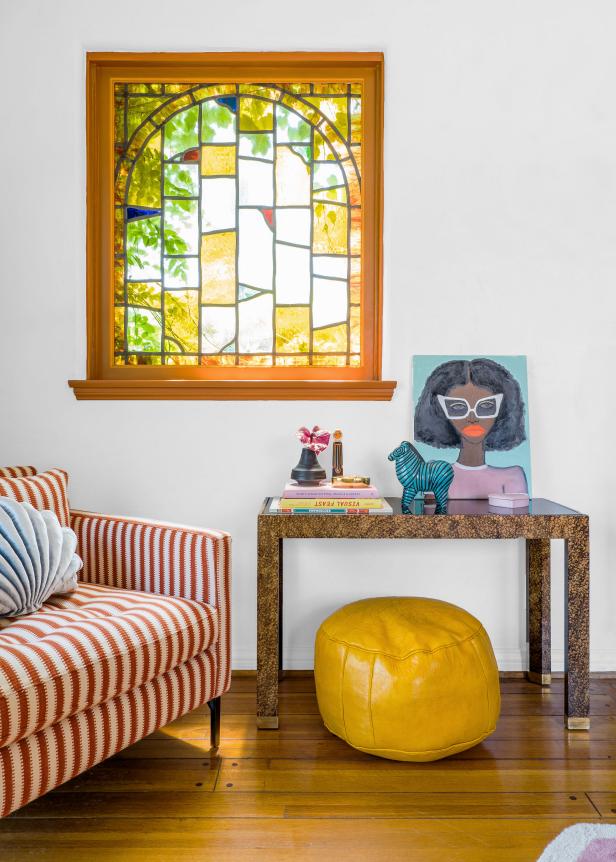 Eclectic Sitting Area With Stained Glass Window
This 1930s Spanish home features many beautiful stained glass windows. The designers used their jewel tones to inspire the rooms' palette, resulting in a whimsical mix of bold, bright shades.
Ideal for: Homeowners and Renters
Investment: $$$
Get one-of-a-kind privacy by piggy-backing a large stained glass pane over an existing window. Stained glass design can offer as much privacy as you need, depending on the colors and pattern you select. It can also be customized to marry to colors and themes in your home.
If you're planning to install it in a high-moisture area (like a bathroom window or in a shower), you should look to a professional for installation. But for dry rooms, you can easily overlay the existing glass pane and secure it with caulk.
For renters who crave real stained glass but need a truly temporary solution, consider commissioned stained glass panels sized to hang over your window. The panels can be made with built-in hooks and are installed to hang in front of the window from the trim. These would be less permanent than any caulked installations.
Ideal for: Homeowners and Renters
Investment: $
Transparent films are more widely available than ever before to homeowners and renters looking to update their glass panes. A simple frosted glass window can be easily achieved by trimming a piece of the window film to size, removing the adhesive backing and using a flat tool (like a credit card) to extract bubbles between the glass and the film.
Not only is adhesive film a popular, affordable option for exterior-facing windows, but it can also be used to adjust the transparency of glass cabinet doors in your kitchen if you want to disguise your assortment of mismatched barware or pantry items.
Many manufacturers also sell decorative window film with interesting patterns to make it easier to achieve the look of decorative glass, colored glass, stained glass or architectural glass using adhesive panels.
This glass privacy film will blur unnecessary sights from the outdoors. It is self-adhesive, so no need for glue to paste. It can also be easily removed without leaving a trace.
Buy It
Ideal for: Homeowners
Investment: $
Oil-based frosted glass spray paint is sold as a way to apply an etched look to your glass windows. If you're looking to apply a stenciled design to your glass, this might be the most viable and affordable option.
When applying it, be sure to thoroughly tape off the floor and surrounding walls and hardware to avoid overspray. Mist the spray paint in even passes and allow the first coat to dry before adding a second layer. You'll want to look at your coverage from all angles as it dries to assess transparency and guarantee even application.
Though it's a permanent solution and not recommended for renters, you can count on paint remover and a razor blade if you need to get the paint off the glass in the future or clean up overspray in a stenciled design.
Ideal for: Homeowners
Investment: $
Homeowners can also add privacy to a window using glass etching cream. Glass etching is permanent and irreversible, so while it isn't an option for renters it can be a way for property owners to get creative when crafting privacy. Use painter's tape to define edges, lines, or patterns, and fill the cream into desired areas. The cream needs to be applied thick to prevent brush strokes but it can transform a window in less than an hour.
While many manufacturers recommend removing the cream after a few minutes, many products need 5-10 minutes to effectively etch a large surface. It's always best to test the product on a sample piece of glass first (such as on an old window pane) and determine how working in smaller sections to gradually transform the transparency will change your larger window.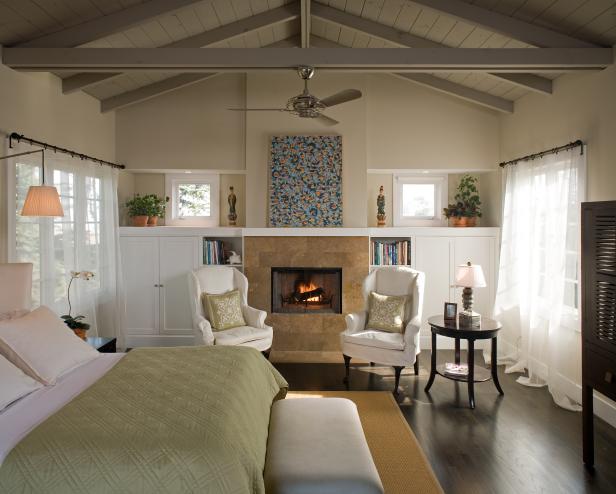 Neutral, Rustic Master Bedroom with Soft Details
This neutral master bedroom includes a cozy fireside conversation nook with a pair of timeless, relaxed wing chairs. The beamed, planked ceiling speaks to the home's rustic, Mediterranean-inspired vibe, while white trim and gauzy sheers bring softness to the space.
Shelley Metcalf and Glenn Cormier
Ideal for: Homeowners and Renters
Investment: $$
Go back to basics with easy-to-install shades, blinds and curtains. Sheer curtains can inexpensively offer privacy, especially over large windows, without compromising natural daylight.
Renters should consider asking permission before installing any permanent fixtures in their space.
Whether you crave privacy or just want to change your design, our do-it-yourself drapery ideas and trend-wise tips will freshen up any room.