Things to keep in mind when considering kitchen window ideas.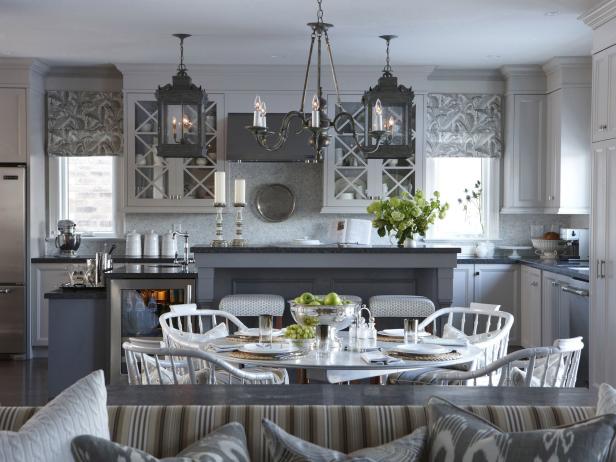 Transitional Kitchen With Gray Hues and Lantern Lighting
An array of gray hues add warmth to this white transitional kitchen while keeping the space neutral. Honed granite countertops feel softer and more subdued than the traditional polished variety. The windows end halfway up the wall, but the Roman shades are mounted near the ceiling to create the illusion of soaring windows and a higher ceiling.
One of the best ways to open up a kitchen is to consider a variety of kitchen window ideas. Windows create an illusion of a bigger space and add value, style and possibly function. There are many different styles and shapes of windows available.
Review your kitchen layout and structural points in your home to see if you can add windows or expand your existing kitchen windows to allow in more natural light.
Any window you choose can come in different materials. The most popular are wood, vinyl, and aluminum. If your kitchen design requires a particular type of window to match your style, look for window options that provide the highest quality, top energy rating, and best overall window for your budget.
To protect your entire kitchen from too much sun, look for window solutions that have a protective quality. Today, most kitchen windows come with an energy rating to help you understand the money you will be saving on heat & electricity bills.
Replacement kitchen window styles can be a stock option or, if it needs to be a custom window, each should fit perfectly. Some of the more common kitchen windows are casement windows, bay and bow windows, and garden windows.
Casement, bow, and bay kitchen windows are the most popular choices for any kitchen that needs more natural light. Large kitchen windows are a great way to add elegance to your space. Installing casement, bow or bay windows is an impressive way to enhance your kitchen's appeal. They are larger and more open than double-hung windows. If you have a beautiful view, these are options that will also make the room feel larger by bringing in the view along with natural light.
Garden windows are also popular kitchen windows. They require a very small amount of room but provide extra shelf space and light. Garden windows are much like a small greenhouse extending from your kitchen. A garden window is the equivalent of getting a grand bay window but in a small, compact size. If you have a small kitchen where space is limited or you are running out of counter space, a garden window is a good solution.
More Kitchen Window Ideas