Kitchen window ideas for small windows.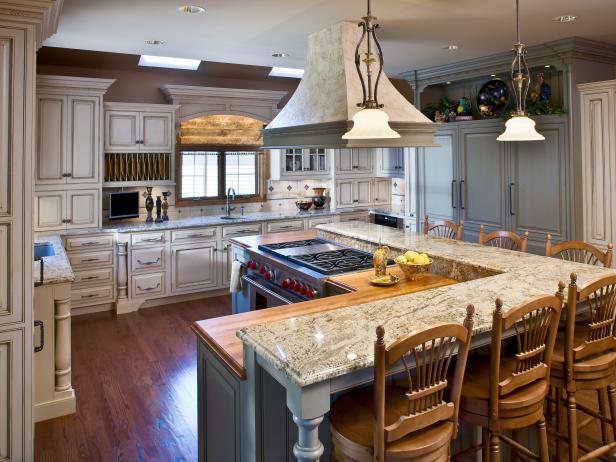 Traditional Kitchen With L-Shaped Island
To really break up the different areas of the kitchen, consider a zone design. In this kitchen, a separate work station exists for cooking, eating and even cleaning, allowing space for several helpers all at once.
Natural light makes a space feel larger, but if you have small kitchen windows this can be a challenge. The first thing to consider when searching ideas for kitchen windows is to that you'll want to maximize the natural light you do have by keeping the window treatments minimal.
A fabric valance softens the architecture of a kitchen window while adding a finished feeling to it—but not sacrificing any light. If you do have a need for privacy, an opaque shade or window film will allow for maximum diffused light.
Making small kitchen windows productive in your kitchen can be a multi-layered solution that involves "tricking" the eye. Perception can be manipulated so as to make the space seem brighter and bigger than it truly is. Consider replacing solid cabinet doors with glass door fronts. This will draw the eye into the cabinets by creating a deeper perspective. It will also open the room as the walls will feel farther away. Clutter makes any room seem crowded, and what was behind the solid cabinet doors will now be exposed, even showcased. Recessed lighting in the cabinets will help to create depth and enhance the small window by creating the illusion of more windows.
Other considerations if you have small windows are the reflective surfaces in your kitchen. Stainless steel, ceramic or glass tiles subtly amplify the effects of natural and artificial light, thus making the kitchen seem larger.
White reflects light and is a great solution if you have small kitchen windows. When you paint everything white, not only are you reflecting more light from the window, you also create a seamless space with no edges. There is nothing to stop your eye, which also enhances the sense of space. To layer in shade and shadow use several shades of white or mix in textures if you feel an all-white kitchen would feel too sterile.
If your kitchen's interior design includes color, a monochromatic theme will also work. Very similar to the white impression, when there is little difference between colors of the walls, the cabinets, and the countertops, your eye will skim over the surfaces searching for a place to rest. When semi-gloss or a subtle sheen is added to the paint, it reflects more light and distributes it; and the result tricks you into thinking you have more light and the kitchen is more expansive. The added benefit is that you'll also have a comfortable and serene environment.
Another way to overcome small windows in your kitchen is by installing skylights. This sun-bathed effect can be a simple way to achieve more natural light.
More Kitchen Window Ideas