Designer Heather Guss incorporated candy jars and colorful glass into this movie theater-inspired kitchen design.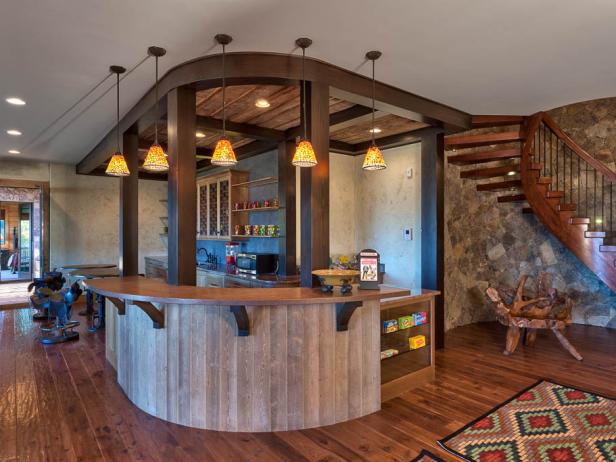 Rustic Kitchen Lighting
The kitchen bar mimics those in movie theaters, complete with candy-filled shelves and decorative pendant lights.
What were the main items on the family's wish list for remodeling this space?
The candy cabinet was at the top of their list. They wanted this to look like the cases you see at a movie theater.
What was the single-largest issue you wanted to address for the family and why?
Coordinating beams and posts was a little bit of a struggle. We had to communicate to the builder very well as some of the beams and posts are structural and not just decorative.
What was your biggest obstacle in this space and how did you address it?
Making sure the cabinets were the right sizes on the island in order for them to work with the beams, posts, lighting, glass cabinets and reclaimed barn wood. There is a lot going on in that island even though it might not look like it. In addition, there are tiles on the back wall that only came in a certain size, so we made the cabinets and tile work symmetrically with the least visible amount of seams.
How does the end result match up with your original vision for the space?
This bar looks exactly like we planned, but we designed the island multiple times before getting it the way they liked it.
What surprised you the most about this project?
You can achieve a really nice look that was very tedious to get structurally worked out and make it beautifully understated.
What are the "hidden gems" in your plan?
I cannot take credit for this, but the glass the interior designer found is all antique bottles, leaded and hand-blown –– it is absolutely stunning!