Dramatic Kitchen Makeover for $2,500 or Less
By updating lighting and countertop material, you can markedly improve the look and functionality of your kitchen.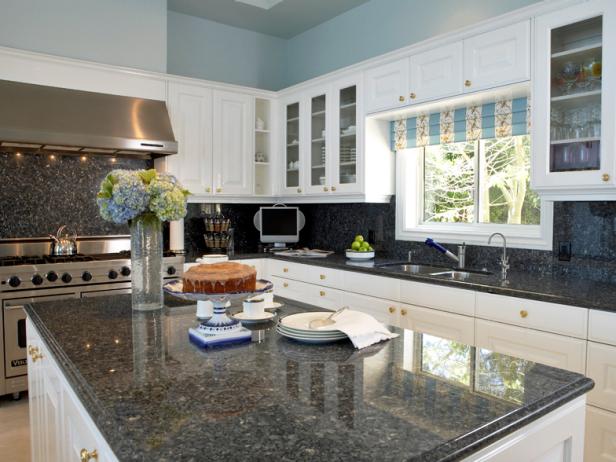 Oversized Kitchen Island with Plenty of Space
This kitchen has plenty of white cabinets for storage, a white kitchen island, granite countertops, and stainless steel appliances.

Though the average cost of a kitchen renovation is around $35,000, you can get a great new look for your kitchen for $2,500 or less. Start by clearing clutter and updating colors, then install new fixtures and an eye-catching backsplash. Once you've accomplished those tasks, brighten your space with a new lighting plan and install a granite countertop (really!).

"The most dramatic and cost-effective change you can make to your kitchen is improving the lighting scheme," says Cindy Raskin of Design Concepts in Chagrin Falls, Ohio. "It totally changes the ambiance of the room."

A kitchen's lighting scheme is divided into three areas, explains Cindy: general, task and accent lighting. General lighting, typically ceiling-mounted fixtures or recessed cans, provides the overall illumination of the room. Task lighting sheds light directly where it is needed, such as food-prep areas. Accent lighting adds drama by drawing attention to a room's architectural details.

Cindy suggests updating a kitchen's general lighting with an easy-to-install monorail track system, which mounts to the ceiling and connects to the old light fixture's existing wiring. Prices vary depending on the amount and quality of the heads, she says, but complete sets can be purchased for around $200.

To improve a kitchen's task lighting, Cindy relies on under-cabinet fluorescent, halogen or xenon light strips, which run about $40 each. Though these units simply can be plugged into any wall outlet, Cindy suggests springing for an electrician to hard-wire them to existing switches for easier use and a cleaner look. For best coverage, light strips should be installed every few feet. If the units are visible at eye level, install a 1- or 2-inch wood valance at the base of the cabinets to conceal them.

One of the least expensive ways to change the mood of the entire kitchen, adds Cindy, is by installing a dimmer on a kitchen's general lighting fixtures. This allows the homeowner to crank up the light during cooking time and dial it down when dining or entertaining.

Install a granite countertop? On a budget? Absolutely, Cindy says.

"Granite has really become very cost-effective," Cindy notes. Of course, to keep costs down, the budget-minded homeowner will have to make some smart choices. First, she says, consider replacing only a portion of your countertop. "Put the biggest wow factor on your island," she advises. "Mixing finishes is the hottest thing going."

Other cost-cutting tips include going with basic black rather than that exotic tropical green, and searching the local supply yards for remnants, which are significantly cheaper. New, thin-cut slabs are more budget-friendly than thick pieces. And by selecting a very simple edge treatment and replacing the custom-cut granite backsplash with self-installed granite tiles, a homeowner can get the look of a million-dollar kitchen for less than a grand.