Learn about different types and use our checklist to see if this independent structure will work for you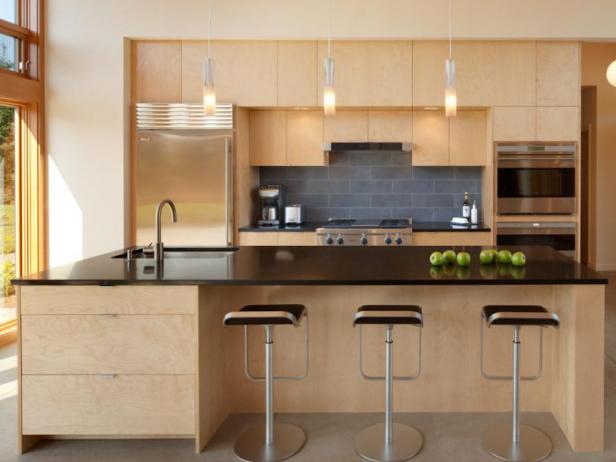 Kitchen With Sleek Black Countertops
This beautiful modern kitchen features sleek architectural lines and varying depths. A gray subway tile backsplash is surrounded by built-in woodgrain cabinetry, a stainless steel refrigerator and double ovens. The large island provides plenty of space for eating and prepping areas.
You always wanted an island in your kitchen. It seems like the obvious missing piece. Modern kitchens have them, and yours doesn't. But before you draft this independent structure into your design—and incur the expense associated with cabinetry, fixtures, surface and other bells and whistles—review this kitchen island checklist and determine if your kitchen can truly support an island. There are alternatives: the peninsula and a moveable island that rolls out of the way of foot-traffic and slides in place for entertaining.
Deborah Pierce, principal, Pierce Lamb Architects, West Newton, Mass., suggests that kitchens have 11x11 feet of extra space (14x11 feet is ideal) to accommodate an island, which should be no smaller than 4 feet long and 2 feet deep (5 feet is better). Pierce recommends 3.5 feet of circulation (foot room) between counter areas.
"Kitchens can often be 10x12 or 8x16, and these just won't work for an island," she says. "In a small kitchen, I would never sacrifice the work space."
When choosing kitchen cabinetry, consider features that make it easier to reach your items