Discover unique types of thyme — both creeping thyme and upright thyme varieties — and learn how to grow and care for this useful herb in your garden.
While humble in stature, thyme is a noble addition to the garden. The ancient empires of Sumeria, Egypt and Rome lauded thyme as a culinary and medicinal treasure. Today, thyme is a staple of beautiful, beneficial gardens ans is wildly supportive of our health and our ecosystems. If you're new to gardening or haven't grown thyme, you may be surprised by its ease of care as well as its delightful potency.
Thyme is a drought-tolerant, sun-loving herbaceous perennial that is adaptable to a range of gardens, as long as drainage is ample. Winter hardy to Zones 5-9, thyme remains evergreen in milder regions. Thyme attracts butterflies from spring through summer and hosts many beneficial insects. The tiny blooms may be white, pink or purple, depending on the variety. Read on to learn about 10 types of thyme, and how to plant and care for thyme in your garden.
There are more than 350 species within the genus Thymus, though thyme can generally be categorized as either creeping or upright. If you want a perky border plant that will be easy to harvest for cooking, choose an upright variety. Or, if you seek a flowering groundcover that is tough while appearing delicate, plant a creeping thyme.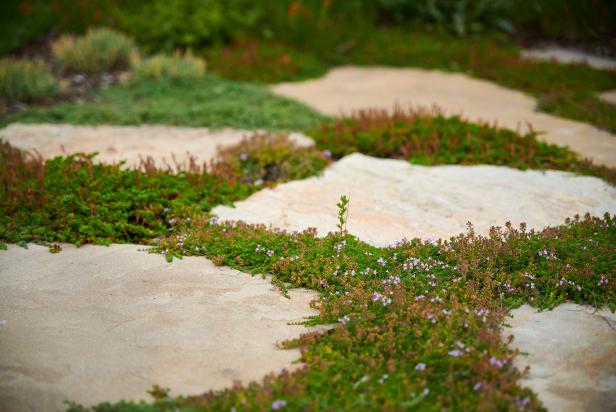 Large Stone Pavers With Creeping Thyme
Creeping thyme works well between pavers because it can withstand light foot traffic, thrive with minimal watering and provide color and texture in summer, fall, winter and spring.
Derek Johnson Visuals
Creeping thyme works well between pavers because it can withstand light foot traffic, thrive with minimal watering and provide color and texture in summer, fall, winter and spring.
Both creeping and upright species make carefree additions to container gardens. Upright types hail from Mediterranean climates and pair well with lavender and rosemary, thanks to their common provenance. The following 10 varieties are notable for their beauty, practicality and availability. This list is not comprehensive; check your local garden center for other interesting specimens.
English Thyme (Thymus vulgaris)
This classic, cottage garden thyme has deep gray-green leaves and white flowers; it reaches 6-12 inches and is excellent for cooking.
French Culinary Thyme (Thymus vulgaris 'Dot Wells')
This exceptionally flavorful thyme has lavender-pink blooms and grows to about 12 inches.
Hi Ho Silver Thyme (Thymus argenteus 'Hi Ho Silver')
With consistent green and white variegation that gives it an almost frosted appearance, this 6-12-inch thyme is an elegant choice that is especially pretty in pots.
Lemon Thyme (Thymus x citriodora 'Lemon')
Featuring a strikingly lemony fragrance and flavor, this thyme is wildly popular for cooking and tea-brewing. With either straight green or variegated leaves, lemon thyme reaches 6-12 inches in size.
Lime Thyme (Thymus x citriodora 'Lime')
This invigorating thyme brings the color, fragrance and flavor of lime to the garden. Pairing deeper green or variegated thymes with this yellow-green shade creates an artful palette.
Foxley Thyme (Thymus pulegioides 'Foxley')
Foxley thyme is worth seeking for its larger rounded foliage and exceptionally beautiful variegation — deep green and cream tinged with pink. Somewhere between upright and creeping types, Foxley reaches about 8 inches tall by 16 inches wide.
Elfin Thyme (Thymus serpyllum)
The smallest-leaved thyme, this enchanting variety forms a dense groundcover that can withstand foot traffic. Pale lavender flowers bloom around 3 inches tall, and plants spread to 12 inches.
Red Creeping Thyme (Thymus praecox 'Coccineus')
The rich magenta blooms of this sprawling thyme create a wash of ground-covering color. It tolerates light foot traffic and has an impressive spread of 12-48 inches.
Wooly Thyme (Thymus praecox arcticus)
This endearing thyme has furry, silver-green leaves with lavender-pink blooms. Reaching up to 3-foot of spread, this tough groundcover eagerly fills spaces between pavers or rock walls.
Caraway Thyme (Thymus herba barona)
Notable for its caraway-like flavor and fragrance, the leaves of this thyme can be substituted for caraway seeds, making it useful for home cooks. Lavender-pink blooms rest against a carpet of elongated emerald leaves.
Preparing the Soil for Thyme
First, choose a sunny location; thyme tolerates partial shade, but full sun is ideal. Next, make sure soil drainage is excellent. Amend the soil with compost, leaf mold or soil conditioner to lighten the structure, adding sand if you have heavy clay.
Thyme pairs beautifully with most any edible or ornamental sun-loving plant, adding to the overall health of the space. In permaculture design, creeping thymes are valued as useful understory plants. Whether you are planting upright or creeping thyme, spacing needs vary, so check the plant tag. Lay plants out at the correct spacing first, so you can visualize the end result. For a quicker groundcover, plant creeping thymes a bit closer than the suggested spacing. Once the overall design scheme looks balanced — maybe a straight border, an organic wave or an herb spiral — you are ready to plant.
Dig each hole a bit wider and deeper than the root ball; loosen the soil with your fingers and gently untangle the roots. Settle each plant into its new home, gently filling soil back around the roots. Use your hands to firmly press out any air bubbles and water new plants well. Once they settle in, thyme plants are drought tolerant.
Propagating thyme is easy and rewarding. Snip a few stems that are not flowering and place them in small jars of water on a windowsill to grow roots. Once a healthy root system has emerged, cuttings can be potted.
Thyme may also be divided. As your thyme plant matures and spreads, pry up the root ball and divide it in half. Replant one half and transplant or gift the second. Remember to water thoroughly to help the roots recover from the stress. Division is best done in spring or early fall.
While seed starting at home is possible, thyme seedlings are slow-growing, so purchasing and propagating plants is a desirable, economical alternative.
How to Care for Thyme Plants
Watering and Fertilizing Thyme
Thyme requires regular, moderate water; however, it is very sensitive to wet feet, so allow it to dry between waterings. For many gardeners, rainfall alone can suffice, as thyme is drought tolerant. During very hot and dry summers, routinely watering thyme is a good idea. Observe your plant for indications of its needs in your space.
Thyme is not nutritionally needy, so it is unnecessary to fertilize when planting into healthy soil. However, applying a balanced, organic fertilizer each spring may help generate lush growth, particularly in deficient soil. If you fertilize, follow the application instructions precisely. Topdressing with compost gently boosts the soil's nutritional content and its microbial activity and may be used instead of fertilizer.
Weeding and Mulching Thyme
The most effective way to suppress weeds is through a layer of organic mulch; 2-3 inches of straw, bark or leaf mulch (also known as leaf mold) around your plants will prevent weeds as well as retain moisture and protect roots from temperature swings. Mulch is key for supporting thyme plants through winter, especially in northern zones. With mulch and added cover during extreme cold, even gardeners in Zones 4-5 may overwinter thyme successfully.
Thyme contains natural antibacterial and antifungal properties that repel pests and disease, making it an excellent companion plant throughout the kitchen garden. The primary problem to look out for is root rot; if soil drainage is poor, thyme is highly susceptible.
Essential to thyme care, pruning helps plants to keep producing tender, verdant stems instead of developing woody, leggy ones. Spring is the best time to prune; the action of cutting stems back generates leafy growth, supported by spring's warming, lengthening days. Thyme may also be pruned in summer after flowering; snip back spent stems to begin the cycle anew. Avoid heavy pruning close to the first frost; although thyme is cold-hardy, young stems can be damaged by freezing temperatures.
Harvesting, Storing and Drying Thyme
Once thyme is established, it may be harvested throughout the year. Cut the stems you wish to use, almost to the base of the plant. Be careful not to remove more than 1/3 of the plant at any time to ensure it can bounce back for more harvests. In winter, it's fine to keep harvesting as long as you are modest with the amount you take.
Step-by-Step Guide
Follow these easy steps, and you'll be drying your own garden herbs in no time with this DIY herb-drying rack.
Once harvested, fresh thyme may be stored in a vase or the fridge until you're ready to cook. To dry thyme, bundle your harvest and hang it upside down indoors, out of direct sun, until it feels dry. Crumble dried leaves off their stems and store in a jar for prolonged enjoyment. Homegrown and dried thyme has much richer fragrance and flavor than the store-bought herb.
With thyme's wide geographic reach and versatile flavor, it is featured in many beloved spice blends, including bouquet garni, herbs de Provence, za'atar and Jamaican jerk. With a verdant, earthy, citrusy character, thyme is a useful savory herb that enlivens and blends flavors. It is especially well suited to roasted vegetables, eggs and poultry. Thyme is delicious in certain sweet applications, too — notably alongside berries and citrus. Experiment with recipes and varieties in the kitchen and see how thyme makes your taste buds tingle.
In Western herbalism, thyme is known as an ally to the respiratory system with powerful antibacterial and antifungal properties, tending to bronchial infection, sore throats and coughs. In addition to cooking with thyme, steeping fresh or dried thyme in hot water makes a delicious tea — especially with lemon and honey— that soothes discomfort and infection in the throat and sinuses. Grow thyme at home, and you'll always have a remedy at the ready.