Why Healing Decor Is the Next Big Trend for Interior Design
Plus, which pieces are drawing the most interest.
Meditation in the morning, a quick hot yoga sesh after work, aromatherapy before bed: even if you haven't tried it, you're definitely familiar with the concept. Practicing wellness and self-care is the hottest topic of the year.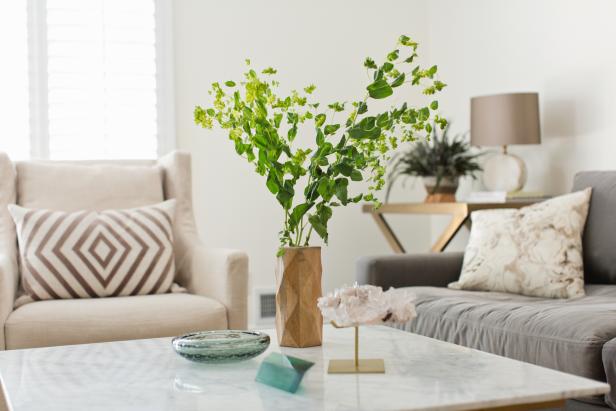 Unique Accents Give Midcentury Modern Living Room Personality
Healing crystals positively shine on this table from designer Jaclyn Joslin.
Sarah Sweeney
Healing crystals positively shine on this table from designer
Jaclyn Joslin
.
So, it's no coincidence that mood-boosting decor is also on the rise right now. When we want to reduce stress and anxiety, we infuse our homes with things that promote peace and positive energy — and most of the time, those items are all-natural. Take a look at which home decor pieces promise to make waves this year.
If you haven't seen agate or amethyst accessories in your nearest retail store yet, expect them to rule the shelves soon. For centuries, different cultures have displayed crystals in their homes, believing them to carry therapeutic energies harnessed from the earth.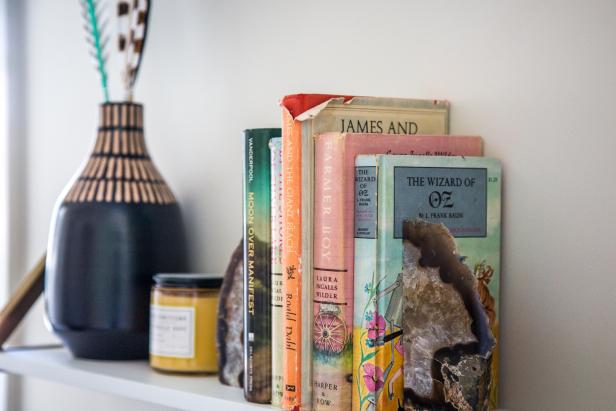 Eclectic Accessories on Floating Shelves
Floating shelves with brass hardware are the perfect spot to house accessories and a collection of vintage books in this tween bedroom.
While the jury's still out on whether or not crystals actually bring luck or clarity to their owners, they do work beautifully as home decor. Rich with raw color and texture, they're a soothing departure from plastic goods, making our spaces feel more authentic. (Plus, designer Dee Murphy knows they make great bookends, too.)
Plants naturally help us feel at ease, but there are actually a select few that can give us a better night's rest, too. Aloe vera plants, for example, are said to purify the air around us, while lavender and gardenia boast sleep-inducing scents.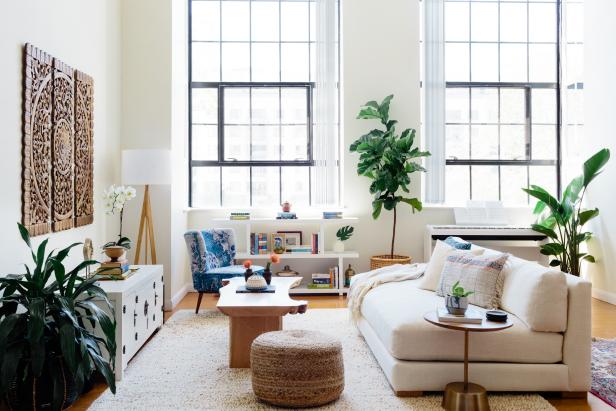 Natural Light and White Color Palette Crates a Clean, Bright Space
Designers wanted to take advantage of the abundant natural light that spills into the space from the floor to ceiling windows. To highlight this aspect of the space and create a clean, bright space, the walls were painted white to reflect the light, and white furniture was set up in the space. To add warmth, designers hung an Asian inspired wall hanging and brought in a blue and white chair to give the space a bit of personality.
This year, leafy greens will be the key to rest and relaxation. Designer Barbara Vail was ahead of the curve when she softened the industrial elements of this loft with fig trees, monstera plants and orchids.
Much like plants, different woods have different benefits. For example, willow carries salicin for headaches. When you bring live-edge pieces into your home, you're guaranteed to enjoy some of the good vibes that come with the material.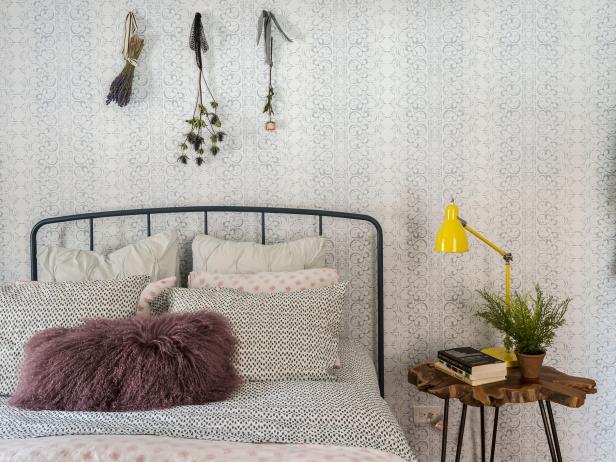 Bohemian Bedroom With Hanging Flowers, Live-Edge Table
Cozy up in this eclectic bedroom with punches of color and personality everywhere. Multiple, cool and complementary patterns give the room almost a monotone neutral feel. The eye is drawn to the perky yellow table lamp which is sitting on a slice of an old tree.
Our advice? Invite natural beauty and energy into your space by trading the traditional nightstand for a live-edge table, like this piece from LABL Studio.
Though these accents have long-decorated beach homes and bungalows, they're becoming statement pieces in houses far from the water.
Tabletop Coral Accent Covered With Glass Cloche
A glass cloche is the perfect way to make a feature of your favorite accessory. On this living room coffee table, a piece of coral is featured, adding a hint of coastal style to the space.
Just like crystals, coral and driftwood offer organic color and texture while also evoking the calming nature of the ocean. When you make them the center of your coffee table, like Anna Williams did here, you infuse your living room with coastal character.
Living intentionally is a goal for many of us this year, so we're seeing a lot of prints packed with earthy symbolism. Moon phases remind us that life is cyclical, feathers keep things light and airy and space-style murals, like this design by Joe Human, help us understand the bigger picture.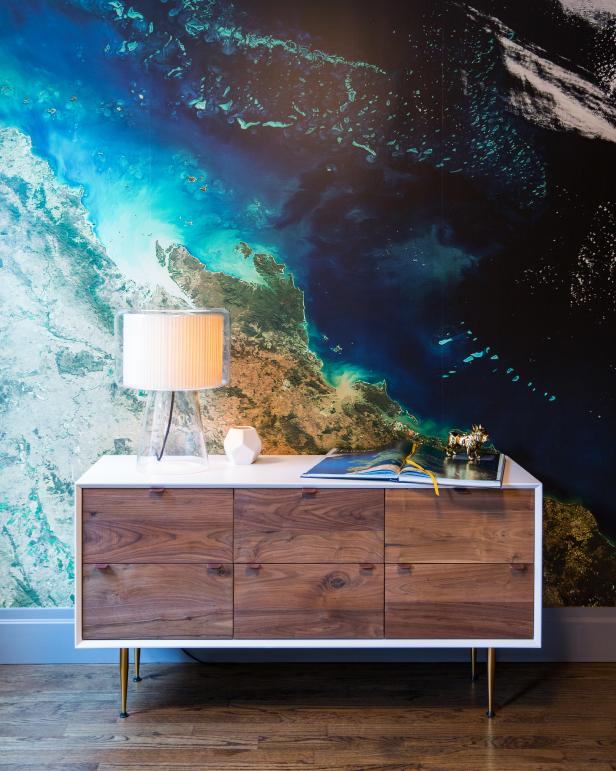 Master Bedroom Dresser and Mural
For homeowners who enjoy travel and geography, a mural of the Earth is an inspired choice for the master bedroom. Because of the wall-sized mural, furniture needed to be simple, so the designers added a midcentury modern dresser, a glass lamp and just a few accessories. Lamp: Marset table lamp