Trending Now: Eero Saarinen's Tulip Tables and Chairs
Like the boomerang looks of fashion, interior design and furniture trends often look to the past, with previously popular styles circling back around for an encore. Learn more about a furniture style that was popular in the midcentury and is hot once again.
Introduced in 1955, the "Pedestal" or "Tulip" collection features chairs, tables and stools with a modern, streamlined interpretation of organic form. Designed by Finnish-born, forward-thinker Eero Saarinen, the collection was an immediate success that's now considered a standard of midcentury modernism and futuristic design.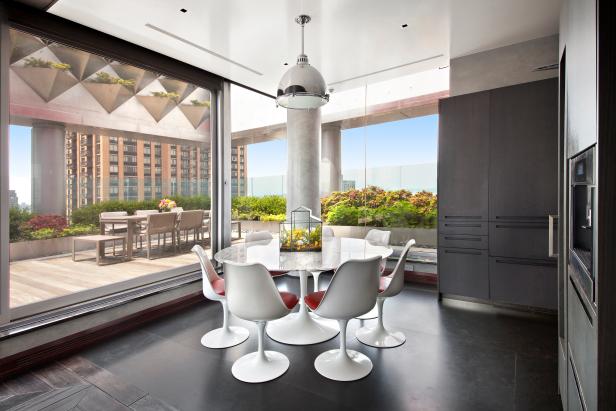 Dining Room: Penthouse Perch in New York City
A white tulip table and chairs tucks neatly into a corner of the kitchen in this luxury penthouse, taking full advantage of the incredible New York City views. On lovely days, dine al fresco on the balcony just steps away.
Halstead Property, a member of Luxury Portfolio
An acclaimed architect and trained sculptor, Saarinen's impetus to create the collection stemmed from his dislike of, as he put it, "the slum of legs" created by all preceding tables and chairs.
David A. Land (styled by Elizabeth Demos)
Designing sturdy, functional pieces with only a single, slim support proved a challenge, forcing Saarinen to abandon his original vision of constructing furniture entirely out of molded fiberglass in favor of using more durable cast aluminum for the bases. For the chairs, the aluminum base is topped with a molded fiberglass shell seat — either with arms or without.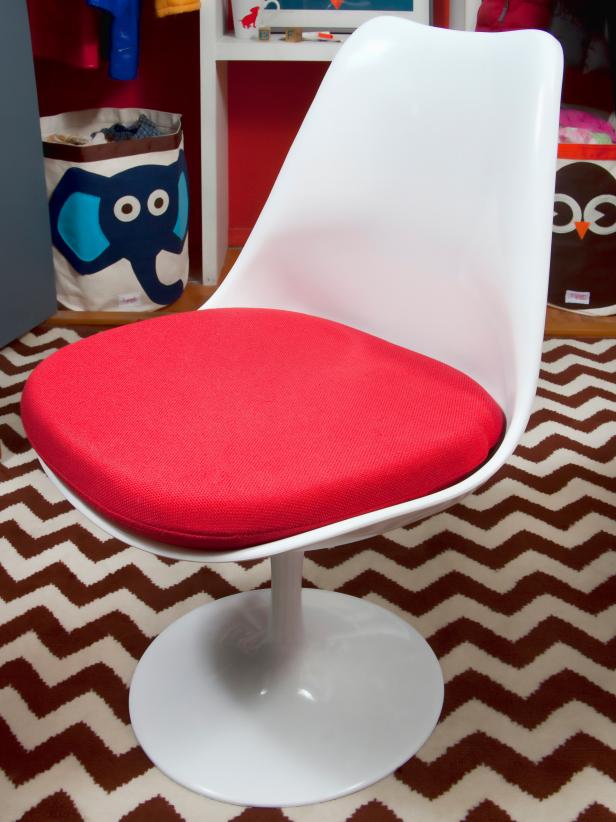 Tulip Chair in Child's Room
Classic modern chairs are ideal for kids' rooms not only because the style is timeless, but because the rounded, biomorphic shapes of the chairs lack sharp corners which could be harmful for active children.
The tables' cast aluminum base can be topped with marble, wood or a plain white laminate: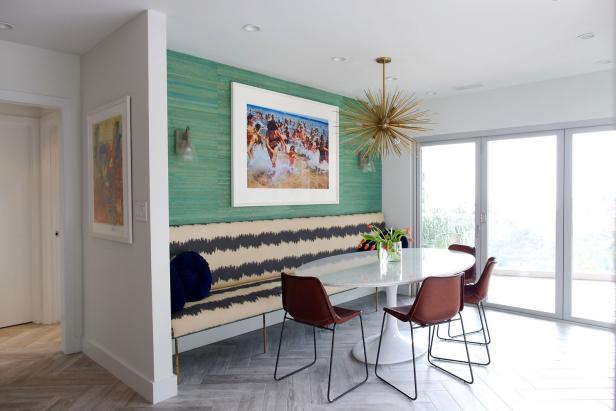 Multicolored Eclectic Morning Room With Banquette
This eclectic morning room delivers instant energy with its green wallpaper and vibrant black-and-white striped banquette.
Saarinen's simple, sculptural design ensures these pieces work with a variety of design styles — and are as at home in the bedroom, office or living room as they are in the dining room:
And, if these photos aren't enough to convince you that the Tulip collection is truly out-of-this-world, then maybe this will: Saarinen's futuristic design was the inspiration for lookalike Burke chairs on none other than the original USS Enterprise.
If you're ready to add a piece of this sculptural furniture to your home, prepare yourself for a bit of sticker shock. Furniture this iconic doesn't come cheap — but it can be had. Saarinen's collection has been licensed through Knoll since its release and is still in production today. Or, you can try your luck at finding one of the highly collectible 1950's originals at online sites like 1stdibs, eBay, Etsy and Chairish or estate sales, thrift stores or flea markets in your area. Happy hunting!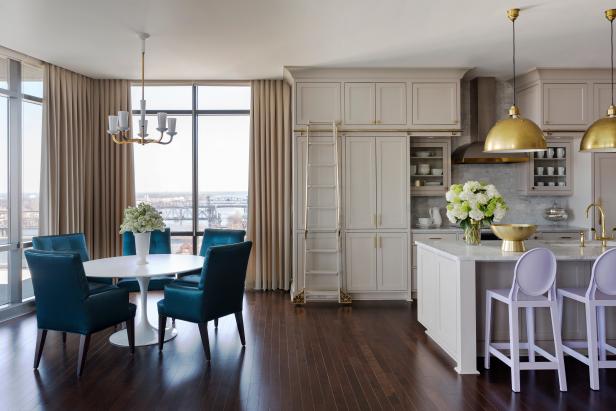 Neutral Urban Open Plan Dining Area With Blue Chairs
The open concept design of this urban apartment easily connects the casual dining area with the kitchen. The corner placement of the charming round tulip table takes full advantage of the amazing city views.