Subway Tiles: A Love Story
It's a classic for a reason. But do you know the history?
Once upon a time, in a land called New York City, one of America's favorite design elements was born. And that stylish piece of 1904-history is the subway tile. Originated by designers George C. Heins and Christopher Grant La Farge, this ubiquitous 3-by-6-inch rectangle, first seen in a New York subway station, quickly made its way into kitchens and bathrooms across the country. And with its sleek, easy-to-clean design, it's no surprise that the trend is still going strong today. Need proof? Read on to see our editors gushing over this simple, streamlined tile that, even after 100 years, is only gaining in popularity.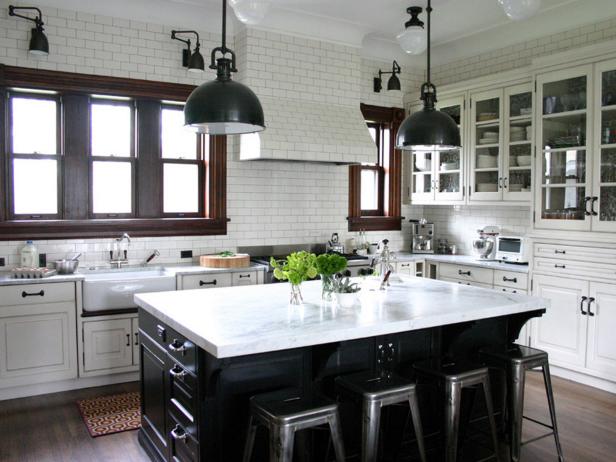 Traditional Kitchen in White Subway Tile With Black Island
The best traditional kitchens pull in classic elements without looking too stodgy or trapped in a time warp. Keep the look fresh by mixing in modern or industrial elements like these patinated lighting fixtures or streamlined barstools. Design by Rebekah Zaveloff
Shannon: I don't think I'll ever be tired of subway tile. It's one of those trends that's also timeless, so it won't look dated in a few years. Plus, it's an affordable backsplash option compared to other materials like stone or glass. While you can't go wrong with the classic running bond pattern, I also love seeing subway tiles laid out in nontraditional ways, such as this herringbone design featured in HGTV Magazine.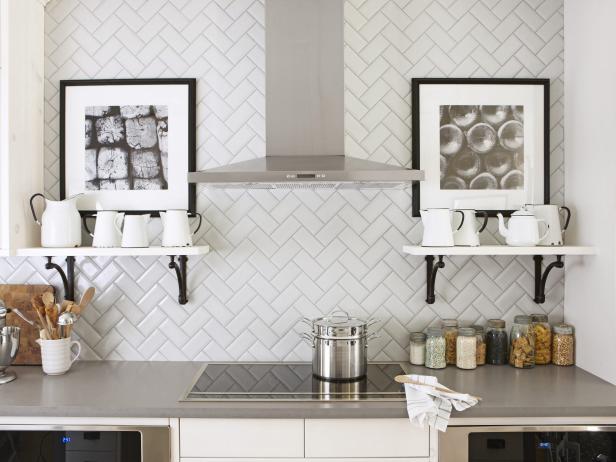 Herringbone Pattern Tile Backsplash
The backsplash mimics the island's wood pattern and requires about the same amount of tile as a straight installation. Gray grout accentuates the pattern and hides dirt. I love artwork in the kitchen since it's a gathering space. These photos of bread and wine bottles are fun for their entertaining theme.
Mariel: There's a reason this timeless look has been going strong for more than 100 years. It's because it looks good in so many spaces and with every design style. Plus, with gazillions of colors, textures, finishes, patterns and grouts, you can make it your own no matter your taste. To be sure, I'm loving the colored grouts and patterns that are all the rage. But my favorite remains classic white, though gray-blue is nice…oooh or green!
Photography by Padilla Bowen Photography
Liz: Yes, they're everywhere. Yes, I should be tired of them by now. The reason I'm not tired of them? This classic tile shape is so streamlined and modern that it literally works for any style of space, from farmhouse to modern. Plus, I love the newest iterations with dark gray or colorful grout. My new favorite: black subway tile with black grout. Subway tile? Sexy? You better believe it.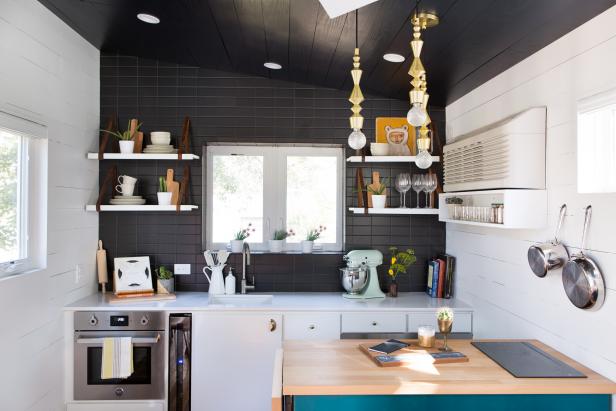 Tiny Eclectic Kitchen
This tiny black and white kitchen designed by Kim Lewis Designs is nine feet wide. The countertops are by Silestone, lights by CB2 and tile by Daltile.
Molly Winters Photography
Chelsea: I'm still a huge fan of subway tile! And I agree with Liz — it's so classic and streamlined, it really does work with so many styles. That being said, however, I've lost my love for the classic look and am currently drooling over the new lay patterns I'm seeing. Herringbone subway tile? Yes, please!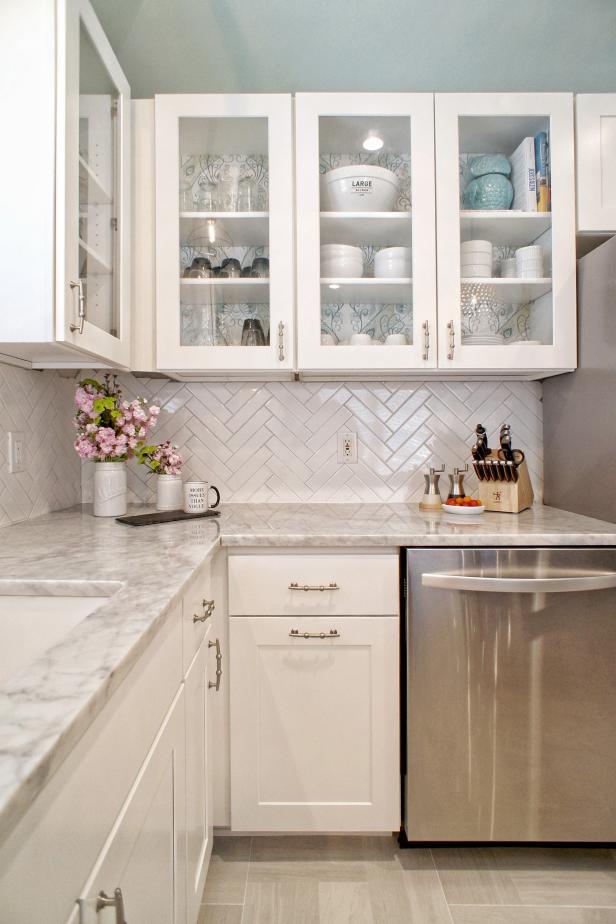 White and Gray Modern Kitchen With Herringbone Backsplash
This light and bright modern kitchen combines white and gray tones to create a lively area of the home. Glass front cabinets are mixed in with white Shaker style cabinets, while a gray and white marble countertop offers a finishing touch. A white tile herringbone backsplash adds fun texture to the space.
Mallory: While I love a bold, artistic backsplash as much as anyone (remember that swoon-worthy backsplash from HGTV Smart Home?), I get a little afraid to go that route in my own home. The perfect balance? White subway tile with a dark grout. It grabs your eye without taking over the space, and I don't think I will ever get sick of it. We've had ours for three months, and I like it more and more every day.
Kayla S.: If it were possible, I'd probably subway tile my floor. It's such a classic look that can easily rock a fun color to add some punch to a space. Kitchen, bathroom, shower … it looks great anywhere, and I don't think it's going anywhere anytime soon. Subway tile is here to stay.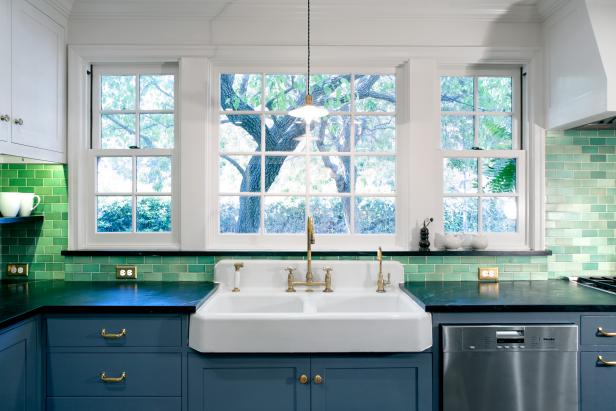 Transitional Kitchen Boasts Green Backsplash
Green subway tiles adds a playful pop of color to this transitional kitchen, contrasting nicely with the white farmhouse sink and cabinets. A large window and pendant light ensure that the room is airy and bright, no matter what time of day it is.
Jordan: There's a reason subway tile is still around: It's sleek, sophisticated and, well, it's a classic. My favorite? The timeless white with black grout that makes for a bold look in any kitchen.
Kayla K.: There's nothing sexier to me than symmetry and balance. Subway tiles provide a clean, streamlined look that mosaics and glass tiles just can't provide in a bathroom or kitchen. Dark grout is my favorite look of the moment because it adds a beautiful contrast against the white tile. But I still love a crisp, white-on-white bathroom with floor-to-ceiling subway tile. It just does something to me…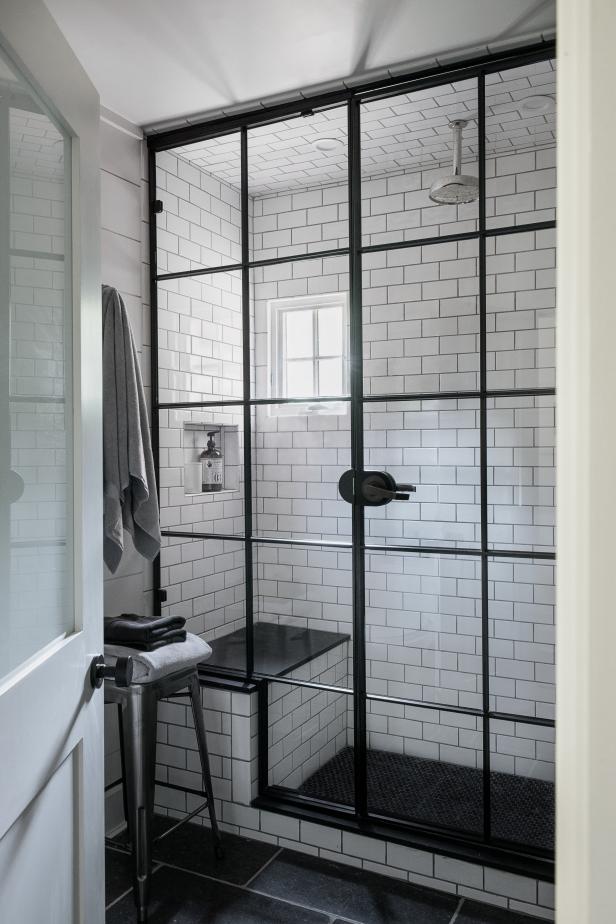 Black and White Shower With Subway Tile
A reclaimed factory window serves as the shower door in this country cottage. The striking black and white color palate keeps the bathroom feeling modern and fresh. A small window in the shower lets in just enough natural light.