Save Face: 5 Ways to Add a Visage to Your Space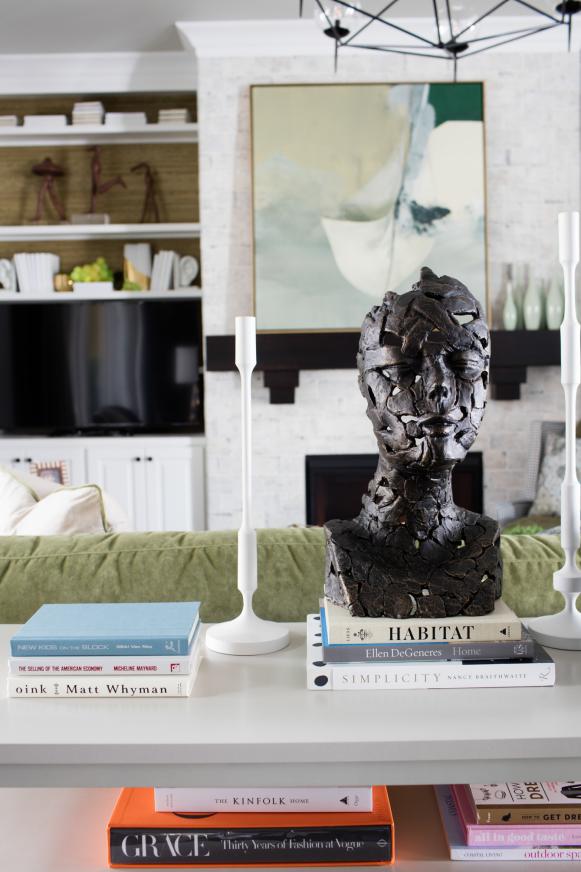 Statement Piece
A modern sculpture of a human head placed on a stack of books adds height to the console table and acts as a conversation-starter.
Sarah Dorio/Flynnside Out Productions, 2016, HGTV/Scripps Networks, LLC. All Rights Reserved
Seeing an old, familiar face brings us comfort. Meeting a new, friendly face brings us excitement. We could all use a little more of both, don't you think? Enter: The in-your-face "face" trend for 2017. Our editors first reported the look when they came eye to eye (get it?) with the trend at High Point Market. Just a few weeks later, we're already seeing (and obsessing!) over the fresh-face finds that are popping up in stores everywhere.
Face-adorned planters, antique busts, vibrant visage wallpapers, eclectic eyeball-print pillowcases and lip trinket trays are our new must-haves for the season. New faces, old faces, glossy, metallic or mossy-covered-garden-dwelling faces — this trend doesn't discriminate, and each face is just as trendy as the next. The best part? Just as there's a lid for every pot, there's a face for every interior; it's just a matter of finding the friendliest face for your space. And that, my friends, is where I step in.
Traditional (With a Twist)
This "trend" is more traditional than what first meets the eye. In fact, faces were all the rage in ancient Greece and Rome. Take note from their classical sculptures, and incorporate busts on a corner credenza (as seen here) or even in out in the gardens. This subtle nod to the past is timely and sure to bring refinement to your space.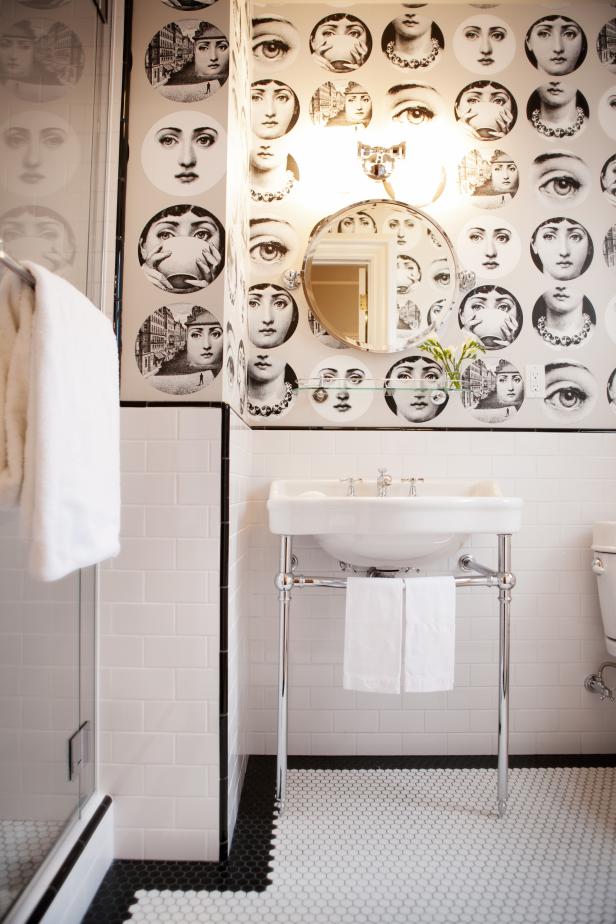 Black and White Traditional Bathroom With Face Wallpaper
A traditional bathroom with a classic black and white palette gets a shot of humor courtesy of its graphic Fornasetti wallpaper featuring woman's faces. The mirror above the sink playfully mimics the round portraits.
Designer Kari McIntosh Dawdy proves that faces are straight-up fierce in this funky black-and-white bathroom. (Who needs color when you've got a print like that?) Go bold and duplicate this eclectic look in your space by incorporating beaucoup visages through wallpaper, graphic art prints or a set of all-seeing-eye bed linens.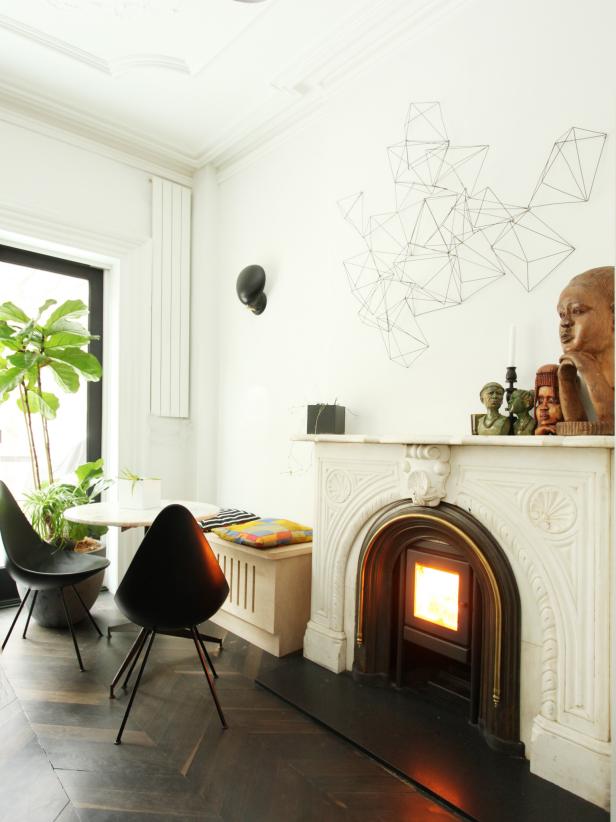 Eat-In Kitchen
On the other side of the room, a nook away from the kitchen's more functional areas, is a study in comfort. A small bistro table flanked by chairs and built-in seating comfortably accommodates the family of four while keeping the space neat and streamlined. A second fireplace features a collection of small busts and other elements set against the ultra-modern geometric wire artwork that adorns the wall. A large plant provides the final touch that makes this curated space feel like a home.
Patrick Cline Photography
When finding faces for your bohemian bungalow think warm, terra-cotta hued wood and funky carved detailing. Mimic the effortless, free-spirited design seen here by layering several richly colored, earth-toned busts at the corner of a mantel or bookshelf.
Warm hues + quirky expressions, spotted at High Point Market.
The secret to incorporating any trend into a modern, streamlined space without throwing off your design balance is maintaining the mindset of "less is more." Keep your space crisp and clean with a bright, white face plant(er) like this one, spotted by our editors at High Point Market. We love it because it's subtle, sophisticated and screams style. Pinching pennies? Get the look for a fraction of the cost with our DIY mini planter tutorial below.
Your space is more than just a pretty face. Even so, it doesn't hurt to throw a couple of beauties in there, does it? Designer Caitlyn McCarthy uses white Egyptian busts atop a gilded, glass entry table to set a stylish tone for guests as soon as they walk through the front door. Go for glam, and mimic Caitlyn's look by styling a pair of pretties to greet guests in the foyer. When in doubt, a gold finish is always a good idea.