Proof That Rattan Doesn't Have to Feel Overly Boho
When done right, the material can feel totally fresh.
By their definition, trends come and they go. So it's no surprise that even though we're constantly swooning over the boho chic homes we see throughout our social media feeds, we're just not ready to fully dive in. Transforming the complete style of your interior is a big time (and budget) commitment, but luckily, there are easy and accessible ways for you to get those laid-back looks without going all out.

So instead of completely redecorating our homes with bohemian-inspired pieces, we're starting small with a boho-favorite material, that still feels modern: rattan. From high-end vintage designs to budget-friendly Target finds, you simply can't avoid rattan these days. And no matter what the aesthetic of your home is, you can incorporate these mellow accent pieces into your space to make a subtle statement. Take a look at our favorite ways to make these trendy pieces fit seamlessly into any home and get inspired to try some out for yourself.

Pay attention to a place that you may often forget about — those ceilings of yours. Keeping generic lamp shades and pendants is an easy option, but switching them out for something a little chicer will make all of the difference. This is the perfect place for you to incorporate some rattan goodness. Aside from looking great in any room, they will also create a warm glow that nobody can say no to. You'll quickly forget about that dome lamp that's been there since you moved in.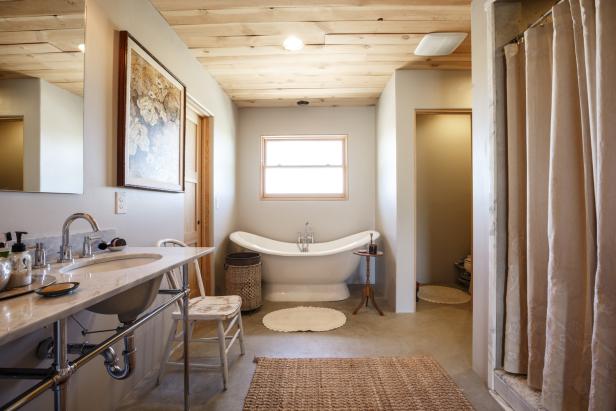 Eclectic Master Bathroom Boasts Freestanding Tub
Polished concrete floors and a wood paneled ceiling set the tone for an intriguing design in this master bathroom. Exposed plumbing adds an industrial vibe, while a freestanding tub lends classic charm.
One of the best things about rattan is its neutral palette. Any floor in need of a little extra help will get an instant facelift with these woven textiles. Stairs, foyers, bathrooms and every other empty square foot can benefit from this trend. Your existing furniture and decor will pair flawlessly with this choice of rug. Added style and texture all thanks to one piece? Yes, please!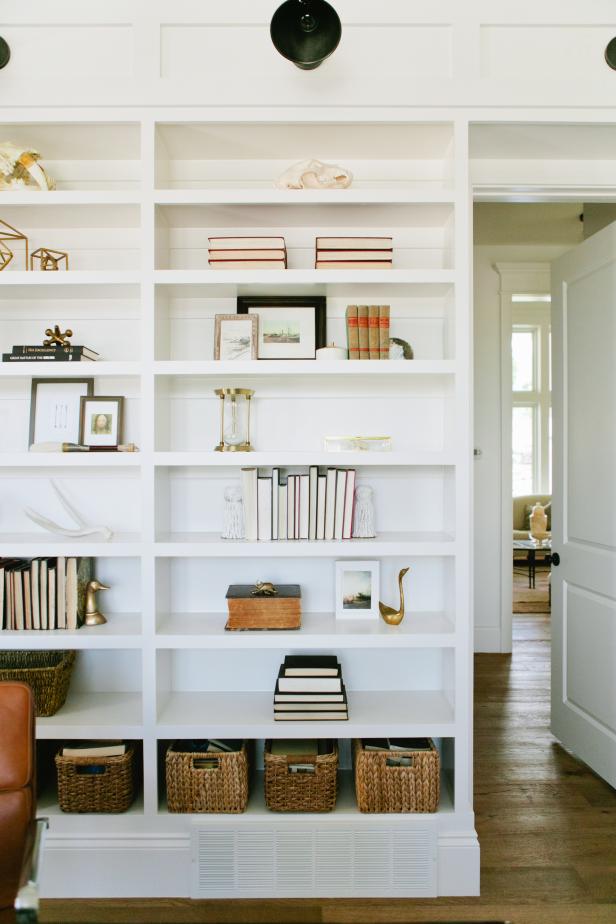 Built-In Bookshelves in Home Office
A wall of built-in bookshelves elegantly displays books, accessories and wicker storage baskets in this home office design by House of Jade Interiors.
Boho beginners need look no further than this option. Take your shelves to the next level by adding small touches of rattan. Grab some basic baskets and devote a shelf or two to them. Not only will this add some additional storage, its also an easy way to introduce a trendy aspect to your existing decor.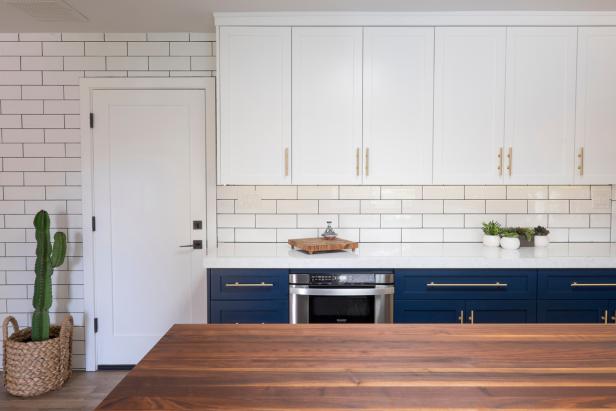 Navy Cabinets in All-White Kitchen
The navy blue lower cabinetry creates a striking visual contrast against the clean white upper cabinets and crisp white tile, which is outlined in a charcoal grout.
Alexander Abed Photography
If you're plant crazy right now, you need to start displaying yours in this stylish way ASAP. No matter what size plant you're looking to style, a rattan pot is an ideal way to showcase your greenery. Create a bold, desert-chic look in your home by choosing a large scale pot for one of your bigger trees. The natural color of the rattan makes the vibrant greens in your plant stand out and turns your abode into a jungle oasis.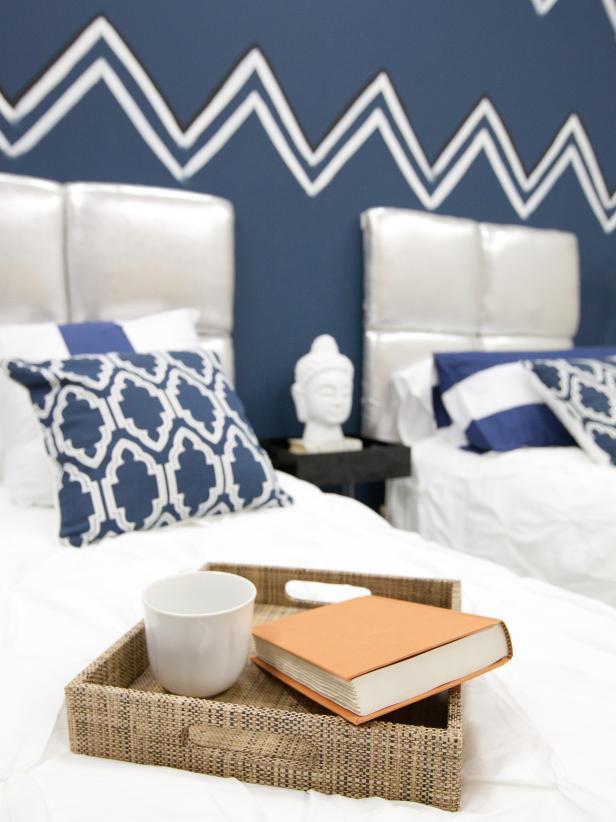 Rattan Serving Tray in Navy & White Bedroom
The metallic headboards in the guest bedroom of the HGTV Design Star cast house are custom-made from pattern-printed hides, batting and blocks of wood. A rattan serving tray is prepped for an afternoon in bed with a book and cup of tea.
Who doesn't love breakfast in bed? Grab one of these trendy trays from just about any store and instantly up your weekend leisure game. From housing your favorite flowers and TV remote (of course) in your living room to being used to shuttle coffee back into your bed during lazy mornings, this accent piece is a must-have.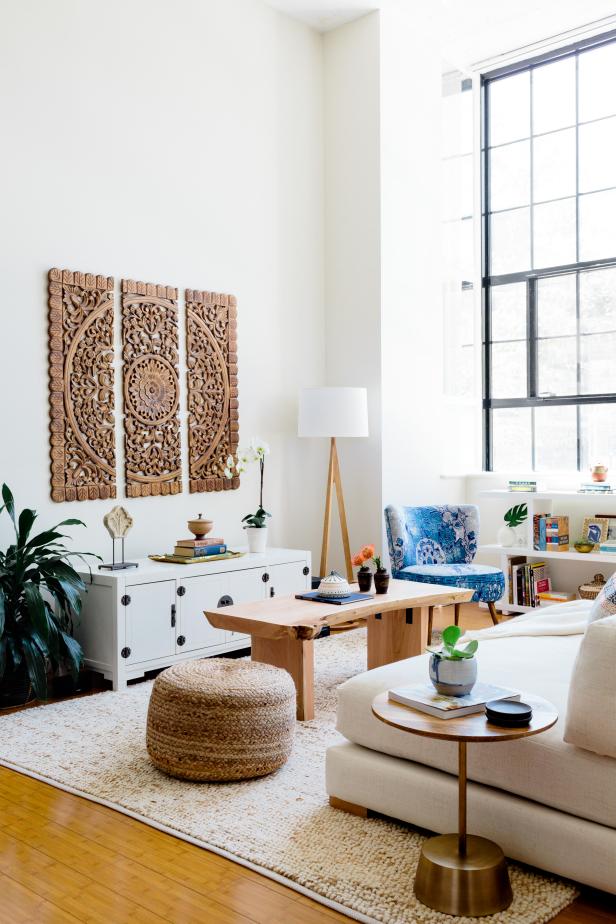 White Loft Living Room with Accents that Bring Texture to Space
Designer wanted to create an elegant space with plenty of light and lots of texture, so they made the most of the natural light that fills this space by painting the walls white and adding a white sofa, bookshelf and cabinets to reflect light. Then, they brought in pieces like the Asian inspired artwork on the wall, the woven chair and the live edge table to add warmth and texture to this bright space.
A rattan ottoman is a great option no matter what decor style you prefer. Added storage, seating and surface areas are a must in every home, so the addition of a new ottoman will do wonders for any living space. If you can't find an ottoman that matches the furniture you already have, rattan is the perfect choice. The muted style of this necessity fits into any space and blends right into your existing design.
You can obtain the long sought after perfect combination of privacy and natural daylight with rattan blinds. The natural structure of this product allows for ample amounts of sunshine to stream through your room, even if you have to pull down the shades to avoid an unpleasant view some days. And as an added bonus, you will feel like you're in a tropical resort when you put them to use!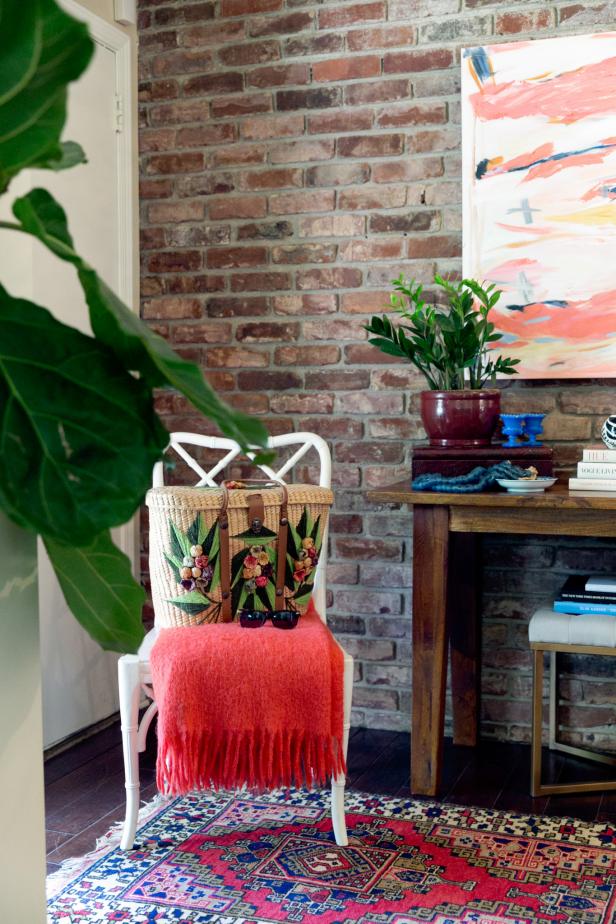 Living Room with Brick Wall and Faux Bamboo Chair
The white faux bamboo chair was brought up from the basement, topped with a pink throw the homeowner owned and a retro rattan purse that cost $6 from a thrift shop. The colors on the styled seat and antique rug, which was elsewhere in the home, seem even more vibrant next to the brick wall.
Give your home some vacation vibes by using some of your favorite summer accessories as decor. Use what you already have to work some boho style into your home. Summer hats and bags are often rattan-based and look oh so stylish on full display on any wall. Hang them on hooks, display them on a chair or fill up any available countertop — no matter how you go about it, you're bound to upgrade your style for the season.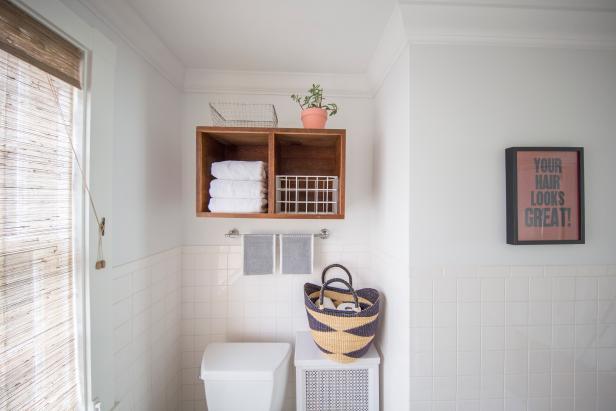 Contemporary Bathroom With Half Wall White Tile, Mounted Towel Storage and Decorative Colored Details
White square tile covers the lower half of this bathroom wall and then blends into the white paint. A mounted wood shelf and two-tone wicker basket create open towel and supply storage. A small plant pot matches the salmon colored wall art for a fun and simple pop of color to decorate the space.
Laura Davis - Everyday Charming
A rattan storage option is an easy and convenient way to add warmth and style to your home at the same time. Slide a basket into any corner of your home to hide anything that needs a little organizing. Try choosing a basket with some added color or patterned elements if you want a more tribal aesthetic. For example, toilet paper stored in one of these amazing finds is way better than being stacked on its own, right?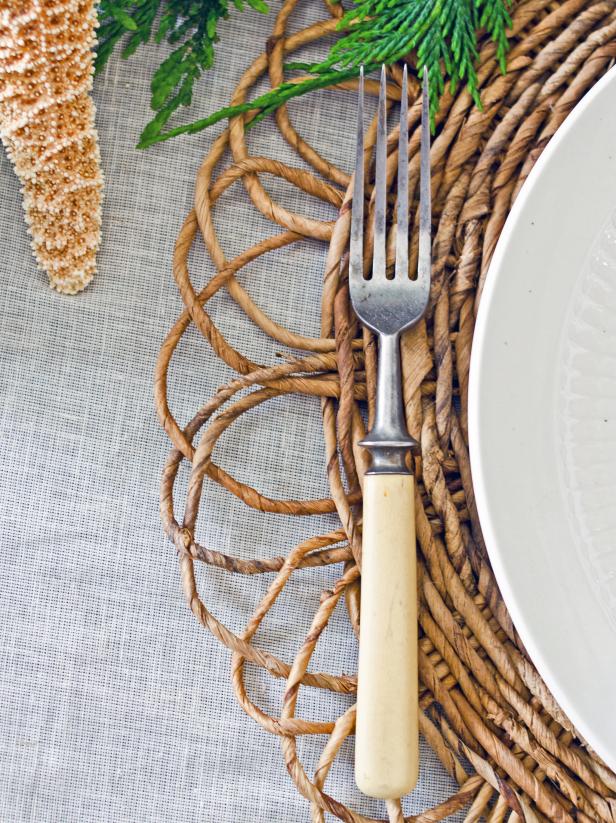 Rattan Place Mat on Coastal Christmas Table
Rattan place mats and a grass cloth tablecloth lend a casual, beachy feel to this coastal Christmas table setting.
Whether you're hosting a dinner party or just want to dress up your dining area, rattan chargers are a great choice. The color palette of your serveware doesn't matter when it's paired with this neutral, so don't feel the need to stick to matching sets. No matter what your theme is, these new pieces in your dining routine will have a big impact on your tablescape. Leave them displayed on your table full time to give your dining area that extra oomph it's been needing.