Outdoor Lighting Tips to Get You Through Fall
Happy first day of fall! It's that magical time of the year where the days are getting shorter, but the temperatures are still comfortable enough to enjoy the outdoors well after the sun has gone down.
One of the keys to enjoying your yard or porch during fall is to have appropriate lighting to suit the mood or activity. Here are some tips on how to design the perfect lighting setup for your outdoor space.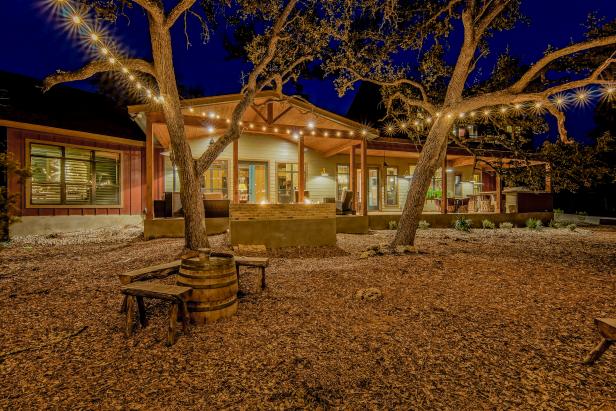 Mulched Backyard With String Lights
Warm outdoor lighting brightens this mulched backyard. Wooden benches circle up around a barrel for a rustic outdoor sitting area.
Barron Custom Design, LLC
Cafe string lights are an easy way to add some serious ambiance to an outdoor space, and this ranch home gathering space by Austin, Texas designer Felicia Foster is one of my favorite spots with cafe lighting. These lights come at a variety of price points: you can find affordable strings at big-box stores or get heavy-duty (but more expensive) strings from specialty lighting companies.
Ebby Halliday, a member of Luxury Portfolio International®
Adjustable lighting transitions well through each season. These industrial-style lights can be twisted to project light softly against the pergola ceiling for ambient light or turned straight down for sharper, more direct lighting in the seating area for darker nights.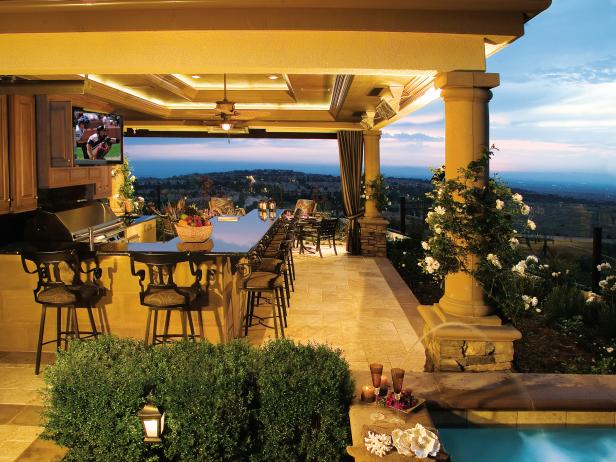 Luxurious Outdoor Kitchen and Bar With a View
This outdoor kitchen and bar has a Mediterranean design with sweeping views.
Mark Scott; Photo by Will Hare Photography, Will Hare Photography
Just as it's needed in an indoor kitchen, task lighting is very important in outdoor kitchens and entertaining spaces. In this outdoor kitchen designed by California landscape architect Mark Scott , recessed lighting and a ceiling fan light help illuminate the grill and countertop. As a bonus, lighting tucked into the ceiling's recesses creates extra ambiance.
Modern Venetian Isle Residence
The back of this modern home includes a tropical setting, luxury swimming pool and an outdoor bar that's perfect for entertaining.
When selecting outdoor lighting, think of how each piece of the lighting puzzle works together for your comprehensive design. Miami architect Ralph Choeff designed this modern home so that indoor lighting projects and illuminates the outside spaces. That means, outdoor lighting can be limited to details, such as the step lights and wall sconces in the outdoor kitchen.