Lighten Up Your Home With These Eye-Catching Curtains
Beat the heat and give your house a refreshing dose of color at the same time.
It's July, it's hot out and the last thing you want to think about is layering your home with thick, heavy curtains. We totally get it. But when the sun's harsh glare becomes too much to bear, it doesn't hurt having at least a little coverage over your windows.
To keep your favorite spaces comfortable all summer long, use brightly-hued, lightweight curtains that will gently reflect the sun. Here are a few of our favorite ideas for inspiration.
By replacing dark pink drapes with billowing white curtains, Nicole Curtis opened this sunroom to soft, natural light, making it feel peaceful and airy from morning to night.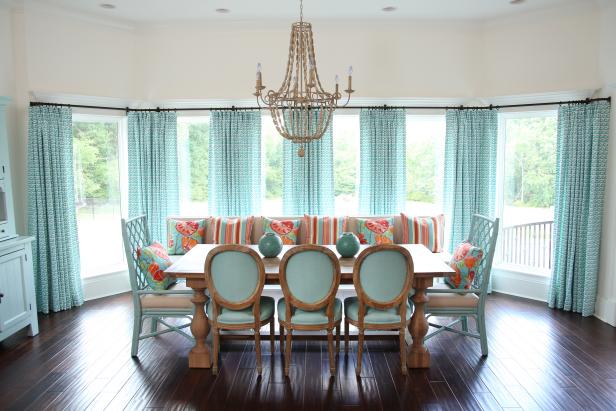 Coastal Dining Room With Aqua Decor and Ornate Chandelier
A light, beachy vibe penetrates this dining space thanks to an expanse of large windows and an abundance of aqua furnishings. A beautiful chandelier dresses up the casual, coastal dining table and chairs.
Because dark colors absorb more heat than others, it makes sense to choose curtains in softer hues during the summer. That's why we love this design by Jenna Buck Gross; not only do the floor-to-ceiling aqua curtains redirect the sunlight, but they also give the white walls a cute, coastal touch.
Another way to cool down your home is to decorate with white lace curtains, like these beauties by Kelly Baron. Because the fabric is less dense, air will flow easily through the curtains and keep your space breezy and comfortable.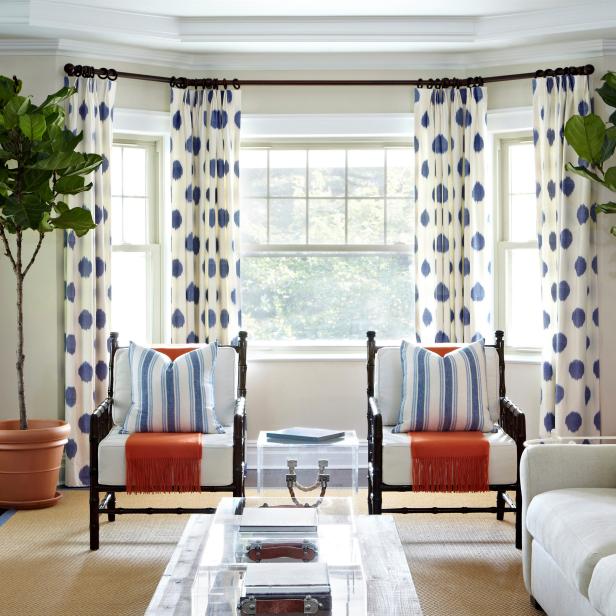 Transitional Neutral Living Room With Polka Dot Curtains
Two upholstered bamboo chairs with custom striped pillows and orange cashmere throws frame the large bay window in this transitional living space. Dressed in blue and white polka dot curtains, the window allows plenty of natural light to fill the room for a light, airy feel.
White curtains speckled with blue polka dots? Sign us up. In this living room by Chango and Co, the curtains add energy and color to the space and are just translucent enough to keep the room well-lit.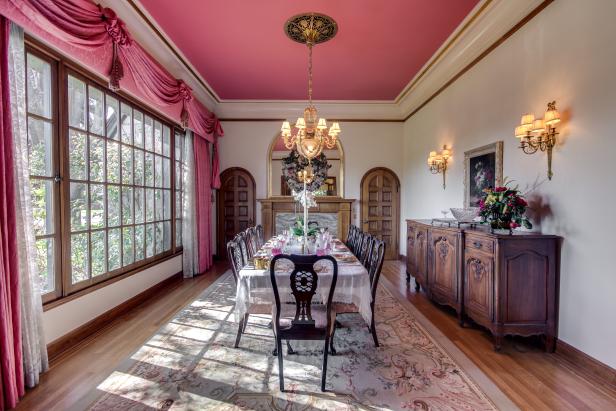 Dining Room: Historic Craigmuir Castle in Wenatchee, Wash.
Tasseled bubblegum pink curtains and a matching pink tray ceiling add a lovely touch of color to the formal dining room. Elegant furnishings, including an antique buffet accentuate the highly sophisticated design.
Windermere Real Estate, a member of Luxury Portfolio International
Bright and beautiful, pink is an ideal color for summer. This home offered by Windermere Real Estate infused a formal dining room with this fun-filled shade, making the space seem calm and inviting.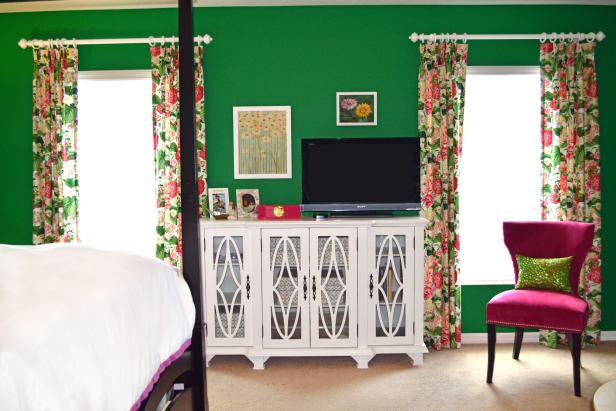 Bright Green Bedroom with Floral Curtains and a Detailed Media Cabinet
Colorful floral drapes add a touch of whimsy to this vivid green master bedroom, featuring a bright white media cabinet with fretwork and glass doors. A lovely fuchsia chair and pink accents exude feminine flair.
Nothing says summer quite like florals. In this bedroom by Gail Barley Interiors, two pairs of floral curtains easily complement the slipper chair and throw pillow and give the bedroom some gentle coverage.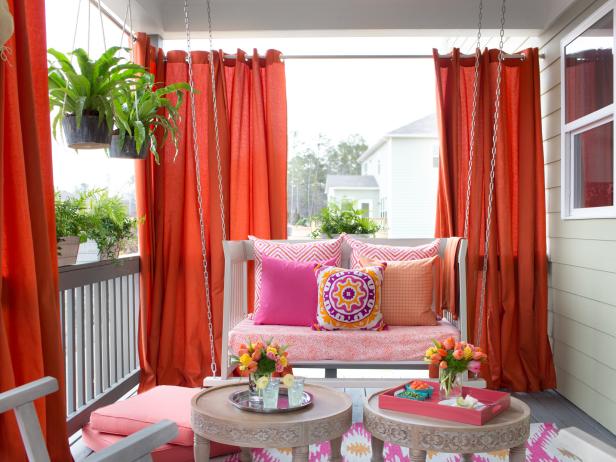 Vibrant Outdoor Space With Hanging Daybed and Draperies
Quick and easy updates brought springtime charm to the covered deck of the 2015 HGTV Spring House.
Flynnside Out Productions
This design by Brian Patrick Flynn just goes to show that curtains work well even in outdoor settings. For extra shade during the day, wrap your porch in warm orange-red tones to create a vibrant yet relaxing seating area.