Let Sunshine In With Light, Bright Window Treatments
It may be cold outside, but you can add warmth with window treatments that let plenty of natural light inside.
It's been cold, windy and gloomy here in the South, and quite frankly, I'm over it. To help lift my mood, I like to browse through amazing home designs — bright, cheerful photos are just a click away.
If you're feeling blah like me, keep scrolling for inspiring window treatments that are intimate yet allow plenty of natural light inside. Spring is right around the corner, so stay strong!
Add a Little Sunshine Yellow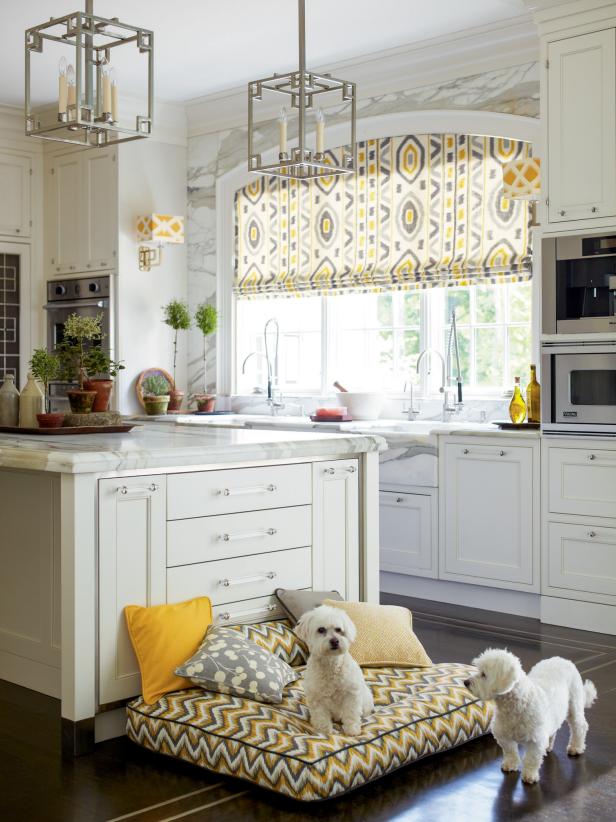 White Kitchen Pops With Gray and Yellow Patterns
Fabric-based window treatments are a great way to balance all the hard surfaces in the kitchen while also adding pattern and color. This custom arched shade can raise and lower to control sunlight and privacy. "Whether up or down, the shade keeps the kitchen feeling sunny with splashes of yellow from this Thom Filicia fabric, Prospect in Shadow," says the manufacturer. Continue the look by using fabric in places like lampshades (see the shades on the wall sconces), barstools, chairs and even Fido's bed.
This all-white kitchen is already bright and airy, but the yellow-and-gray fabric Roman shades bring softness and plenty of light — whether you keep the shades down or up.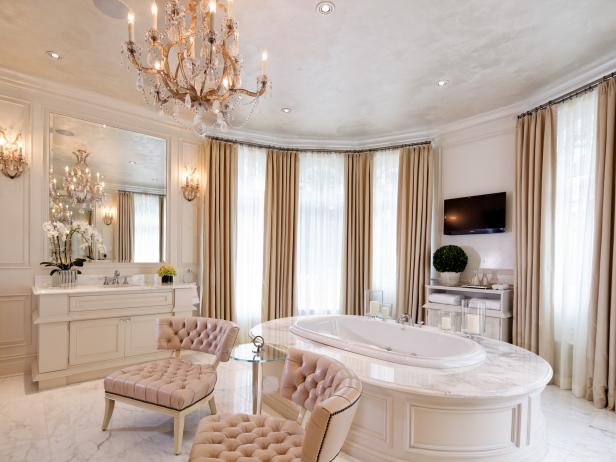 Elegant Master Bathroom With Marble Floors
A jetted tub encased by a marble deck and decorative wood base takes center stage in this elegant bathroom. Luxurious finishes, tone-on-tone neutrals and light filtered through sheer window treatments give this space a restful, spa-like feel.
Alan Goldstein, 2009 Alan Goldstein Photography
This bathroom is nothing short of luxurious, with marble floors, a crystal chandelier and even a flat-screen TV. The floor-to-ceiling window treatments add a private, spa-like feel to the space without compromising on natural light.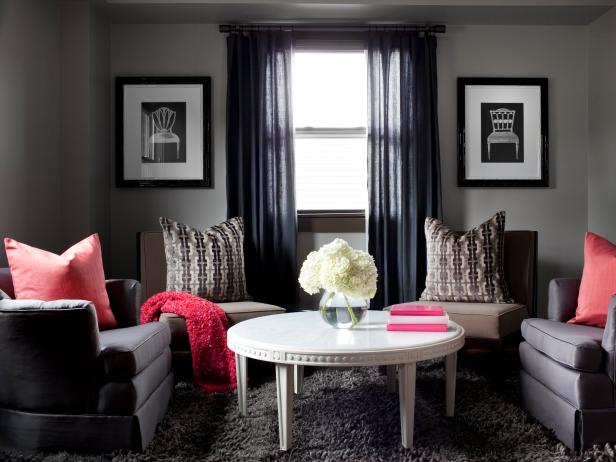 Contemporary Gray Living Room
Pink pillows and a pink plush throw add color to a room that is made up primarily of grey tones, from the light grey walls and chairs, to the dark grey drapes. A round white coffee table sits in the middle of the room on top of a gray-fringe area rug, creating a stark contrast.
Although prominently filled with dark furnishings, this living room still gets plenty of natural light through semi-sheer window treatments. Pink accents hint at springtime ahead.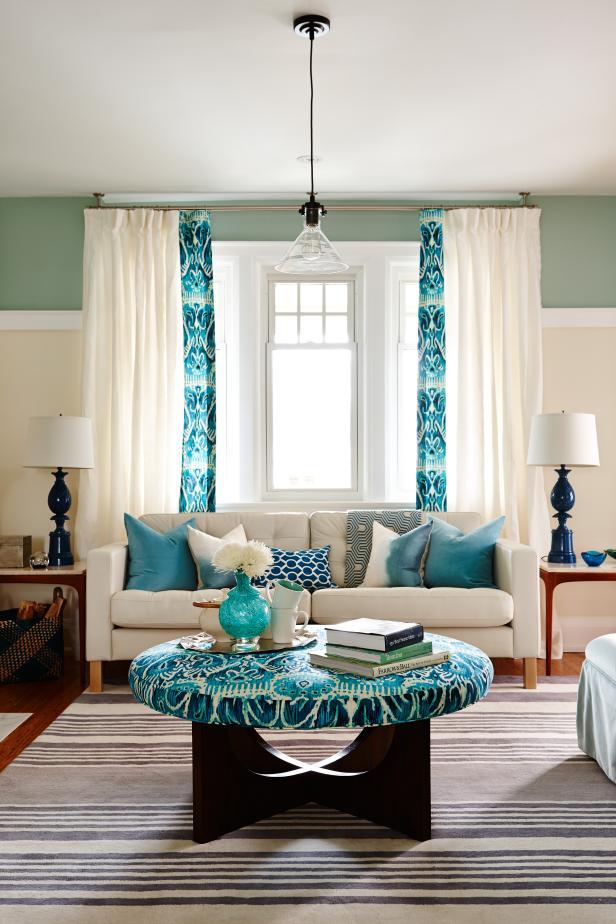 Sunny White and Turquoise Living Room From Sarah Sees Potential
As seen on season 1 of Sarah Sees Potential, Sarah completely transformed this once dark and dated living room with neutral paint and furniture and bright pops of blue decorative accents. The brown window frame was painted white and flanked by cheery white and turquoise drapes that match the chic fabric coffee table. A nautical-themed striped blue rug ties in the room's blue decor and adds warmth to the eucalyptus flooring.
Stacey Brandford Photography
This living room features neutral furniture and walls and gets color through furnishings that are easy to switch out with each season. The subtle pop of pattern and color in the window treatments flanks the sofa for a symmetrical, cheery look.
It's impossible to feel down in a brightly-decorated bedroom. The bright pink shades in the bedding carry through to the sheer, patterned window treatments that add energy to even the dreariest of days.