Learn How Art Teaches You About Your Home Design Style
Struggling with how to spice up the design of a plain room? Atlanta designer Melanie Millner explains how art can show you how to take a blank canvas and turn it into your favorite space in your home.
It's a common affliction for homeowners looking to furnish and decorate their home — having an empty room or bare walls and no idea where to start. But for Atlanta-based interior designer Melanie Millner, it's the perfect launching point for beautiful design.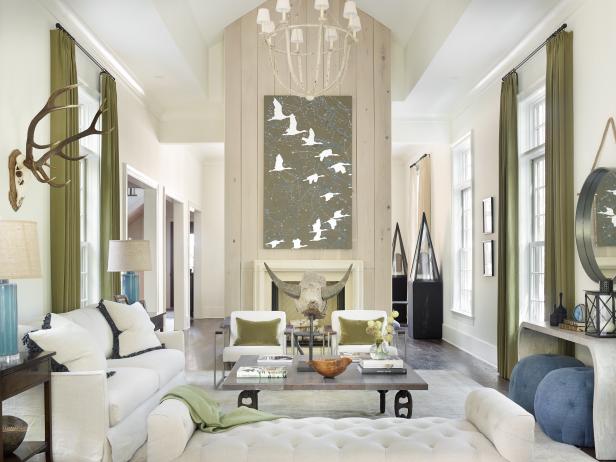 Transitional Living Room Embraces Woodsy Surroundings
This living room's color palette of soft neutrals and sage green pulls from the home's woodsy surroundings to create a calm, nature-inspired atmosphere. A vaulted ceiling lends a sense of grandeur to the space, while upholstered seating ensures the room feels cozy and inviting.
Millner, founder and president of The Design Atelier, loves to start with clean, white walls when working with clients. Where does she go from there? It's all about finding the right piece of art.
"We try to find that thing that resonates with the client and try to build the room around that," she says. "It's so personal, and it makes a room interesting. It has to have meaning."
When a client falls in love with a piece of art, it reveals more about their tastes — colors they love and styles that make them comfortable — which then sets the tone for the design of the space.
Colors in the artwork inform fabric choices for window coverings, colors of accent pillows and sofas and even wood tones for furniture. Shapes in the brush strokes of paintings can be echoed in the shapes of table legs or in the prints and patterns on the rugs.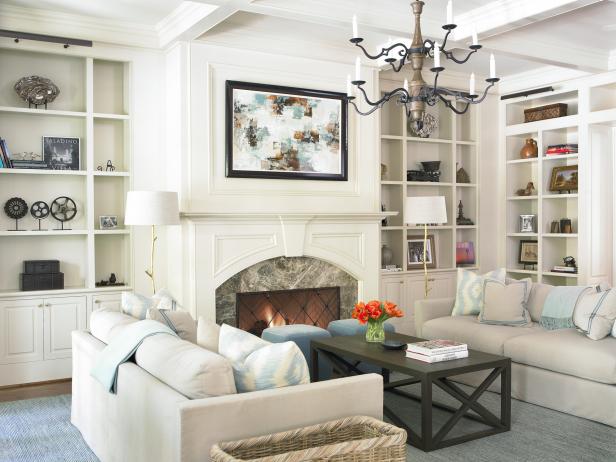 Spacious Living Room With Built-In Bookcases
In the pretty living room, color unites different details for a balanced whole while collectibles add a hint of personality to the off-white bookshelves.
Artwork can even inspire the overall style of the room, such as a painting of a cow presiding in a rustic room with wood paneling or artwork of cranes in flight inspiring an open, airy feel in a living room.
All of those design decisions creates a personal feel for homeowners. "You can't really pinpoint it," Millner says. "It just feels a certain way. I don't really care to just come in and design a space that I like. I want them to feel like it's truly theirs."