6 Super-Dark Exterior Colors You're Too Scared to Try (But Totally Should)
Join the dark side of design. It'll be fun, we promise. 
Long gone are the days in which a white-columned colonials are revered for being the poshest place in the neighborhood. It's 2016 and inky exteriors are saturating suburbia, one home at a time.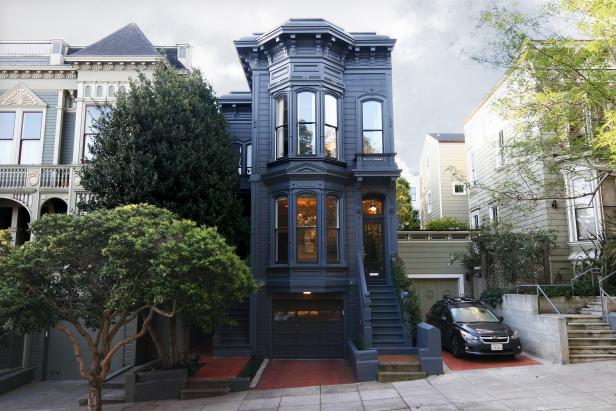 Front Facade of a Gray Victorian Home With Bay Windows
This noble-looking home is actually painted three shades of dark grey. Bay windows jut out of the victorian-style residence -- and what lucky homeowners: this house has a garage!
Coal-colored craftsmens and moody mid-centuries steal the show, leaving their beigey-brick neighbors to gather dust in their stylish shadow. These moody pigments produce killer curb appeal and exteriors that are sure to break necks. (Figuratively speaking, of course.)
Want your house to be the house on the block? You know, the one that brings even the heaviest of foots to a halt as they cruise by your house. Mouths agape, fingers pointing in admiration?
Duh, of course you do. Here are 6 delightfully dark homes to give you all of the house inspo, along with just the paint you'll need to get the job done.
I think we can all agree that this beautiful little bungalow is deserving of a stop and stare. The glossy black exterior resembles patent leather, trimmed with a crisp white trim that highlights the quirky design to perfection.
The brick pavers and stoop balance the ultra-modern contrast in a way that makes the home completely approachable. Five glossy stars for you, Bunga-boo!
Cedar shake siding has never looked quite as good as it does now, all dark and dreamy. This coal colored cutie breaks all expectations of what a cape cod is supposed to look like and it does so in the best way possible.
The contrast of the bright white trim against the surly cedar highlights the classic architecture in a fresh way that is sure to be the envy of any resident of Martha's Vineyard (along with the rest of the world, right?)
It's no easy task to stand out amongst the blur of brick, windows and fire-escapes in the crowded New York boroughs, but this black beauty nestled in Brooklyn manages to get the job done.
Matte black paint frames the townhome's modern high-gloss windows, inevitably creating high-impact curb appeal. The second story cedar-grey brick works in unison with the moody matte black in a way that marries modern and traditional design elements. Results? The city lives happily ever after, laying claim to a truly spectacular and head-turning home.
Who can really resist those dreamy dress-blues? "Not I!" said me… and you, and everyone else staring at this well-dressed navy craftsmen.
This inky dark blue is for more than uniforms and I think this home proves it can be just as tall, dark and handsome as the next place on the block. The deep blue siding is decorated (with the highest design-honors) by a gleaming copper drain and a slew of wow-worthy white trim.
Deep, dark and still so inviting. The pitch-black door is impossibly chic, centered within five symmetrical and shining windows. White highlights the sleek lines of the design and the charcoal brick adds texture to the façade.
The end results? An approachable and alluring abode that we all wish we lived in.
This grey craftsmen makes joining the dark side of design look easy (and crazy beautiful, too). Pretty pepper siding goes hand-in-hand with salty white columns to frame the porch. While a dark grey often adds a modern twist to designs, the natural wood door on this home works with the exterior color to produce an earthy and natural design that wows.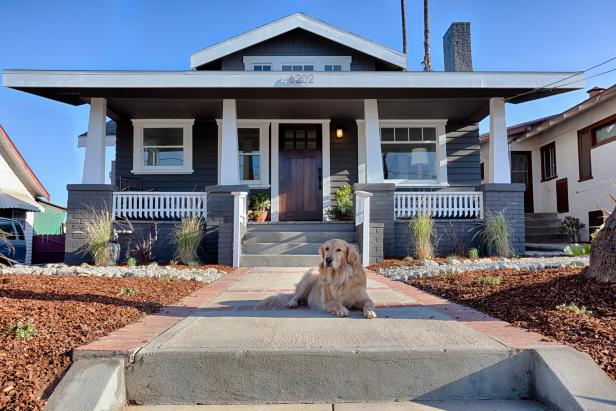 Gray and White Craftsman Exterior and Dog
A dark exterior with crisp white accents calls attention to this home's elegant Craftsman design. Say hello to the golden retriever welcoming committee.
Pigment choices aside, I think it goes without saying that the real crowning glory of this craftsmen is a certain golden sunbather, basking center stage of the front walk.
What's the hottest hue of the season? You tell us!