Introducing the 2017 Pantone Color of the Year: Greenery
The 2017 Pantone Color of the Year is here, and we have some seriously mixed feelings.
Where Rose Quartz and Serenity encouraged mindfulness, rest and well-being, this earthy hue symbolizes energy and new beginnings. As Pantone puts it:
"Greenery is a fresh and zesty yellow-green shade that evokes the first days of spring when nature's greens revive, restore and renew. Illustrative of flourishing foliage and the lushness of the great outdoors, the fortifying attributes of Greenery signals consumers to take a deep breath, oxygenate and reinvigorate."
Now that the world's color authority has spoken, our editors are ready to weigh in. Read on to see what we think about this spirited spring shade and how we plan to incorporate it (or avoid it) in our homes for the new year.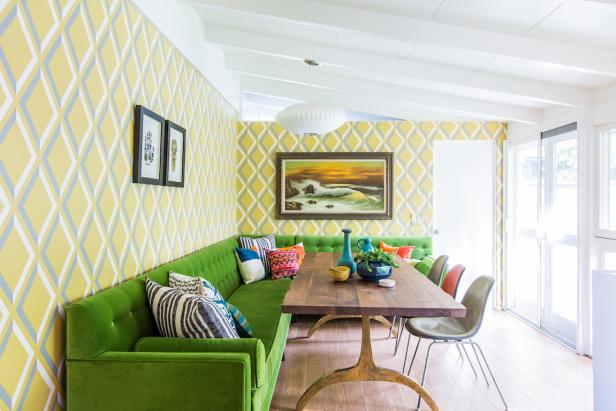 Long Table with Plenty of Seating in Mid-Century Ranch Dining Room
The homeowners of this Mid-Century Ranch wanted to make sure they had enough seating to accommodate the large parties they enjoy throwing, so designers installed a bench that lined the wall, wrapping around the table. One the other side, modern chairs add additional seating to ensure that this dining room is perfectly suitable for this family's entertaining needs.
"I love it! But maybe I'm biased because green is one of my all-time favorite colors. It's funny because a lot of my kitchen essentials, like oven mitts, towels and utensils are pretty much this exact shade of green." — Clara MacLellan, Editorial Intern
"I like it; I'm a fan of colors found in nature, especially when they're bright and vibrant. But I can't help to think they should have named it 'Ode to Kermit.'" — Jackie McGilvary, Editor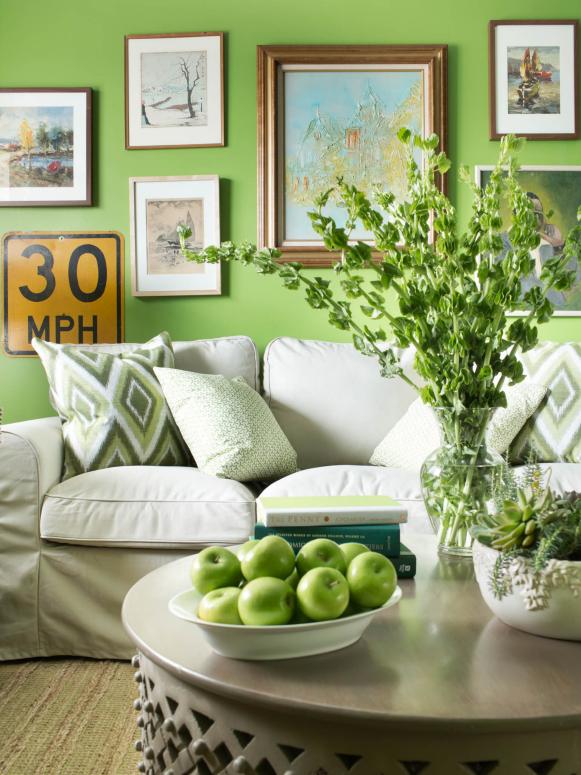 Crisp Apple Green Living Room With Neutral Sofa and Framed Art Gallery Wall
Apple green tones are happy and fresh. The wall color creates a bright backdrop for the neutral sofa and coffee table. Decorative elements like complimentary throw pillows, plants and an apple bowl highlight the fresh, green look. The gallery wall breaks up the green so it does not wash out the room.
"Green has been my favorite color for as long as I can remember, but I tend to gravitate more toward darker hues: emerald, hunter, Kelly. But after seeing this vibrant shade incorporated in the home, I feel like it's the youthful, fun cousin to the colors I so often flock to. Invigorating and fresh, Greenery is the perfect color to introduce to your decor in the spring and carry through to fall and even winter with the right complementary colors. Bonus: I imagine it will look phenomenal with the warm metallics, like bronze and copper, that we're seeing so much of right now." — Keri Sanders, Assistant Editor
"I love this color! It's bright, cheerful and refreshing — particularly appealing as we enter the dreary winter months. I have a guest bedroom at my house that doesn't get a lot of natural light, and I think a Greenery-inspired wall color would work wonders on it. It really energizes a mostly neutral space." — Shannon Petrie, Managing Editor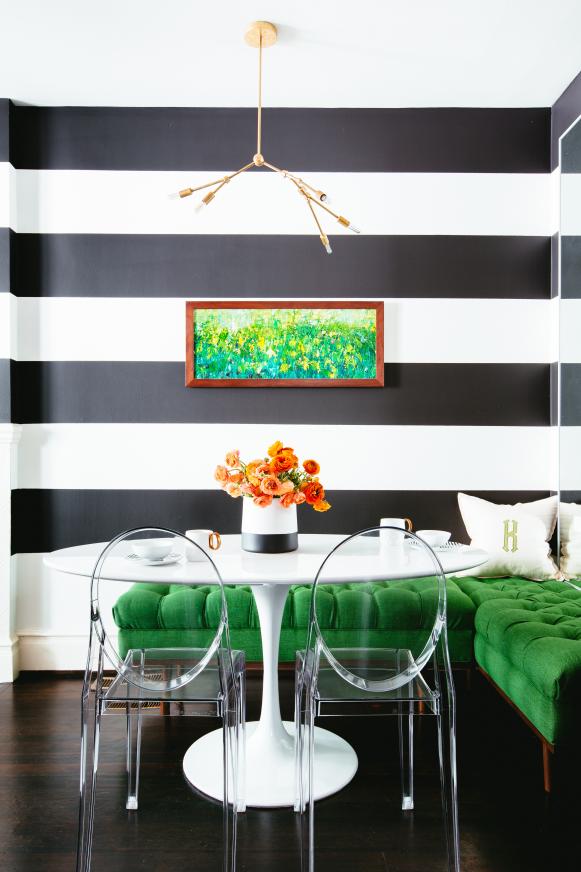 Bold Black and White Breakfast Nook With Thick Wall Stripes, Kelly Green L-Shaped Bench and Small Modern Dining Table
The L-shaped tufted bench makes a vibrant statement against the bold, thick wall stripes in this breakfast nook. The kelly green coloring of the bench compliments the floral wall art mounted above. Clear plastic chairs are seated on the opposite side of a modern oval dining table. An orange floral centerpiece and brass light fixture finish the chic design.
"I love how Pantone uses the words 'revive, restore and renew' when introducing 2017's Color of the Year. Heading into the new year, many of us are ready for a fresh start, and this hue encapsulates our desire for growth and new beginnings. Greenery looks especially stunning paired with navy blue, crisp white and black. My favorite use of Greenery is in this breakfast nook with black-and-white striped walls. Even with the bold walls, the green, tufted cushions are the most eye-catching feature of this space." — Kayla Kitts, Managing Editor
"Move over, boring neutrals of the past, (looking at you, khaki!), Greenery is a fresh sage hue that's playful, pretty and ready to dominate the design world in 2017. Also, it's my color-crush of the moment because it complements all of the colors with ease, while still being capable of making a stylish statement on its own. Was khaki ever capable of such things? I think not." — Maria Conti, Editorial Intern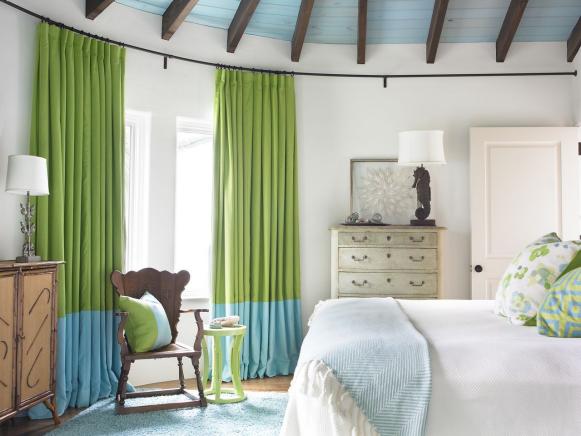 White Coastal Bedroom Boasts Lime Green Curtains
This gorgeous coastal bedroom features fun, bright curtains hung on an extended rod that fits the room's rounded shape. Crisp white bedding and walls keep the space feeling fresh and clean.
"It reminds me of my birthstone, peridot, so I love it. I don't think I would go crazy and paint every wall in this color, but adding accent pieces in the hue would liven up any room." — Farima Alavi, Assistant Editor
"I wouldn't design a whole room around it, but one or two little pieces would bring a splash of bright color and a little nature into a space." — Jordan Lawson, Online Editor
"'Greenery' gets a big 'yay' from me. When we first moved to Atlanta, we rented a very open loft that had this color from floor to ceiling. We were literally surrounded by it for almost two years. At first I was afraid it was going to make me feel queasy all of the time, but the loft itself was too cool to pass up simply because of the wall color. It felt warm and natural without being overpowering. Surprisingly, it was a great backdrop for other loud pops of color and spoke to midcentury modern heart. I don't know if I would paint an entire room in our current house with this shade of green, but our green loft holds a special place in my heart. Bonus points to Pantone for sticking with just one color this year. The last thing 2016 needs is more chaos." — Mallory Ziglar, Social Media Manager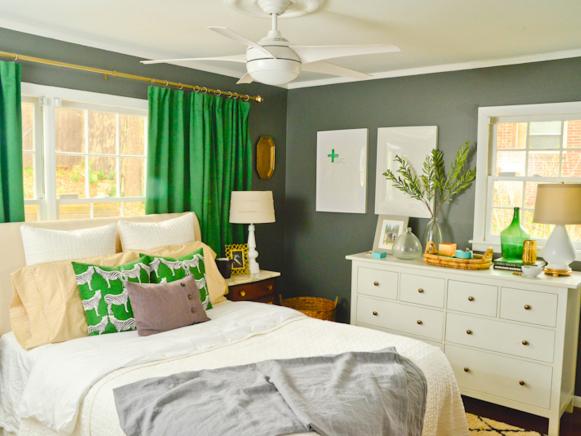 DIY Upholstered Headboard in Green and White Master Bedroom
When couples combine furniture, sometimes major pieces, like a bed, need to be freshened up. Atlantan Amanda Macy Hall, who blogs about home decor and DIY projects, transformed a queen cherry sleigh bed that belonged to her husband, Josh, with upholstery. She used a cheap drop cloth and a roll of brass decorative nails. "I love the look of the drop-cloth, a beautiful natural color with subtle texture, and the nailheads bring the added style that helps to tie it to the rest of our room."
"While I don't normally lean towards bright greens, I have to say that I love this shade. Even though it's not even officially winter yet, Greenery is the perfect pick-me-up in the midst of cold weather. I want to bring it into my bedroom and layer it with neutrals, especially grays and taupes, for a dose of warmth." — Katie Friedman, Editorial Intern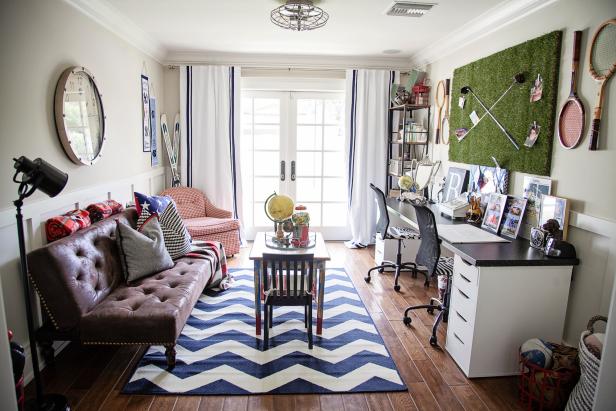 American Sports Themed Boys' Den
This cool American Sports Themed boys' den is the perfect place for the family's boys to relax and do homework after a long day at school. With seating on one side, a table in the middle and a desk on the other, the space meets all the boys' needs, while the fun sports memorabilia and the muted reds, whites and blues keep the space perfectly patriotic and masculine.
"I'll be honest, when I saw that Pantone's Color of the Year was called 'Greenery' I immediately thought it would be a sage blue-green, and I got excited. I feel like this one should actually be called 'grass.' It's fine, but I don't think I'll be incorporating it into my decor anytime soon. Unless I suddenly develop an interest in artificial turf. Indoor putting green anyone?" — Chelsea Faulkner, Assistant Editor
"NAY! 'Greenery' signaled more of a deep green hue found out in the wild to me, but instead, it's more akin to the hottest holiday item for teens of the early aughts: cordless phones. This color was funky and fun in middle school, but as an adult it just seems funky." — Jessica Galliart, Convergence Editor
"Split pea soup, anyone?" — David Haynes, Editor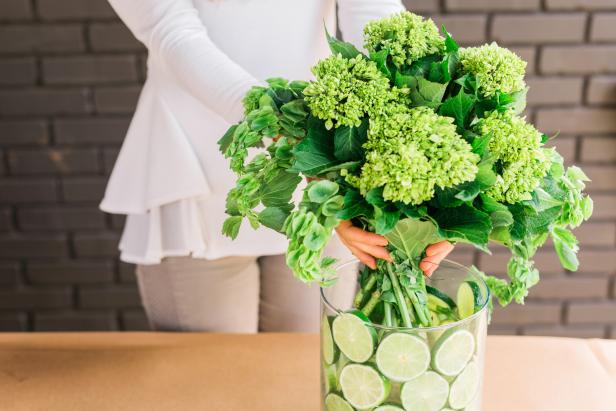 Place Bouquet & Adjust Limes
Place the bouquet inside of the innermost floral vessel. TIP: It's likely that some limes will get knocked loose as you adjust the bouquet. Once the bouquet is securely in place, reach your fingers below it to adjust the lime wheels and add more water as needed.
"When we were still doing Color of the Month, my last few pitches were leaf green and it never, ever won — glad to see everyone has turned over to the green side! (Though I did think it was going to be a forest green and was kind of disappointed based on the name.)" — Jessica Yonker, Newsletter Editor
"Love the color, not crazy about the name. The name 'Greenery' doesn't exactly inspire me like last year's Colors of the Year did. It sounds kind of… basic. 'Rose Quartz' and 'Serenity' evoke a feeling, mood and state of mind. I wish the color had been named 'Verdure' or 'Exuberant Green' or 'Verdant Green,' — something flowery like that. Nevertheless, the 2017 Color of the Year is as beautiful a shade of green as the symbolism behind the selection." — Molly Miller, Apple News Editor