5 Ways to Decorate Your Fireplace + Mantel in the Off Season
Why waste a space when you could be styling it?
While we agree that it's way too hot to enjoy a crackling fire from your sofa, that doesn't mean you should neglect these fiery focal points all together! Summer is the perfect time to sweep the wintery ash from your hearth and replace it with a pop of sunny personality.
Summer is in full swing, and it's time to switch out those sad, ashy logs in your fireplace with your favorite blooms and greenery. We love the way lush ferns breathe life into neutral spaces while nestled in a firebox. Equally as beautiful? Take inspiration from this gorgeous arrangement as seen on Fixer Upper by Joanna Gaines. She arranged creamy (and dreamy!) hydrangeas in a constrasting tin flower box for a look that's equal parts rustic and elegant. Nestle your blooms into your hearth or prop them front and center on the mantel and watch it gift your space with vibrancy and freshness reminiscent of the summer season.
No, we aren't talking about sun tans here! One of the best things about a burning fire is the cozy ambiance that accompanies it. But instead of roasting from the heat of a full-blown fire, we suggest creating ambient lighting through summery, scented candles (think coconut and citrus)! There are countless ways to arrange your candles, but we're obsessed with the way these glam candlesticks dress up this fireplace. Arrange your favorite scents to glow in the hearth of your fireplace or even lined across the mantel. The results? Sweet smells and summery ambiance, all without breaking a sweat.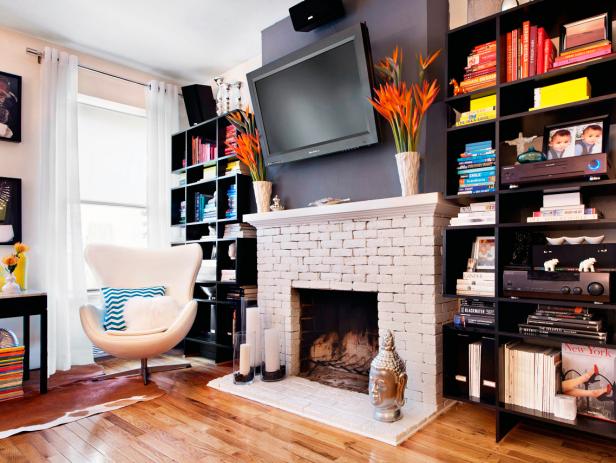 Contemporary Entertainment Wall
Black bookshelves contrast against the white brick fireplace and provide a display for the homeowners' books and accessories. The wall above the fireplace is painted a dark charcoal so that the flat-screen TV almost disappears and doesn't compete with the design of the space.
What to do with your sandy reads when you return from your annual beach escape? Turns out your hearth, mantel and built-ins alike are the perfect place to store and display all of your favorite summer page-turners. Take note from designer Jenna Pizzigati-Coppola and arrange your books with their spines facing outwards. Doing so makes reaching for your favorite guilty pleasure a breeze and also gifts your space with a literary rainbow. Our tip? Organize your collection with like sizes and colors. This eliminates the risk of your space appearing messy and instead reflects a sense of purpose and style.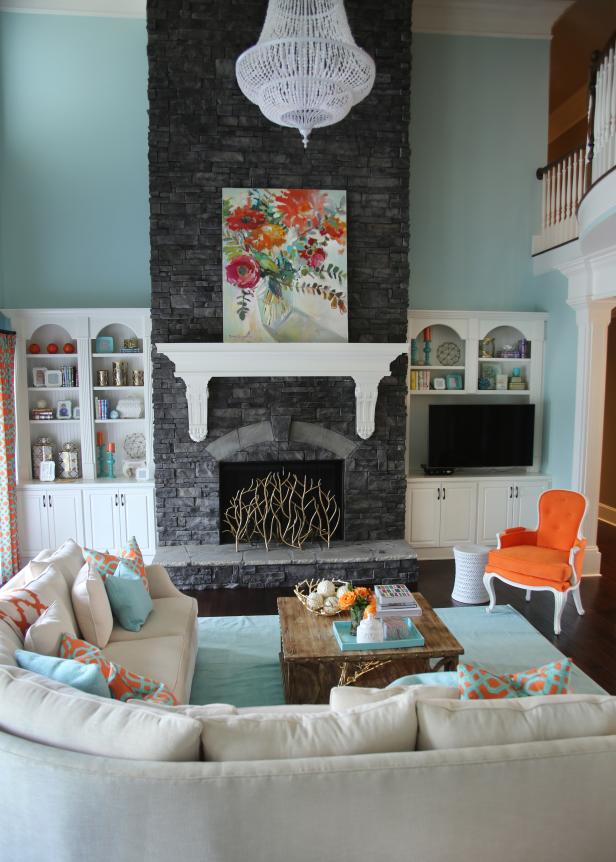 Transitional Aqua Living Room With Gray Stone Fireplace
Feminine frills and a fun, whimsical palette balance the heavy, masculine fireplace in this transitional living room. The bold tangerine accents add a punch of excitement to the room's spa-like blues and whites.
Cast aside all that's neutral and grey because nothing says summer more than poppy and punchy pigments. Taking a break from toasty fires doesn't mean you have to turn down the heat altogether. Bring your fireplace up to speed this season with hot-hued artwork and accent pieces. Gravitate towards pieces with bold oranges and magenta or even sea-inspired aqua. We particularly love how designer Jenna Buck Gross incorporates a colorful floral painting on this mantel to celebrate this sunny season.
Mirror, Mirror, on the Mantel
Summer is kind enough to gift us with the longest and sunniest days of the year. With all the gorgeous, natural light coming through your windows, it only seems right to make the most of it. Our suggestion? Mirrors. They actually reflect all that beaming sunlight peeking through your windows and even make spaces feel larger. We love the way this oversized mirror above the mantel creates a sense of airiness. Plus, there are a million different shapes, sizes and styles of mirrors that are guaranteed to fit your space and budget.