Why Didn't My Childhood Bedroom Have a Hanging Chair?
Inflatable chairs were cool in the '90s, but these hanging chairs are SO much better.
Kids' rooms today are so cool with their loft beds, ceiling designs, canopies and most of all — hanging chairs. I remember thinking my bedroom was destined for an episode of MTV Cribs with its 12-inch TV, Nintendo 64 and inflatable furniture set. (You know, the chair, ottoman and pillows. Cozy!) But kids' bedrooms nowadays? They're an inspired multipurpose space for work, play and everything in between. And swinging chairs are great for both! I could totally binge on some Netflix or catch up on email in one of these swinging beauties.
Take a look at these 12 designer kids' rooms with hanging chairs in all shapes, sizes and styles, from the Eero Aarnio Bubble Chair to a boho-chic hammock chair.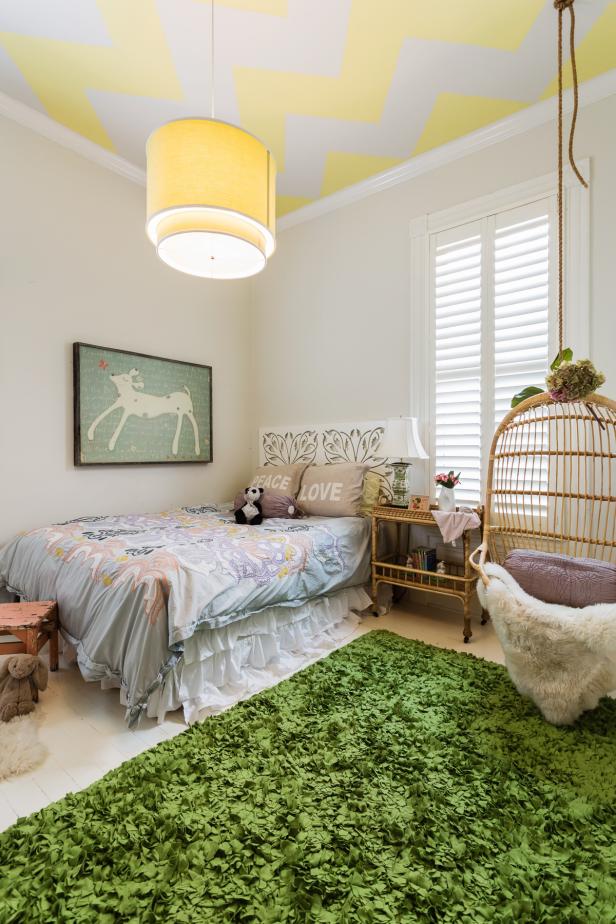 Playful Kid's Bedroom With Chevron Ceiling and Birdcage Chair
Like sun rays, a yellow chevron print stretches its way across the ceiling of this kid's room. A textured area rug reminiscent of grass brings the outside in, while the hanging birdcage chair adds a fun place for reading or daydreaming.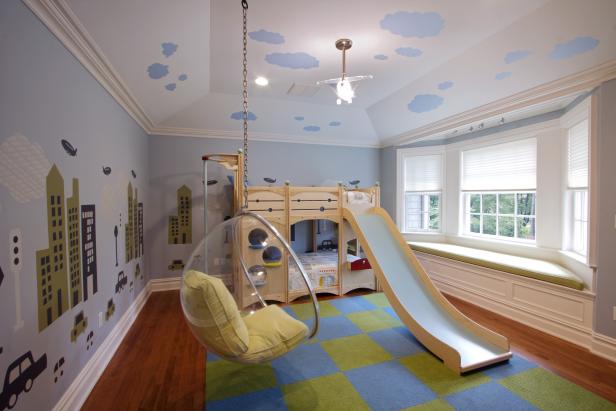 Contemporary Kid's Bedroom With Bunk Bed Slide
Painted clouds and city streets provide a fun and playful backdrop for this kid's bedroom. The contemporary bunk bed includes a fireman pole and slide for exciting exits from the top bunk. A hanging globe chair creates a comfortable swing above the blue and green checked rug, and an airplane light fixture is the perfect touch to complete the space.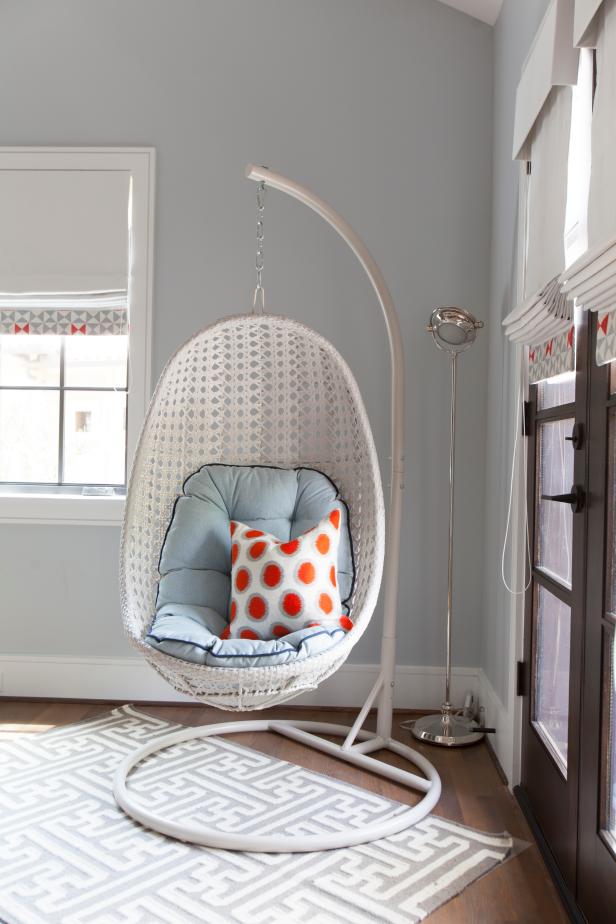 Blue Hammock Chair in Boys' Bedroom
In the corner of this room, the boys get their own little hammock chair. With natural light pouring in from the French doors and from the windows, this space is perfect for reading and doing homework.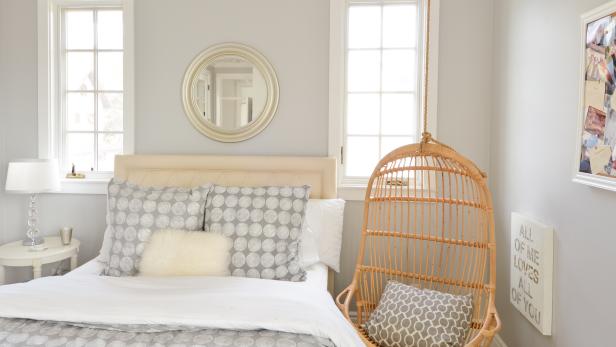 Gray Bedroom With Hanging Chair
Soft gray walls set a pleasant, calming vibe in this small bedroom. A rattan hanging egg chair adds a funky but fun element to the space.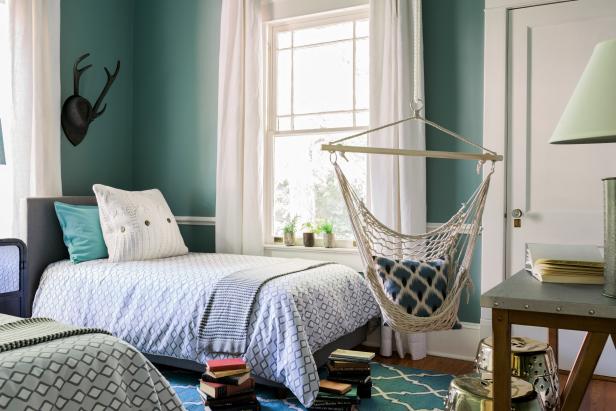 Spacious Shared Boys' Green Transitional Bedroom
This shared boys' bedroom may lack in space, but there are no sacrifices in style thanks to smart space planning, careful layering of colors and textures, and lots of whimsical elements. With ageless elements like hanging chairs and resin antlers, this is a room kids can continue to grow into and not out of.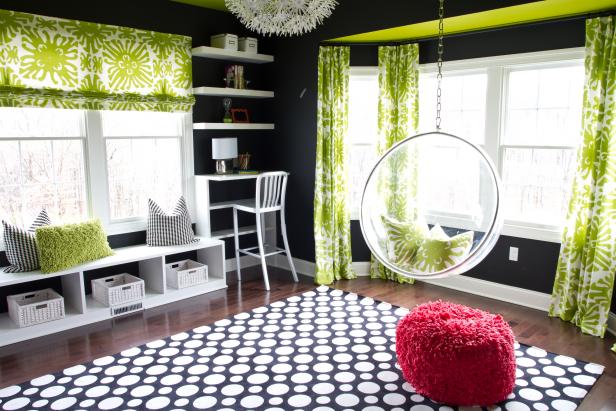 Bold Black Contemporary Teen Study With Green Accents
The dark walls of this study are painted in black chalkboard paint, allowing its young users to doodle while bringing drama to the space and making accent colors pop. With its big, graphic rug and range of seating options, the room has space for lounging, studying, TV viewing, gaming and more.
Fun and Colorful Kid's Bedroom With Built-In Bunk Beds
This spunky, modern kid's room on New York's Upper West Side features built-in bunk beds with reading lamps, a streamlined paint treatment and a hanging bubble chair any kid would love. Gray lacquered floating shelves serve as nightstands for each bunk, while built-in drawers provide storage. A mod polka-dot rug pulls together the fun and colorful palette.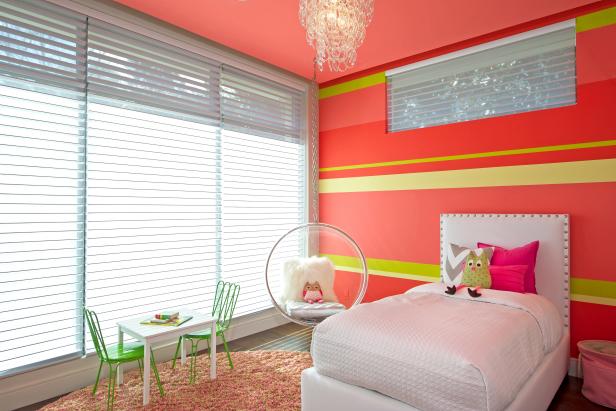 Modern Pink Girl's Room With Bright Striped Accent Wall
Bright pink walls set the scene for this modern girl's room. Bold stripes bring a playful and eye-catching focal wall to life behind the bed, while a hanging chair and play table create the perfect space for creativity and fun.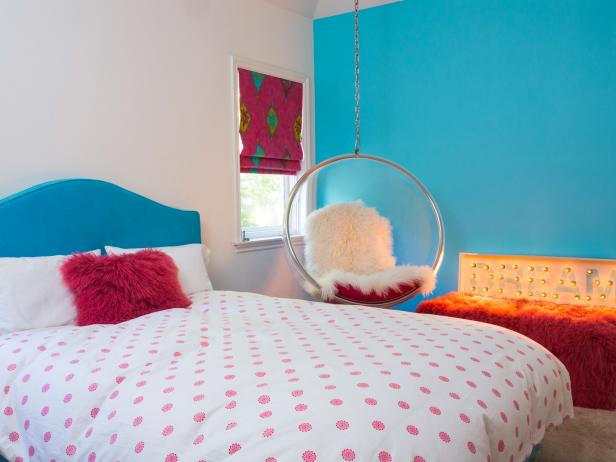 Teen Girl's Bedroom With Hanging Bubble Chair
"Fun" is the word that best describes this teen girl's room. A blue focal wall matches the custom headboard, making the room pop with color. A hanging bubble chair provides bedside seating, while a four-foot-wide, flokati-covered rolling ottoman offers extra seating and a contrasting color to the blue and pink accents.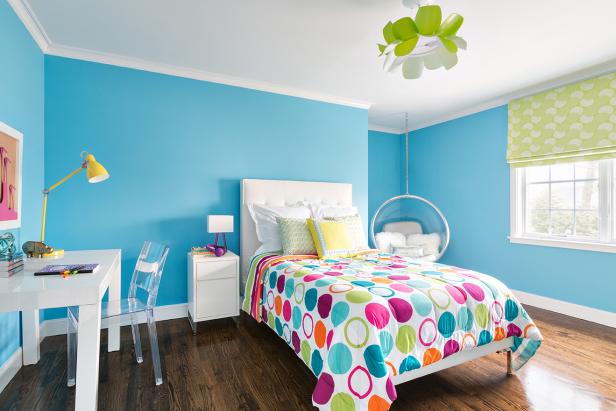 Contemporary Teen's Room With Loads of Personality
Bright blue walls, bold prints and a mod Parsons desk combine to create a fun, contemporary space for a teen to sleep, study and hang out with friends. A hanging chair makes fun use of a corner niche, and an acrylic desk chair is stylish and functional. Designer Claire Paquin pulled colors from the bright polka-dot bedding and carried them throughout the space.
Because how could Wendy, John and Michael dream of Neverland without a playroom to take them there?