8 Enviable POTUS Vacation Homes
Everyone needs some down time, especially the president! See where these powerful men and their families take it easy.
A simple beach getaway or a trip to the lake might sound like the perfect summer vacation until you get a look at these showstopping pads of our former (and current!) U.S. presidents.
37248301kenn_20010628_11737.jpg
372483 01: The Kennedy family compound is seen July 6, 2000 in Hyannis MA. July 16, 2000 marks the one-year anniversary of the plane crash off the coast of Martha's Vineyard in Massachusetts that killed John F. Kennedy Jr., his wife Carolyn Bessette Kennedy, and her sister Lauren Bessette (Photo by Darren McCollester/Newsmakers)
With 2016 election mania in full swing, we thought it was a great time to take a look at our nation's history through a different lens: presidential vacation homes. Whether democrat or republican, one thing is for sure: you're in for an amazing summer vacay if you're the president.
President Barack Obama
Martha's Vineyard, Massachusetts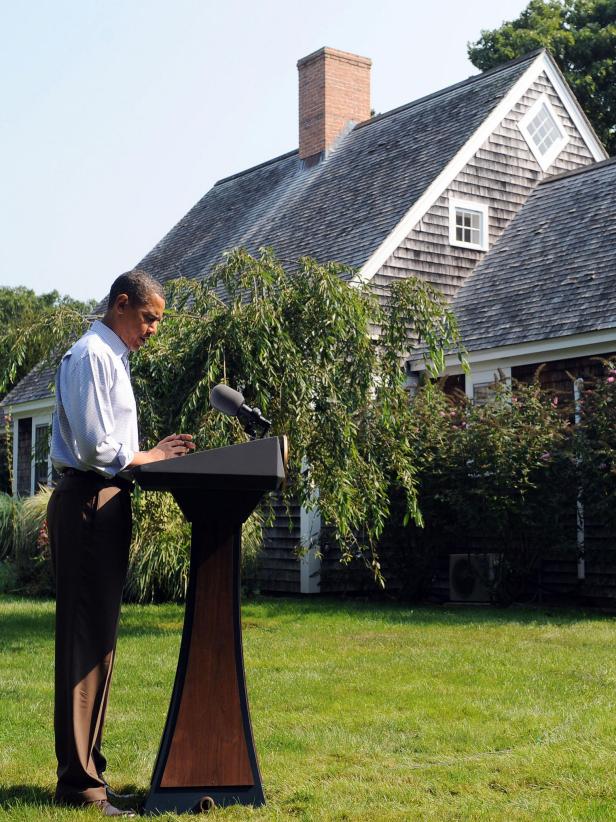 Was2538203
US President Barack Obama makes a statement over the death of US Senator Edward Kennedy at the Blue Heron Farm in Oak Bluffs on Martha's Vineyard, Massachusetts, on August 26, 2009. Obama on Wednesday eulogized Edward Kennedy as a "singular figure" in American history, hours after the liberal icon died of brain cancer aged 77. "Even though we knew this day was coming for some time now, we awaited it with no small amount of dread," Obama said, at a farm he is renting on the east coast island of Martha's Vineyard during his week-long vacation. AFP PHOTO/Jewel SAMAD (Photo credit should read JEWEL SAMAD/AFP/Getty Images)
From 2009 to 2013, President Obama and his family spent two weeks of their summer vacation at the Blue Heron Farm in Martha's Vineyard, Mass. The main house has three bedrooms, a media room and a wine cellar and rents for $50k a week. There's a pool and a hot tub, as well as private access from the home to a nearby beach. There's also a tennis court, a half-court basketball court and a small, par-three golf course.
President Richard Nixon
San Clemente, California
President Nixon and his family spent so much time at their vacation home, La Casa Pacifica, it was dubbed the "Western White House." The Spanish-style estate was originally modeled after a country-style home in San Sebastian, Spain and included more than 9,000 square feet of living space. President Nixon made a few cosmetic changes to the estate like replacing the tennis court with a pool and adding a perimeter wall for privacy and security. The home is situated on a bluff overlooking the Pacific Ocean and served as the former president's refuge after he resigned following the Watergate scandal. It was listed for sale last summer for $75 million.
President Bill Clinton
The Hamptons
Some people take a cool $100k and use it to buy a house, but former President Clinton and his democratic presidential candidate hopeful wife, Hillary, love the Hamptons so much they don't mind spending it on a two-week summer rental. The four-bedroom home is owned by a wealthy art collector and is located at the end of a cul-de-sac so there's lots of extra privacy. Worth a reported $18 million, the home also features a pool and private beach access. It serves as the summer meeting spot for the entire Clinton clan, including daughter Chelsea, her husband, Marc, and their kids.
President George H.W. Bush
Kennebunkport, Maine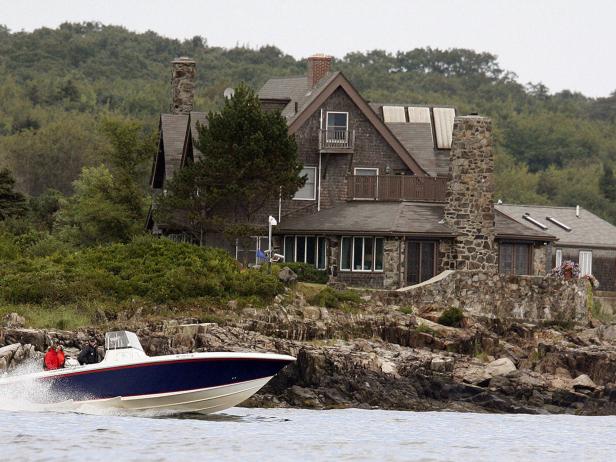 Was502445
KENNEBUNKPORT, UNITED STATES: US President George W. Bush and his father, former President George H. W. Bush pass by Walker's Point, their compound in Maine, in their boat while fishing off Kennebunkport, Maine, 25 August 2006. President George W. Bush warmly praised France's pledge to send 1,600 more soldiers to join the United Nations force in Lebanon and urged other nations to help as well. "I applaud the decision of France, as well as the significant pledges from Italy and our other important allies. I encourage other nations to make contributions as well," he said in a statement released Thursday by the White House. AFP PHOTO/Jim WATSON AFP PHOTO/Jim WATSON (Photo credit should read JIM WATSON/AFP/Getty Images)
Jim Watson, The A Position
The Bush compound, located on Walker's Point in Kennebunkport on the southern tip of Maine, has been in their family since 1902. It now serves as the summer home to former President Bush, his wife Barbara, and the rest of the Bush family. The main house, which features a typical New England clapboard-style structure, sits on a beautifully lush piece of property with nine bedrooms and a slew of outdoor spaces. There's also a guest house, boat house, pool, tennis court, a dock and spacious lawns all throughout the property. The estate has been designated as a "prohibited airspace," as a former president resides there.
President John F. Kennedy
Cape Cod, Massachusetts
You've likely seen many pictures of the Kennedy compound over the years, located in Cape Cod in Hyannis Port, Mass. The waterfront property consists of three houses on six acres and overlooks the Atlantic Ocean. The estate consists of a large main house, as well as two guest houses. There's also a pool, tennis court, a movie-viewing room, a wine cellar and a sipping room. The estate has belonged to the family since 1929 when patriarch Joseph Kennedy purchased it.
President Harry S. Truman
Key West, Florida
Former President Harry S. Truman spent 175 days of his presidency at his "winter White House" vacation home in Key West, Fla., from 1946 to 1952. The home, now called the "Little White House," used to have a waterfront view, however, it was blocked in later years after another structure was built on the property. The home is now a museum that was deeded to the state of Florida, and it can be visited and toured by the public.
President Ronald Reagan
Santa Barbara, California
Rancho del Cielo, or Sky's Ranch, was former President Reagan and his wife Nancy's hideaway vacation in the beautiful seaside community of Santa Barbara, Calif. The estate consists of a modest, ranch-style main home as well as a lake and a barn for horses.
President George W. Bush
Crawford, Texas
Taking its name from a nearby school, Prairie Chapel Ranch is the vacation home of former President George W. Bush located in central Texas. With more than 1,600 acres, the ranch includes a 4,000-square-foot, four-bedroom structure with a large limestone porch. The homes have all been designed with environmentally-friendly features, including a geothermal heating and cooling system and rainwater and wastewater collection systems.