12 Designer Fitness Centers That Will Make You Actually Want to Work Out
Ready to #getfit? Dip, squat and lunge in these incredible fitness sanctuaries.
I'm notorious for the whole "I'll start on Monday!" workout regime, but my boo is a personal trainer and does not fall for that. He's heard every excuse in the book — more than once.
With just over four months until we tie the knot (!!!), I'm determined to end the excuses and crank up the sweat factor. While I normally make awkward eye contact with my cat during planks, I have dreams that my future home will someday include a fitness sanctuary like these beauties. (And if it's up to my guy, it most certainly will.)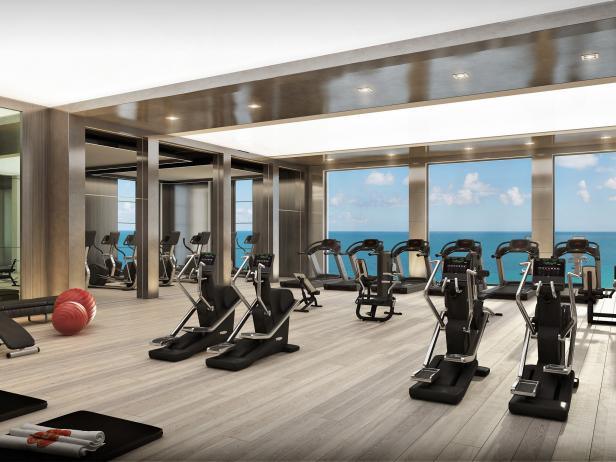 Modern Fitness Center Overlooking Ocean
The Estates at Acqualina, a Mediterranean-style luxury residential development, is an extension of the renowned Acqualina brand. It features 5.6 acres of grounds and gardens will boast lush landscaped gardens, multiple infinity pools, a FlowRider® for surfers, a basketball court, a bocce court, a dog park, soccer field, a romantic beachfront restaurant and 502 feet of Atlantic oceanfront with Five Star beach and pool services.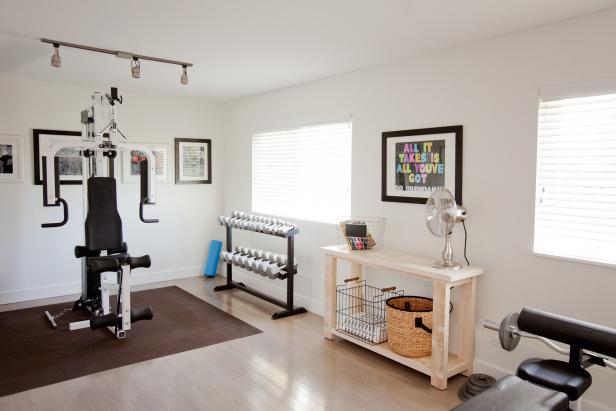 Organized Home Gym
Jillian Harris, designer on HGTV's Love It or List It Too, has turned this once cluttered gym into an exercise oasis. Instead of having a hodgepodge, everything now has its space and the family can work out without worrying about the risk of bodily injury.
From:
Love It or List It, Too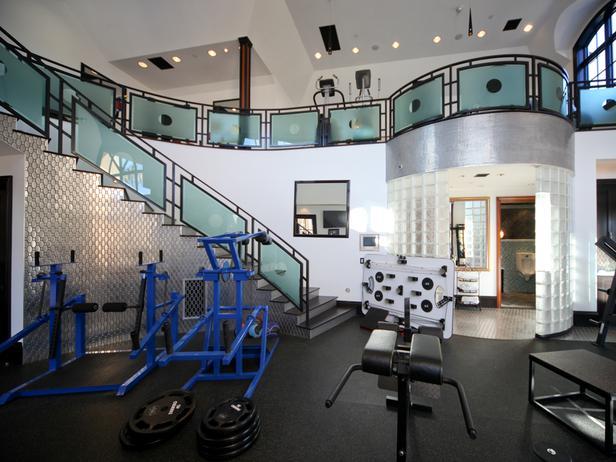 HGTV MilDolHom - Hidden Hills, CA.
View of the two story gym at the house in Hidden Hills, California. The 22000 square foot estate is worth 23 million dollars and sits on 2.75 acres with 9 bedrooms and 14 bathrooms. There is a limestone cigar room, a wine cellar, a two story gym, a spa, massage room, meditation room, a theater and various lounge spaces inside. Outside there is a large pool, hot tub, sunken fireplace, a full outdoor kitchen, and an amazing view. The entire estate has 7 rooms worth over one million each and the view of the back and front of the house designed to consistently have the "Wow Factor".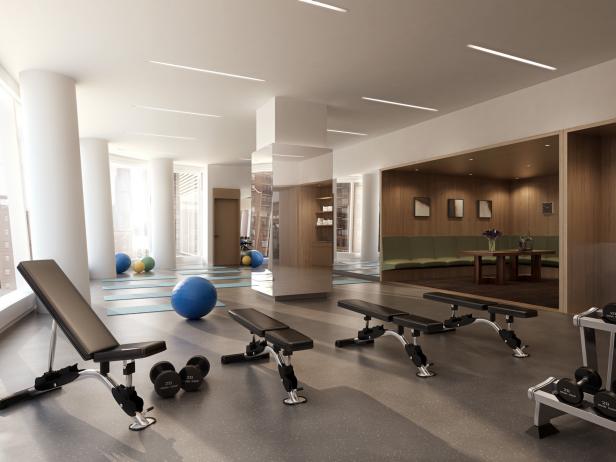 Modern Fitness Center in NYC
Purchasers will be able to feel the burn at 50 West—the Financial District's highly anticipated residential tower—at its all-inclusive fitness studio. The studio includes separate areas for functional cardio and weight activities, as well as studios dedicated for private instruction with your favorite trainer.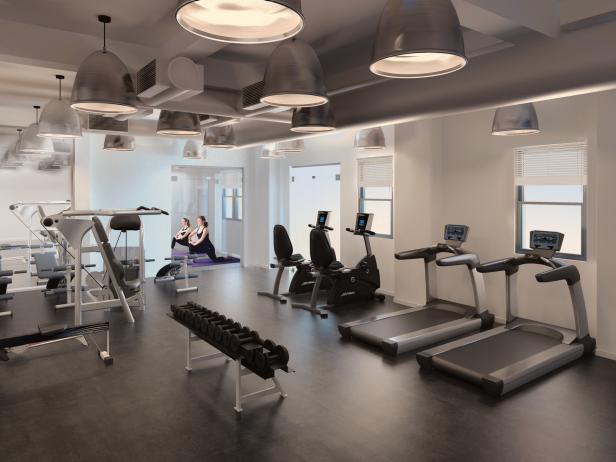 Modern, Industrial Fitness Center
393 West End Ave, located on the South West corner of 79th Street and West End Avenue, is a classic 17 story prewar building being developed by Simon Baron Development. The landmarked development has been brilliantly reimagined by Vicente Wolf, marrying the best of classic pre-war with contemporary design and interiors.