8 Great Ideas for 3-D Wall Art That Aren't Antlers
Turn your figurine collection and high school instrument into works of art with these 3-D installation ideas.
We all love a good set of antlers on the wall, but antlers are just the tip of the iceberg when it comes to fun, 3-D art ideas.
Three-dimensional art is a great way to add some interest to a space in your home or create a focal point. It can be mixed in with more traditional 2-D art pieces or featured all on its own; there are really no rules here.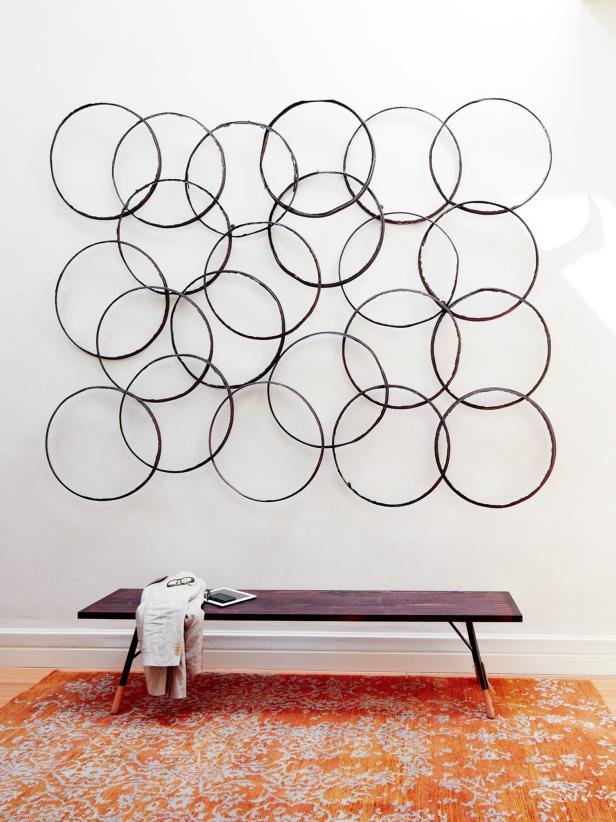 Graphic Punch in Chic, Modern Hallway
A burnt orange rug provides a jolt of color in this gallery white landing. The wall hanging by Phillips Collection is built from barrel tops, and with a bench beneath, the graphic lines of the vignette create a striking sitting area in this modern home.
I think the "anything goes" approach to art that seems to be trending these days is fantastic, so I decided to comb through our photo archives to find some other non-antler possibilities to help inspire your own spaces.
This is a super duper, low-cost creative idea: create art on your wall by stapling colorful cable cord into different shapes or spelling out certain words. Depending on the thickness of the cord, you can easily attach it with a heavy-duty staple gun. In this example, the cord creates some fun loops. But it also might be fun to spell out a word in script such as "hello" or "ooh." This would work particularly well if you have a long hallway or an awkward area to fill up.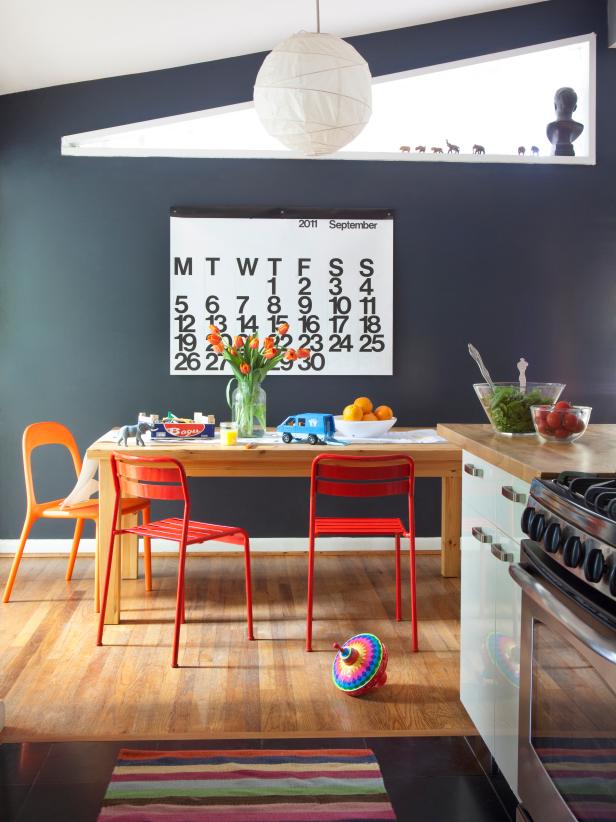 Dining Room Wall With Triangle Window
Along a charcoal gray wall in this modern combined dining room and kitchen, a window in the shape of an isosceles triangle provides plenty of natural lighting and room to display artwork. Below, an oversized wall calendar hangs on a wall with hardwood floors and a wooden table.
Design by Brian Patrick Flynn
If you want to go with a calendar, you'll need to make sure you're picking out the right one. In order to make a big impact, use a large one, such as this classic Stendig wall calendar from Crate & Barrel. It's beautifully designed, simple and features an easy black and white color scheme. It would work well in an office, but I love the idea of putting it in a more unexpected spot for a bigger impact. It looks great in this kitchen and would also work in a kids room an entryway.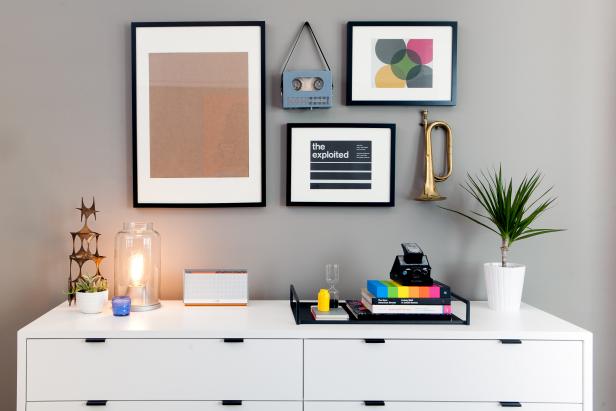 Various Objects Add Decoration and Diversity to a Dresser
Just because objects sit on the same surface doesn't mean they have to match. An array of objects contrast drastically against the plain white dresser and simple gray walls.
This is a wonderful idea for any music lovers — simply display instruments on your wall. Guitars are an easy choice, but as this picture shows, almost any instrument would look great. This horn blends in seamlessly with the art around it but really packs a punch.
You could also display a collection of instruments, which works perfectly if you happen to have a number of different vintage pieces. An art display like this would look chic in an office, den or family room.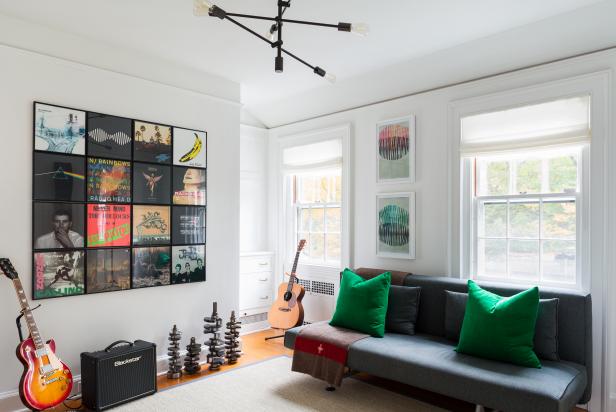 Kid's Room With Framed Album-Cover Gallery Wall
A gallery wall of framed album covers makes for an impressive focal point in this kid's room. A dark sofa with bright green pillows provides a comfy place to kick back and play a few notes.
Keeping up with the music theme, vinyl records are another great option for a music lover to use as artwork. This display includes the album covers; however, you could also choose to do a 3-D display with just the records lined up along a wall. You might pick out albums of a certain decade or even choose those that have special meaning to you and your family.
At first blush, you might think of displaying plates on a wall as old-fashioned, but it's actually morphed into a somewhat modern practice. It's a great choice for a larger wall space that allows for a variety of different plate shapes and sizes, and, of course, always works in a dining room.
You can choose to group plates by color (blue and white), material (milk glass), style (chinoiserie) or type. I've seen a collection of state plates from county fairs all over the country grouped together that creates a fab, vintage look.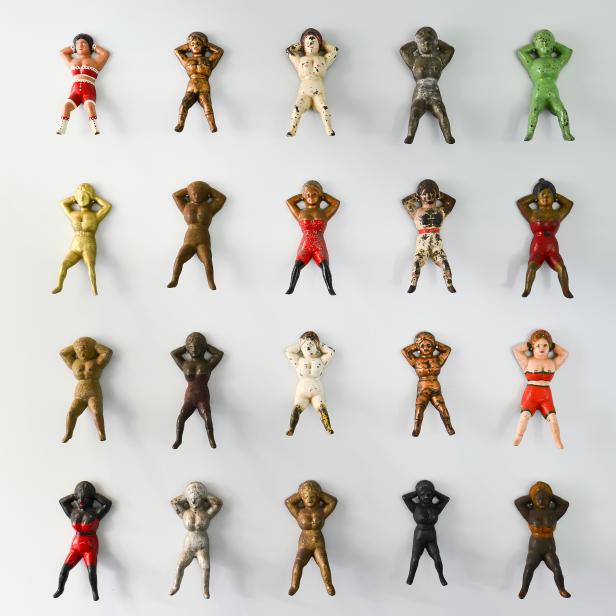 Multicolored Figurine Wall Art Installation
Three dimensional figurines in matching poses make for a whimsical wall art installation.
Jim Tschetter, IC36O Images
If you've ever been to Comic-Con before, you'll love this 3-D art idea. This display option would definitely have the biggest impact with one consistent type of figurine collection, like the vintage pieces above.
Your biggest challenge with this type of display will likely be figuring out how to attach the figurines to the wall. You can use screw eyes and hang each item from a nail, or depending on the weight, a simple solution like Velcro may work.
This is a fun idea for the fashion lovers out there. You can use vintage scarves or new scarves to get this look. Choose a scarf with embellishments, such as tassels or fringe, to bring some added interest to your space. You can also choose to frame your scarf for a more traditional look, but I think hanging the scarf directly on the wall is super chic.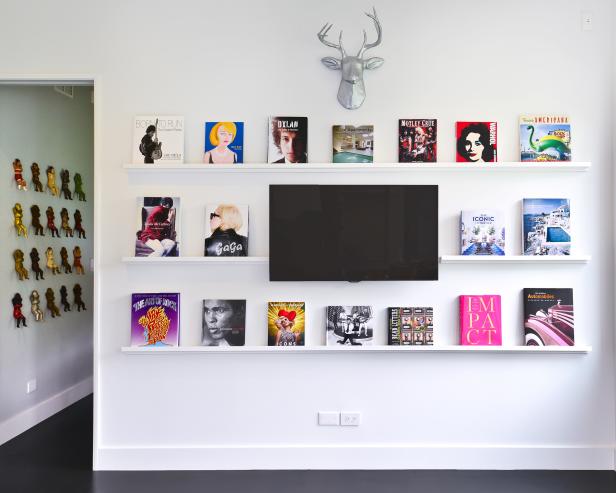 Pop Art Gallery Wall With TV and Faux Deer Head
A clever gallery wall turns a wall-mounted flat-screen TV into part of a pop art collection. A silver deer head nobly presides over the colorful scene.
Jim Tschetter, IC36O Images
This display idea is a great choice for those of you that like to switch things up often. You can use picture ledges to display your coffee table and art books. You can even try mixing more traditional 2-D art pieces in here or keep it all art books all the time.
This would also work great in a kid's room where you could switch out the art books for your child's favorite everyday books (and keep the collection rotating).