6 Walk-In Closets That Are the Definition of Organization Goals
Warning: These images may cause major closet envy.
My love for walk-in closets knows no bounds — every time I catch a glimpse of beautifully organized racks of clothing and impeccably arranged shelves of shoes my heart skips a beat. Unfortunately, living in New York City means my entire apartment is barely bigger than the walk-in closets I love so much.
But hey, a girl can dream can't she? And combing through images of these hyper-organized, sizeable spaces never fails to inspire me, or put me in the mood to do a little tidying up. These 6 walk-ins are some of the best of the best, but be warned, they may incite Carrie Bradshaw-levels of closet envy.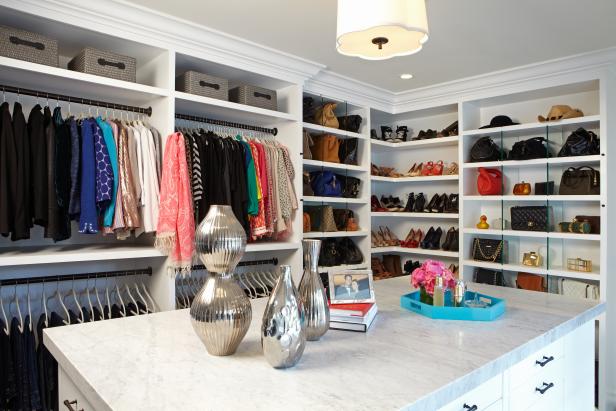 Walk-In Closet With Space for Designer Clothes
The walk-in closet of TV personality Giuliana Rancic features lots of storage space for designer handbags, clothes and shoes.
This closet's center island is chock full of shelves that offer ideal storage for jewelry, accessories and undergarments.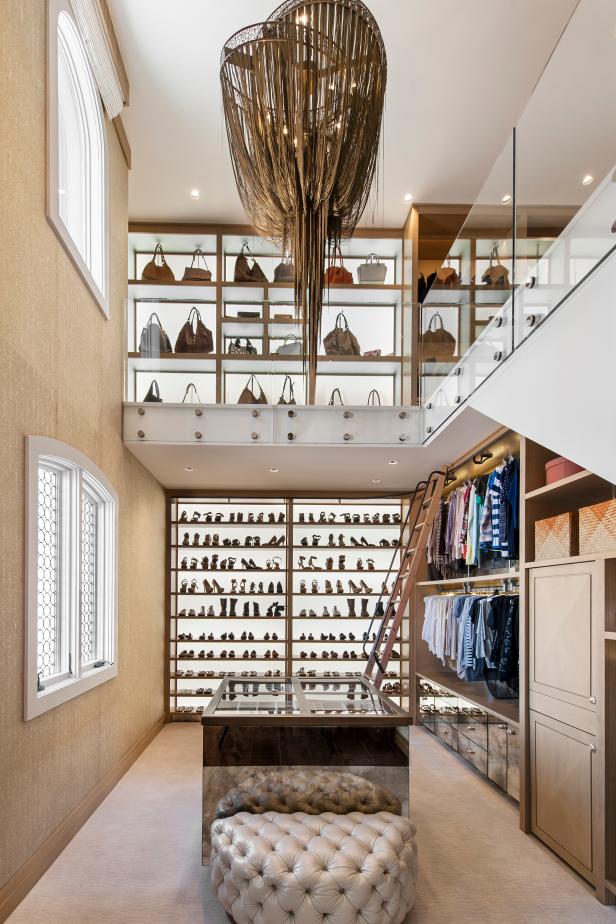 Two-Story Walk-In Closet With Bronze Chandelier
This stunning two-story walk-in closet looks more like a high-end department store. LED light panels, inspired from high-end retailers, turn the impressive collection of shoes and bags into an artful display. Layers of thin bronze chain create a striking chandelier that is as elegant as it is edgy.
Yes, two-story closets do exist, and they are unsurprisingly spectacular. Can you even imagine having to go upstairs just to get to your purses?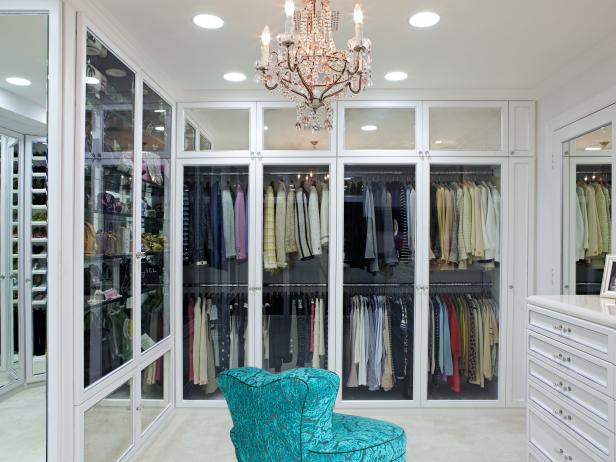 Dreamy Walk-in Closet With Turquoise Chair
This spacious walk-in closet has wall-to-wall closets with doors made of glass. Inside these well-organized closets, shirts are hung on racks, organized by color and type. A white dresser to hold jewelry and accessories is positioned along one wall in this closet.
Keeping everything behind glass doors makes this closet feel even more organized than those with open-air storage. The beautiful chandelier doesn't hurt either.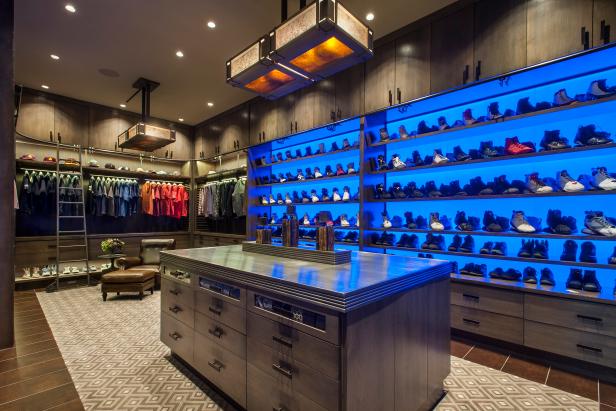 Large Neutral Masculine Walk-In Closet
This massive walk-in closet boasts deep masculine tones and textures. Bright blue LED panels turn an extensive shoe collection into an artful display while custom LED light closet rods illuminate color-coordinated hanging clothes.
The glowing blue backdrop adds a nightclub-esque vibe to this walk-in closet. And honestly, it's so big you really could host a dance party in there.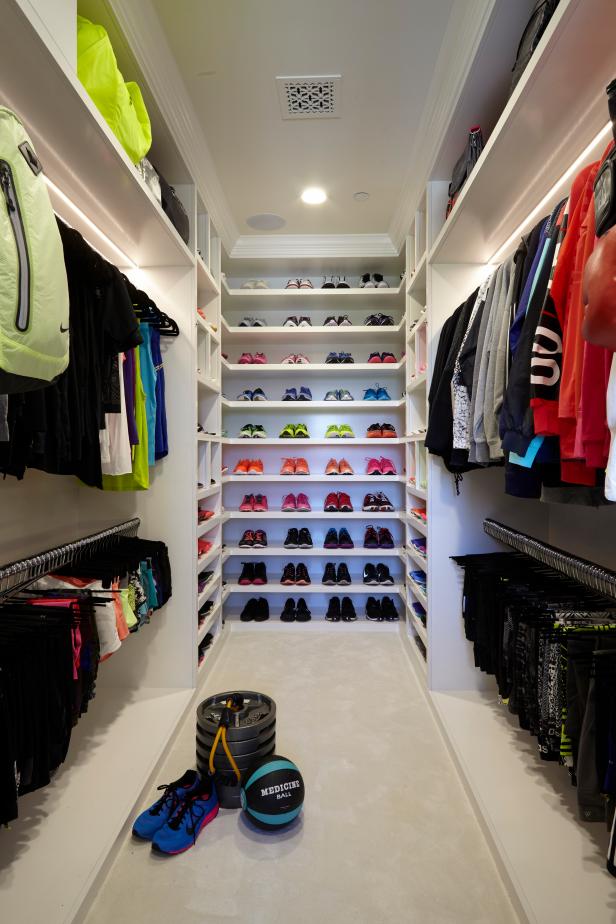 Luxurious Walk-In Closet With Custom Lighting
Effective lighting transforms this walk-in closet belonging to Khloe Kardashian into a stylish luxury space. Custom hanging rods illuminate every item while recessed ceiling lights feature an automatic, eco-friendly sensor.
While workout clothes usually don't take center stage when it comes to closet space, this fitness lover's dream proves sneakers and sweats deserve a little extra love too.
White Traditional Walk-In Closet for Her
Diamonds may be a girl's best friend, but a huge walk-in closet is jockeying for position.
A silver tufted ottoman, glam chandelier and a curved clothing rack that calls to mind the spiral staircases usually reserved for palaces make this walk-in feel fit for royalty.