Mad for Plaid? We've Got 5 Ways to Decorate With Fall's Favorite Pattern
Sitting outside by the fire, sipping on hot chocolate, cuddling up with a blanket and your person — these are just some of the reasons fall is the best season of all. It's also the season of plaid, and this pattern isn't only available on your favorite shirt. If you love this fall classic, keep reading to see how to pull in plaid in big and small doses.
Try It With Accent Pieces
If you aren't quite on board with this print, try it in accent pieces like chairs or pillows. In this office nook, a chair is upholstered in tartan wool and adorned with nickel nailhead trim that instantly bring coziness to the room.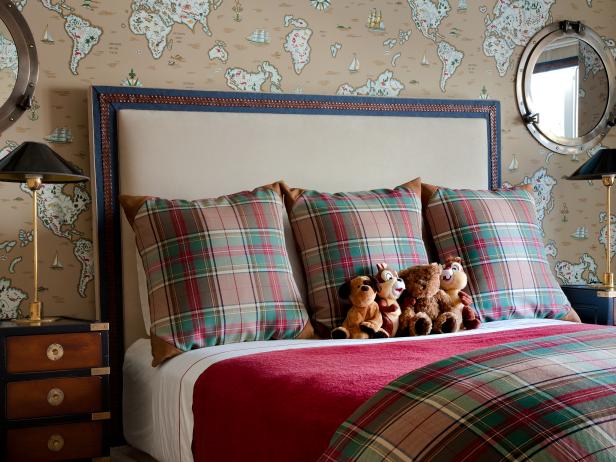 Kids Bedroom With Map Wallpaper and Plaid Bedding
A family of stuffed animals lounge against plaid pillows in this eclectic boys' bedroom. The bedding compliments the colors found in the map wallpaper behind the neutral upholstered headboard with navy and gold trim. The kids' room has a subtle nautical theme, but is sophisticated enough to grow with the child.
The plaid bedding brings sophistication to the subtle nautical theme in this boy's bedroom, while the eclectic map wallpaper ties all the colors together.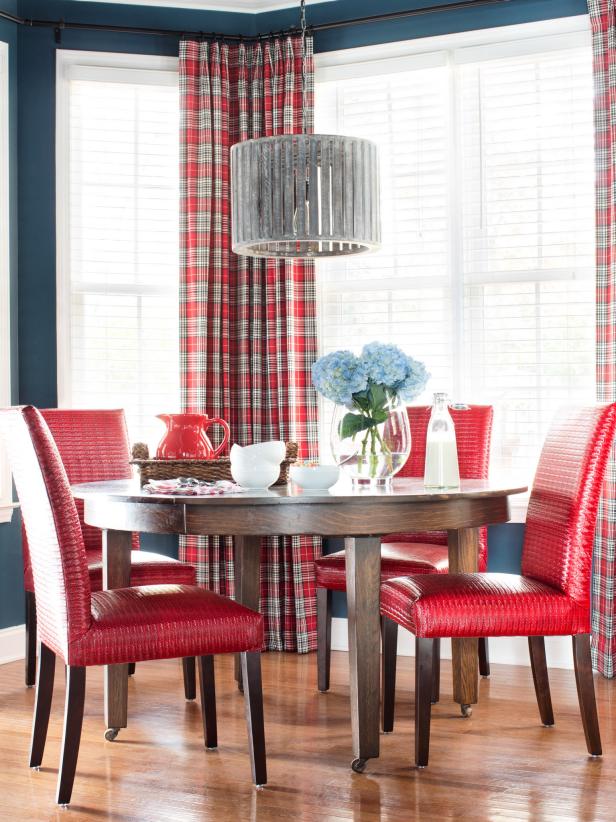 BPF_original_menswear_inspired_interiors_breakfast_nook_v
Previously void of color and pattern, the updated breakfast nook is packed with vibrant hues and graphic lines. The walls were painted the same shade of navy blue as the family room area and the windows are covered with the same drapery fabric and hardware, keeping the different spaces united for a cohesive look.
Go bold if your love for plaid is insurmountable. Decorate with this pattern in larger pieces like a sofa, rug or floor-to-ceiling window treatments. In this dining room, the red-and-blue window treatments create a striking contrast against the navy blue walls and rustic-style pendant light.
Combine It With Other Patterns
The botanical-print pillow adds a feminine touch to the masculine plaid wallpaper in this reading nook. To combine other patterns with plaid effortlessly, stick with a cohesive color scheme.
Plaid doesn't have to be bold and daring. Decorate with plaid in neutral tones to get the look you love without going overboard on color. In this kitchen, neutral plaid pendant lighting and stools stay true to the room's traditional design.