10 Ways to Make Traditional Floral Prints Look Modern 
These aren't your grandma's florals.
A traditional floral print may not be the first thing that comes to mind when picturing a chic, well-designed home, but don't be fooled by the fuddy-duddy reputation of these classic patterns. Guest rooms, dollhouses and antique-filled homes aren't the only ones rocking these romantic prints anymore. Floral prints are everywhere, and pairing them with unexpected elements is the key to helping them feel thoroughly modern.
Not sold on the idea yet? Check out these flawless spaces and get inspired to try this look for yourself.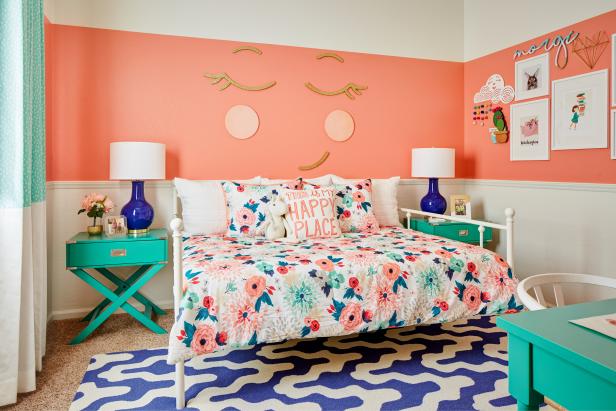 Peach and Blue Transitional Girl's Room With Smile
In this whimsical girl's bedroom, a wash of friendly patterns—floral bed linens, a graphic rug—are pulled together by a smiling face above the bed.
John Woodcock Photography
An easy and affordable way to instantly spruce up your bedroom is by switching out your old bedding for something new and bold. An oversized floral print is the perfect option if you're looking to incorporate a bright, cheery style into your room. The watercolor-inspired design plus the fun twist on color choice makes this bedding a modern alternative fit for any interior.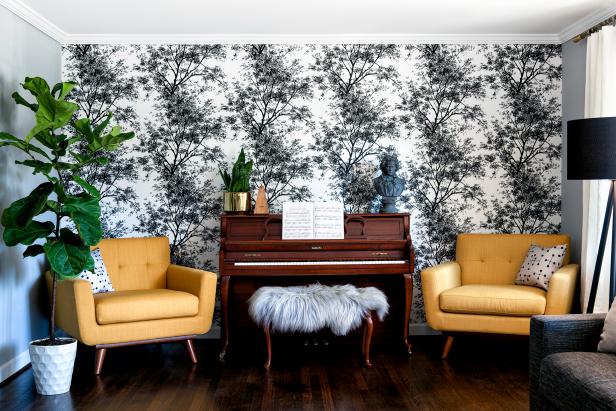 Eclectic Living Room With Piano and Black and White Floral Wallpaper
This lively living room features two yellow midcentury modern armchairs positioned on either side of a traditional piano. The accent wall is covered in black and white floral wallpaper, while a faux fur stool sits in front of the piano, adding a fun touch. Potted plants provide a bit of natural decor.
When you think of floral prints you probably imagine pastels mixed with greens and blues, but that's far from your only option. If you want to make a stylish impact, opt for something dark and moody to really attract the eye. A black-and-white option will do wonders and instantly create a statement wall. Despite its traditional style, this color palette makes the room seem fresh and modern, even when paired with vintage furniture.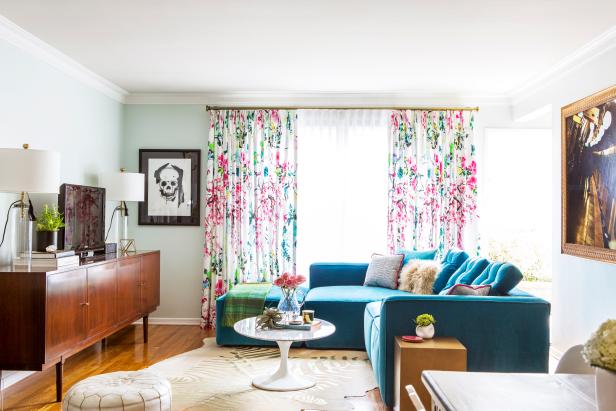 Blue Eclectic Living Room With Floral Curtains
Dramatic artwork and a long wood cabinet keep the colorful style of this eclectic living room from feeling precious. The floral curtains deliver the biggest hit of pattern; a solid blue sofa and aqua walls temper the small, busy print.
Fully committing to a certain style is a big deal, but you can avoid the stress by incorporating easily swappable trendy accents. The ideal spot to start? Your windows. Skip the paint and wallpaper and go for a chic fabric to outfit your windows instead. Bright floral curtains will add personality and playfulness that may have been missing before.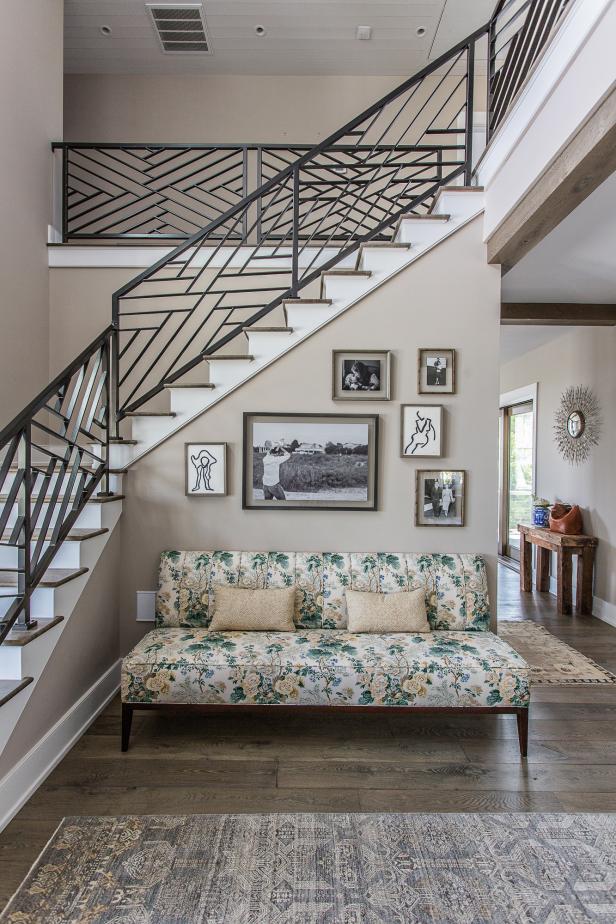 Foyer With Framed Art & Floral Settee
A nook below the staircase is the perfect space for displaying photographs as seen here with a small gallery wall. A floral settee adds just the right amount of femininity and style to the design.
Traditional patterns don't necessarily look all that traditional when showcased on a modern piece of furniture. Custom upholstery gives you the chance to think outside of the box and make an unexpected choice when updating old furnishings. The aesthetic of this modern entryway is made even more stylish with the addition of a classic floral settee.
Contemporary Pastel Dining Room With Vibrant Floral Chairs
Vibrant floral dining chairs with Lucite legs are the highlight of this pastel dining room. A sparkling chandelier hangs above the sleek white dining table, while a gallery wall of colorful prints coordinate with the standout seating.
Bright, monochromatic rooms are the ideal blank canvases for dramatic prints to really shine. These design-forward dining room chairs sport lucite legs, which make the bold floral upholstery come to life even more. Whether you want to go all in with a complete set or just add an accent chair, this is a no-fail way to transform any dining space.
Much like florals, wallpaper often has a negative stigma attached to it. While certain styles can seem outdated, there are also tons of gorgeous options that would create a dramatic effect in any space. While wallpaper throughout an entire bathroom can look amazing, choosing only one wall as an accent adds depth and extra character to this tiny room.
Vintage Baskets and Floral Fabric Decorate French-Inspired Patio
Vintage picnic baskets stacked around your space will create a unique and collected feel. Lavender plants smell delicious and will bring a lovely pop of color.
Bethany Nauert; Styled By: Paige Geffen
This home proves florals don't need to be reserved for interiors. Show your outdoor space some love by adding flower-inspired touches, too. Small accents like tablecloths, cloth napkins and tea towels are easy ways to introduce these must-have patterns into your decor scheme. Try mixing in current obsessions, like rattan, to make anything feel fresh.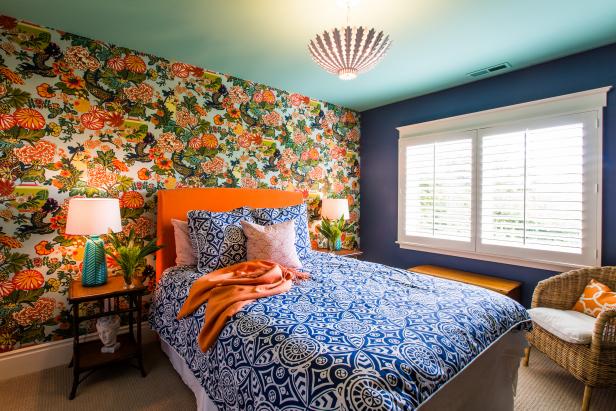 Bold Bedroom With Floral Accent Wall
Bold colors and patterns join together to create this playful bedroom design. The floral accent wall features pops of orange also found in the headboard and throw. The graphic blue and white bed linens tie in with the blue wall adjacent to the colorful, floral wall.
Sometimes more is more, and this colorful bedroom proves just that. One way to make any traditional element seem modern is to mix and match patterns. By pairing a classic wallpaper with bedding that's equally as bold, this room was transformed into a stylish oasis. Don't be afraid to use multiple patterns, prints and colors when decorating. These bold combinations often yield some of the most high-style spaces around.
9: Tie Everything Together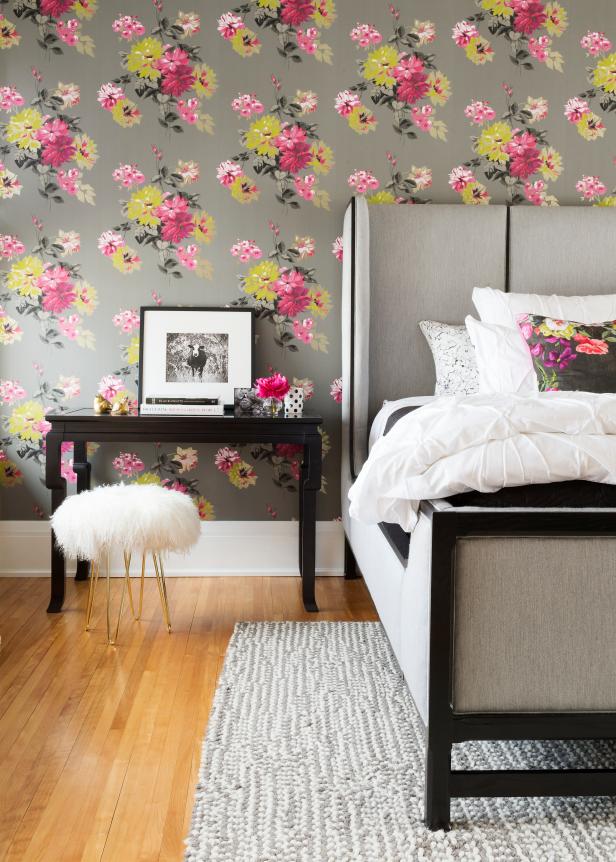 Feminine Bedroom Boasts Fun, Floral Wallpaper
Gray wallpaper with a fun floral print in pink and green sets the tone for this chic, feminine bedroom. Black, white and gray furnishings add lovely contrast and keep the space from appearing too busy.
Susan Gilmore Photography
Add continuity to your floral-filled design by using similar patterns throughout the space. The romantic wallpaper in this bedroom makes a huge impact thanks to the matching pillow and fresh flowers in the same color palette. By bringing similar patterns into other areas of your room, the main focus will be even more of a showstopper.
Don't want to stop at only one wall? No worries! A completely wallpapered room is what floral-loving dreams are made of, especially in the case of this ultra modern living space. This floor to ceiling print is the perfect backdrop to the mid-century furniture that fills this impeccably-designed home. And painting the baseboard molding to match the flowers in the wallpaper was a genius finishing touch that makes the room feel anything but traditional.