Why I Decided Not to Get Central AC
Get the pros and cons of ductless cooling and heating. Is it right for you?
When my husband and I decided to purchase our home in Los Angeles, we had quite a few things on our renovation wish list. A large outdoor reno, new floors and fresh paint all made the list. But the number one thing I wanted to tackle ASAP was installing central air conditioning.
Our first appointments at the house — even before we closed on it — were with HVAC specialists. It was priority numero uno for me. But, spoiler alert: I quickly changed my mind, and we never actually installed central AC.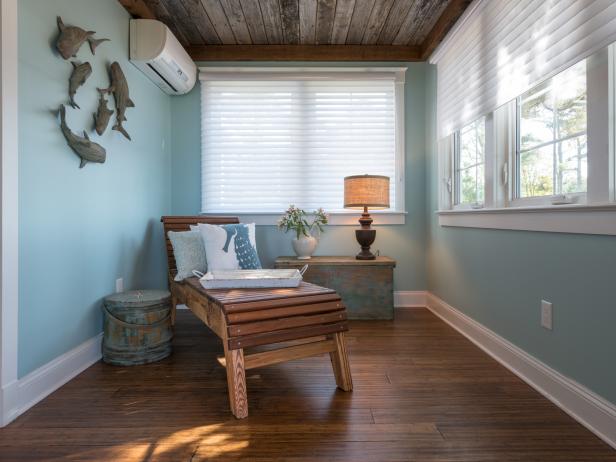 diy_bc13_sunroom_01_wide-view_h
DIY Network's Blog Cabin 2013 is a circa-1892 coastal cottage located along the Crystal Coast in North Carolina. The home has been remodeled, based on online voters' selections, and will be given away to one lucky winner in a home sweepstakes in Fall 2013. Pictured is the sunroom.
It's almost two years later, and I couldn't be happier with our decision. Here's why (and what we did instead!):
We Decided on Split Ductless AC Units
A ductless mini split AC or split ductless AC, is an alternative solution for cooling that has gained popularity amongst homeowners over the last decade or so. Like a central AC system, there are two main components: an outdoor compressor/condenser and an indoor air handling unit. However, no ducts are required for this type of system, and the indoor air handling units are much sleeker and more compact than the central AC counterparts. The indoor units are typically either hung from the ceiling or mounted on a wall.
Small Attic (or No Attic)? No Problem!
When I hear the word "attic" I think of a cavernous space stretching the entire footprint of a home. So you can imagine my surprise when I discovered that our attic was nothing more than a crawl space….and a tiny one at that. We had four HVAC specialists come out to our home, and they all concluded the same thing: there is NO way we were fitting an air handler up there. We have no basement, so our last option was the roof.
The hitch with the roof was that we live on a hillside, and our home was built in a way that it almost appears tucked into the mountain. Adding a big air handler on our roof would have really ruined the site line. We were also told that because our home is so tiny (less than 750 square feet!) and we have a mostly flat roof, it would sound like an airplane was landing on our heads every time we turned on the AC. At this point, my central AC dreams were pretty much on life support.
You Can Control Temperatures By Room
But when I started to think about all the advantages of a ductless system, slowly but surely I started to change my mind.
The fact that you can control the temperature by room was really exciting for me. I'm usually freezing and my husband is usually hot. Hanging out in our steamy living room while my husband enjoys the arctic temperatures of his home office has now become the norm for us.
This also allows you to be far more efficient in your home by completely turning off the AC at night or even during the day in areas of the house that are empty. Things cool off so quickly, that if I wake up in the morning and it's hot in the kitchen, in 10 minutes it feels cool as a cucumber.
Needless to say, this has definitely affected our monthly electricity bill in a very positive way.
You Get AC/Heat All in One
We chose ductless units that have both AC and heating capabilities in one. Though living in Southern California doesn't require much in the way of heat, we do sometimes have some cool winter nights, and it's so great to be able to quickly turn on the heat the same way we turn on the AC.
Speaking of quickly turning things on, I also really love that ductless units come with remote controls. Because ours are mounted high, we can't reach them. However, the remotes make turning them on or off, or even changing the direction of the vents, super-duper easy.
While I am super happy with our decision, there are some cons you should know about before you decide on installing a system like this in your own home.
I had assumed that since we decided not to go with central air, installing a ductless system would be way cheaper…but that's actually not true. In our case, it was slightly more expensive to go this route. Depending on how you set your space up, you need one unit for each room or alternatively each "zone" in your home. We really wanted to ensure that every space in our home was able to be cooled with ease, so we went with one unit in each room.
We're also lucky enough to have a little guest house (which we Airbnb!), so we needed to install a unit out there, too. All in all, we have three units in our main house and one unit in our guest house.
Of course, pricing varies depending on the setup you decide on for your own space; however, you might find that there is not much (or any!) savings when going with this sort of system.
Being an interior designer means that I sometimes get distracted by aesthetics. And personally, I prefer the look of a flat vent in the wall or ceiling (which you find with central AC systems) to one of these ductless units. However, I do think that these units are much more attractive than the typical window AC unit, so I quickly got over my hesitation on that front.
Somewhat related to the aesthetics issue is the placement of these units. Ideally, the inside unit should be placed as close to the outdoor compressor/condenser as possible. But in some cases, I opted to not follow this rule.
In our bedroom, for example, the ideal placement of the unit called for it to be installed directly above our bed. However, I just didn't love the look of that. So I opted to have the unit installed across from the bed above our closet.
If both central AC or a ductless system are not good options for you, there are a few alternatives:
Portable AC Units: These are stand-alone units that don't require any permanent installation and can actually be moved from room to room in your home. Even if you do have a ductless or central AC system, sometimes adding a portable unit is a good idea for energy savings.
Window AC Units: While slightly less flexible than the portable units, window AC units are a great option for renters, especially those who live in apartments. Much like the ductless units, this solution is very energy efficient, as you're able to cool each room individually. Units can be installed directly in a window and removed during the winter months or when you move out.
Fans: Fans have actually come a long way over the past few years. You can choose to go with either a portable fan (similar to the portable AC unit), or go with a ceiling-mounted fan. Again, these are sometimes great add-ons even if you do have a central or ductless system installed, as they give you a bit more flexibility on a per-room basis.