7 Ways to Pretty-Up + Organize Your Vanity
Add a little glamour to your routine.
Okay, so, the most common place to get ready is the bathroom. I get it. The bathroom offers a convenient outlet to dry your hair or charge your phone, a sink to fix both major and minor smudges, a counter to host a sweeping mess and a nice, big mirror.
However, I'm here to convince you that storing and applying makeup in the bathroom is a big, boring mistake. It's time to take that getting-ready routine elsewhere. There are countless ways to up the fun, function and style of your gussy-up game.
How? Why? What? Keep reading, beauty queens.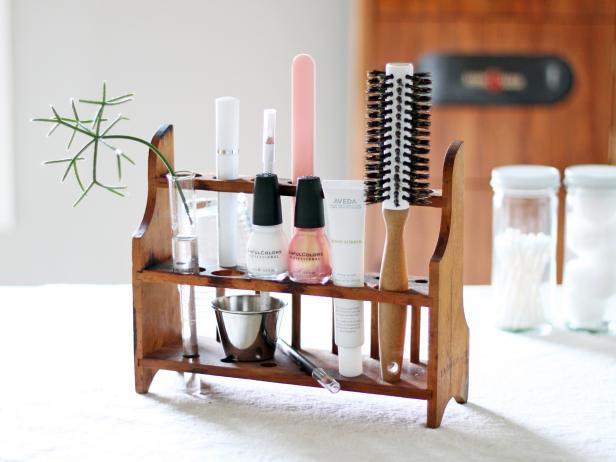 Vintage Wood Rack Holds and Organizes Grooming Accessories
A vintage test-tube rack keeps all your grooming tools neatly in one place. Brushes, nail polish and nail files fit perfectly in the test-tube compartments, giving your bathroom an organized look and keeping everything conveniently at your fingertips.
Photo courtesy of Melissa Hruska
Hot and steamy bathrooms can be great because — let's face it — no one likes facing a freezing bathroom during the post-shower towel-off. As great as the steam can be, it can be doubly bad on beauty products. Exposing your pricey face creams, foundations or lipsticks to a tropical climate is a sure-fire way to lessen their lifespan and effectiveness. Keep them in a cool, dry place and save yourself from wondering why your makeup is starting to look wonky halfway through your supply. Have I convinced you to leave the bathroom yet?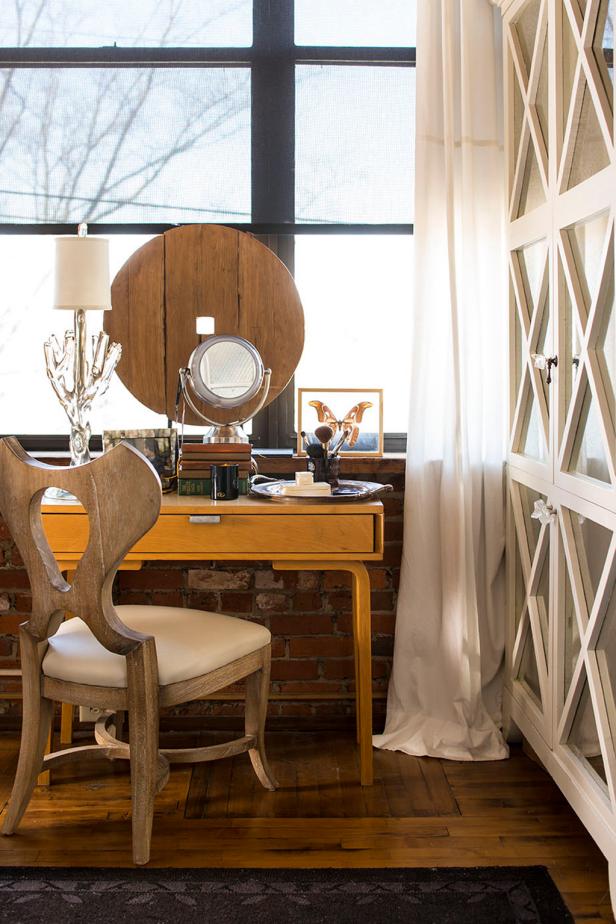 Makeup Vanity in Bright & Stylish Loft
Looking for a flawless makeup application? One way to make that happen is by applying your makeup in a room with tons of natural light. The more, the better. This allows you to get the best idea of what your face really looks like before walking out the front door. Pro tip: Before you commit to a space, consider when you get ready. Make sure the sun will be on your side, literally, during the time of day you typically get ready.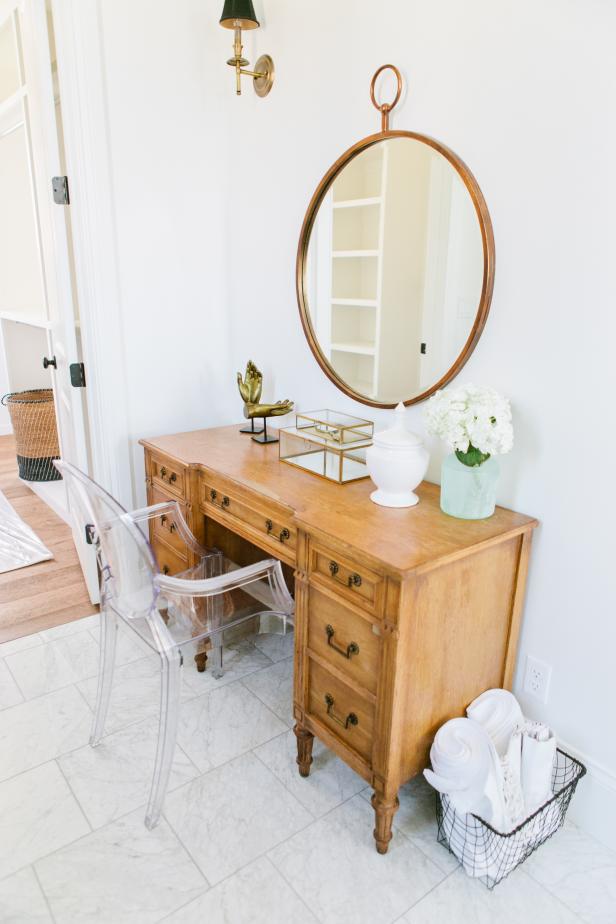 Makeup Vanity With Round Mirror & Lucite Armchair
Opt for fresh, white walls in whatever room you plan to place your vanity. I love a vibrant green or yellow space, don't get me wrong, but vivid hues will cast a funny light that makes applying makeup ultra-tricky. White, on the other hand, works to your advantage because it will reflect any natural light in the room. (By now you know how important the natural light is, right? Crucial. Imperative. Paramount.)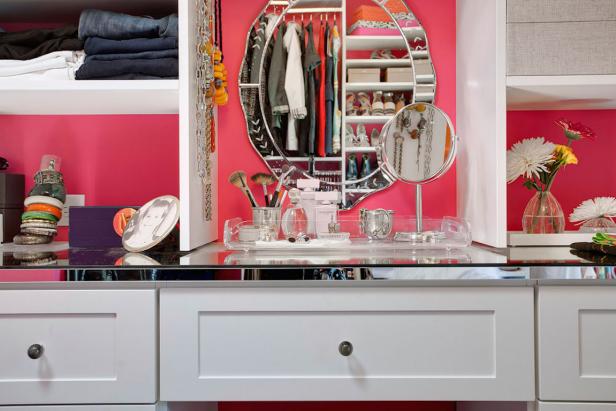 Pink and White Closet With Dressing Table
Trays are a great way to corral otherwise unrelated items for a look that's neat and tidy. In this closet, they're used for toiletries and makeup. Design by M. A. Allen. 
M.A. Allen
Trays are a great way to corral otherwise unrelated items for a look that's neat and tidy. In this closet, they're used for toiletries and makeup. Design by M. A. Allen. 
It's only right to show off some of those pretty potions and lotions, right? Add a bottle of your go-to perfume or a posh eyeshadow palette on a tray on top of your vanity. Another trick I love? Store brushes in your favorite candle jar after you've melted through it. Lucite organizers are favorites among the beauty bloggers, too!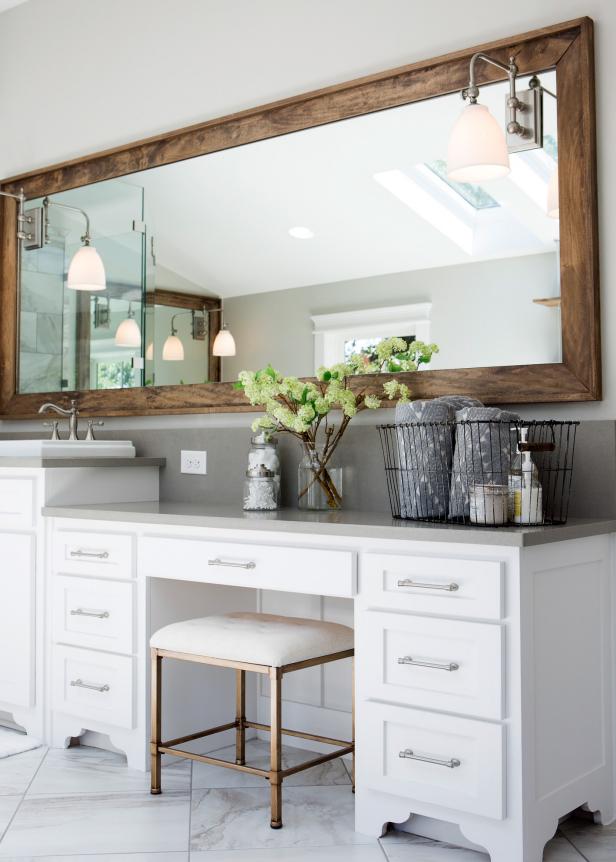 Remodeled Master Bathroom With Built-In Makeup Vanity
Jennifer Boomer/Getty Images
Truth time: We all own banged-up beauty products that still have some mileage left in them, right? If your crusty concealer with a missing twist-on top can still get the job done, who am I to judge? Still, organizing your vanity and keeping most of your products (cough, crusty concealer, cough) out of sight will keep your space uncluttered and accessible. Add built-in drawers, wire bins or tabletop acrylic storage set to achieve just that.
Mirrored Makeup Table in Luxury Contemporary Dressing Room
No more running around the house in your robe! Make your getting-ready routine a one-stop shop by positioning you vanity inside your walk-in closet. Whoever said the magic happens in the bedroom clearly never had a vanity inside a walk-in closet, am I right? Note: This is best suited for closets either containing a window or located near a window because — natural light. Have I drilled the importance of natural light into the ground yet?!?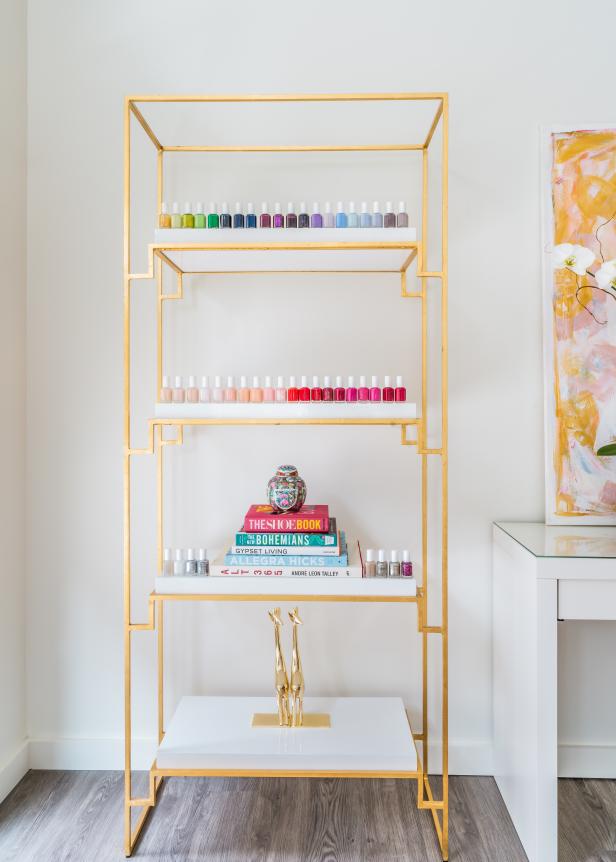 Midcentury Modern Shelf Adds Personality and Storage Space in Boutique Salon
Nothing says glam quite like a gorgeous, gilded bookshelf full of every color nail polish you could dream of. Replicate this idea by creating easy-access, open storage for all of your beauty products and position it next to your vanity. Our trick? Keep the products you use the most at arm's level so you can grab what you need with ease.
Beautiful Makeup Storage Ideas
Ready to tame your makeup mess? Check out these major organization wins.
Yup, you read it right. We've got tips to make moving day less of a burden.
Never rummage for a bobby pin again with these easy and inexpensive vanity organization ideas.