Explore your options for a farmhouse-style kitchen, and get ready to create a warm and welcoming kitchen design in your home.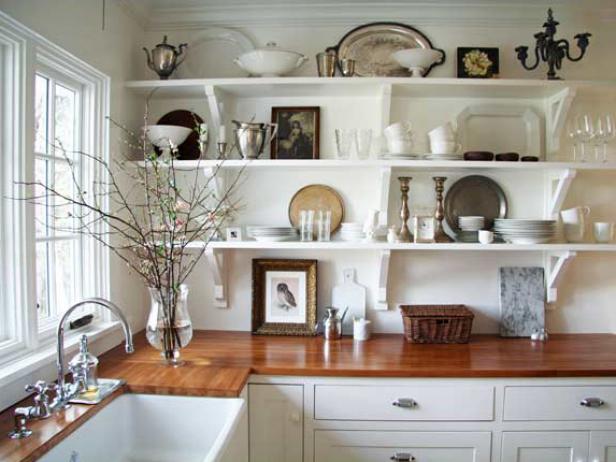 CI-Trina-A-Country_Farmhouse-Kitchen_s4x3
If your kitchen is short on cupboards or if you just want to make it seem more spacious, opt for open shelving. You can show off your favorite dishes while keeping your kitchen feeling open, airy and a little less small. Image courtesy of A Country Farmhouse.
If your style tends towards the warm and welcoming—perhaps with a pinch of down-home, country comfort—you may want to explore your options for a farmhouse-style kitchen.
9 Ideas to Keep Your New Kitchen Functional and Organized
See All Photos
Farmhouse-style kitchens tend to focus on natural materials, unpretentious design, and cooking spaces that can accommodate large meals. Guests should always feel welcome and comfortable in these spaces, even if their boots are still dirty. Cabinets, chairs and tables are often constructed from quality hardwood, with cherry, maple, oak and pine particularly common choices. Pine is an especially popular choice for farmhouse-style kitchens—its knotty, natural appearance can make it a perfect fit for the down-home appeal of a farmhouse kitchen.
Cooking implements, appliances and storage are also important facets of farmhouse kitchen design. Sinks have a special place in farmhouse kitchen design. The classic farmhouse sink features a deep, wide basin often made of porcelain or stainless steel; it's capable of catering to the cooking and cleaning needs of a large, farm-to-table style meal. Even if they don't feature a 'farm-sink' in this style, many farmhouse kitchens still incorporate old-fashioned porcelain sinks. These classic sink types offer a great combination of style and function, making them a popular choice among homeowners looking to create a striking focal point for their farmhouse kitchen design.
For seating and dining options in farmhouse kitchens, high-quality woods are often the first choice. Tables are often classic "farm tables"—long planks of oak or other high-quality woods fitted closed and sturdily together. Table and chair legs and back supports may feature rich detailing, and chair backs may even incorporate carvings featuring pastoral or farmhouse scenes.
The use of certain fabrics and patterns for curtains, tablecloths and placemats in farmhouse kitchens is quite common. Plaid, gingham and toile are quite common choices, with the latter often featuring pastoral or historical scenes from farming eras gone by.
Accessories like cookware, containers and other storage options similarly tend to reflect a countrified, down-home theme. Straightforward flatware designs may feature rustic wooden handles. Mason and other traditional canning jars may be used for storage, reflecting the historical traditions from which farmhouse kitchen design grew.
Finally, ancillary design touches like artwork or antique farm equipment may be used to add visual interest to a farmhouse kitchen design, artfully hung from walls or integrated into the design next to more contemporary cooking implements.
More Kitchen Design Styles