Outdoor Kitchen Countertops Ideas
There are several options for outdoor kitchen countertops — natural stone, concrete and tile are the most popular. What you choose should depend on your budget, climate and your particular backyard.
In an outdoor setting, inferior craftsmanship will deteriorate quickly. When choosing outdoor kitchen countertops your priority should always be durability first and looks second. Otherwise, you'll find your investment going up in smoke.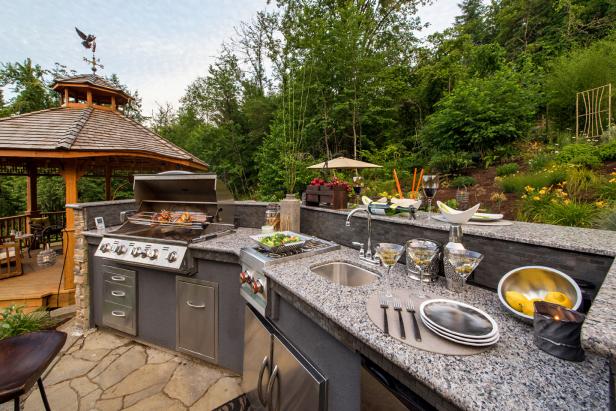 Gray Outdoor Kitchen and Gazebo
Adjacent to a gazebo, a large outdoor kitchen and bar follow the curve of the backyard. The kitchen has everything needed for grand outdoor entertaining, including a grill, cooktop and sink.
Planning enough counter space is your priority here. You'll want your counter depth at least 24 inches. Select a material that will suit the style of your house and your cooking style. Your best choices are natural stone, concrete or tile. If your heart is set on a manufactured countertop like quartz or recycled glass, talk to the manufacturer first. Most use pigments that are not designed to stand up to outdoor use, so if the counter is exposed to UV rays the color may change over time.
Creating a complete outdoor cooking space can be expensive, but you can still put together a great outdoor kitchen without spending a fortune. Learn how to find a balance between what you want and what you can afford.
There are many types of stone, and you can use any of them on your outdoor countertop, but should you? Porous stones like marble, limestone and bluestone may look great at first, but they stain easily, so you may be left with counters marred by grease or wine.
Granite's a popular, durable option. It stands up well to the elements, doesn't absorb stains or odors as easily as other stones, and shouldn't fade in the sun. "Look for a style that doesn't have a lot of veining," says landscape architect Steve Chepurny of Beechwood Landscape Architecture. "The epoxies and fillers used in heavily veined granite can have a negative reaction to the UV rays."
With granite, choose a mid-range color. Darker stones will absorb heat and you can burn your hand if you touch a really hot countertop.
Another durable stone option is soapstone. Available in a range of gray to black shades, your color choices are limited but soapstone has lots of pros in its favor, like heat-, stain- and bacteria resistance. Also, unlike granite, soapstone is non-porous so regular sealing isn't necessary. It can also stand up to acidic foods, like citrus, vinegar and tomatoes, which is a big bonus in any kitchen prep area.
Explore beautiful outdoor kitchen design ideas for inspiration for your own backyard cooking space.
It's at the top of the trend heap right now thanks to its clean, contemporary look, but choosing concrete's not a no-brainer. Why? It's prone to cracking if not installed correctly. "When we do custom concrete counters we reinforce them with tensile steel," says Steve. "And you still have to worry about cracking."
Finding an experienced installer is everything. If you do, you'll have a virtually infinite range of custom color options, and can even integrate features like a draining board beside the sink. Concrete must be sealed on installation and resealed regularly.
Aesthetics are important but when it comes to building an outdoor kitchen, functionality and durability reign supreme. Read our professional tips to budget, plan and design an outdoor kitchen that will add value to your home and lifestyle.
Tile offers the widest range of style options. You can go with an ornately patterned style, or a stone look, or just about anything in-between. It's frequently affordable, and it's the easiest do-it-yourself surfacing material of the bunch. Choose freeze-proof or porcelain tile rather than ceramic because it's more resistant to fading or discoloring. A few words of precaution: Grout will often stain even when sealed, so it's best to go with a dark color. If you live in a cold climate, the freeze-thaw cycle puts the grout and tiles at great risk of cracking. Thus, you may want to hire an installer who knows the business very well. They will use products appropriate for your climate and can instruct you on proper care. If you are going the DIY route, be sure to use a waterproof board rather than plywood for the base of your counters.
Cook up the outdoor kitchen of your dreams with our easy, low-cost DIY projects.
What Not to Use for Outdoor Countertop
Materials you want to avoid entirely for your outdoor kitchen's counters are marble, quartz and laminates. Quartz, limestone, bluestone and marble are beautiful, but they are more delicate than granite so they may stain and may not stand up to extreme heat. Laminate may seem tempting when you consider its low price, but at the core, laminate countertops are made from particleboard and will quickly warp or rot in hot, humid or wet weather.