Maximize your small kitchen with these ideas for reconfiguring your design layout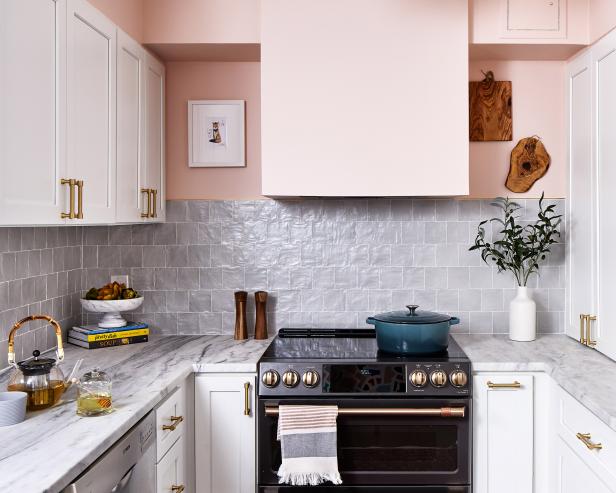 Marble Countertops Meet White Cabinets in Pretty Pink Kitchen
In this tiny kitchen, the black-stainless oven's range hood is painted a delicate pink to conform with the exposed wall above the gray backsplash. The beautiful veining in the gray countertop ties the backsplash to the white Shaker-style cabinets for a timeless look.
With small kitchen layouts, it's not how much space you have; it's what you do with it. From a narrow galley-style to an eat-in kitchen, here are design solutions for configuring your small kitchen for maximum efficiency and style.
A smart kitchen design layout can make any gourmet feel right at home cooking in cramped quarters. Case in point: the galley layout, which shapes the kitchen into a narrow aisle. By situating the cabinetry and appliances against opposite walls, full-height cabinets are a good option for taking full advantage of your wall real estate.
Another idea for a small kitchen layout is to consider exposed cabinetry. The open shelving establishes an airy feel to the room. Further this goal of creating the idea of roominess in your galley kitchen design by slapping a fresh coat of white or light-colored paint on the walls and cabinets. The uniformity of monochromatic colors creates the impression of spaciousness in a tight space. Tying your small kitchen's style to that of the adjoining room, whether by flooring, cabinetry, or color, is another tip for making the compact space appear larger through a sense of unity.
For those extra-small kitchens found in studio apartments or mobile homes, the key layout tasks are paring down to the bare necessities, concealing features and integrating multi-tasking elements.
First, eliminate the extras. Exchange pendant lights for recessed lighting and swap space-hogging appliances for models that can be tucked in drawers. Secondly, make a place for everything and put everything in its place. To this end, consider a pullout pantry or extend a windowsill for an extra storage perch. So that your tiny kitchen layout works double-duty, install a retractable eat-in peninsula that doubles as counter/dining space. Opt for chairs that also serve as seating in the living room. Who says tiny kitchens can't yield big results?
Every culinary headquarters needs a space for dining. Whether you have an island or a peninsula, utilize this surface in your small kitchen design for cooking prep, dining and as a buffet for entertaining. Bringing in an island on casters provides a mobile dining space when you need, it and it can be rolled away when you don't. Another idea for designing an eat-in space in your small kitchen is to install a built-in booth to accommodate the tight space. With a thoughtful design, you can also use the space underneath the seating for extra kitchen storage.
Small kitchen designs require some thoughtful planning, not only for the floor plan, but for the seating as well. For example, backless stools are easily tucked under kitchen islands, while armless chairs too are able to scoot right underneath a kitchen table. A built-in bench is another smart choice and space-saver, especially if the design offers added storage underneath.
Inspiration for a Small Kitchen