Boost your small kitchen with statement-making and easy-to-clean tile, and find out how small tile can make a major design impact on the backsplash, countertops and floors.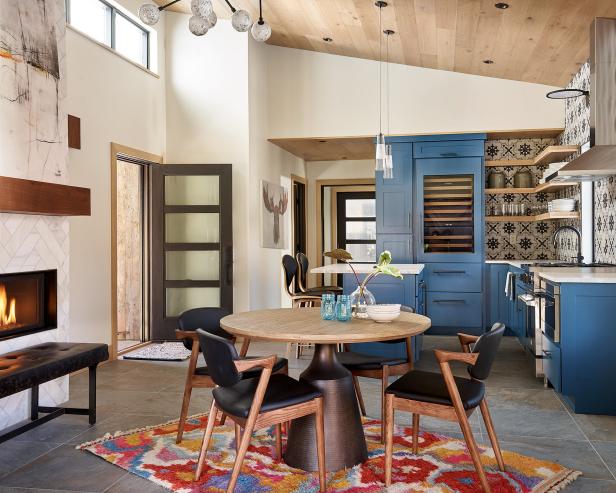 Modern Yet Rustic Kitchen and Dining Space
With floor to ceiling charm, this modern kitchen and dining space is rustic elegance. Welcoming you with a splash of color from every angle, there are blue cabinets, a vaulted ceiling with wood accent and patterned rug under the dining table.
Tile for small kitchens can help even a cramped space to feel like it's "living large." Covering your kitchen countertops, floors and backsplash in tile will help catch not only spills but also visual attention.
In a small kitchen, many of the extras are eliminated, allowing for decorative, yet hardworking tile to take center stage. Instead of being a one-size-fits-all addition, tile comes in a host of materials, shapes and sizes; choose one that complements the dimensions and style of your kitchen. Popular materials, from ceramic and terra cotta to porcelain, are typically found in square and rectangular shapes. These vary in size from small mosaic-ready tiles to large slabs. Because of this variety, tile is a great vehicle for introducing texture, pattern and color into your kitchen.
For starters, you can make a major design statement with a tile backsplash. Though created out of necessity — and generally installed above the stove and from the base of the countertop to the base of the cabinetry — the kitchen backsplash has risen to the role of focal point in many kitchens, depending on the elaborate nature of the designs. Because the backsplash in a small kitchen is a petite canvas, go ahead and bring in some pattern or color drama through tile. Ideas include uniform classics, like subway tile or a geometric herringbone pattern, as well as bold, colorful mosaics or custom-painted murals on tile. If lots of expensive tiles aren't realistic for your budget, then look at integrating a few of them into your design as accent tiles.
Next, create a connection between the tile backsplash and the rest of the kitchen by installing tile countertops. Given the small square footage of your kitchen, costs for this addition should remain lower than for an average-sized kitchen. In fact, tiling countertops is a budget-friendly alternative to solid granite or a marble slab. If you choose to add tile to your small kitchen counters, then be mindful of selecting a tile size that balances the scale of your small space. Ironically, when large format tiles are used on a horizontal line, they can make your countertops appear longer.
Another place to lay tile is the floor. Not only are stone, ceramic and glazed porcelain tile easy surfaces to clean — they're also extremely durable for a high-traffic kitchen. Consider too the amount of pesky grout lines there are to clean on your tile floors or other surfaces. To this end, the larger the tile, the fewer grout lines there are to contend with.
More Small Kitchen Design Ideas
Inspiration for a Small Kitchen