Paint Colors for Small Kitchens
Energize your small kitchen with a coat of fresh paint to the walls and cabinets, and consider soft neutrals or bold color combinations that will make your space seem larger and reflect your design style.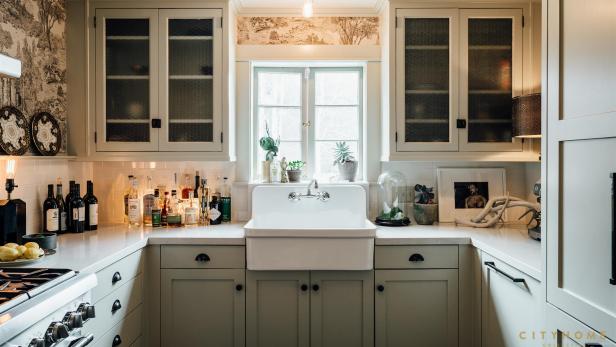 Gray Small Kitchen With Farmhouse Sink
To protect this historic home's original personality, designers kept the original bones and even some of the rooms' original wallpaper. The kitchen is wee but welcoming with toile wallpaper prettily offset by light gray cabinets. Under-cabinet lighting turns one countertop corner into an impromptu bar.
Never underestimate the power of great paint colors for small kitchens! Instead of a major overhaul, simple paint on kitchen walls and cabinetry can provide the lift needed to update and open up the confines of a small kitchen.
Many folks know that light colors create the impression of spaciousness, which is especially beneficial for a cramped kitchen. Traditionally favored white-painted walls and cabinets not only lighten and brighten a room, but they also maintain a visual simplicity and uniformity that works to keep your small kitchen living large.
For variety, explore the many sides of your chosen neutral hue by bringing in complementary shades. For example, mixing shades of whites, creams and taupes can add depth, warmth and sophistication to a small kitchen.
Another important tip for painting a tight kitchen space is to determine your design style before selecting a shade. For traditional or transitional-style rooms, your whites should be warmer, while modern or contemporary-style spaces call for whiter whites.
If you're bored with your all-white kitchen, then liven it up with a dose of light or bright color. Popular tones continue to be shades of blue, from deep cerulean to sea-green for some coastal flair. Sunny yellow and mint green are commonly used for a measure of vintage appeal. Of course, choose your favorite color to introduce your personality for visual impact. Or select a shade that complements colors used throughout your house, especially in the case of an adjoining room. You'll want to choose these color bursts strategically, so there's still an air of restraint in your small space. For example, simply paint the eat-in center island, the interiors of your cabinets or a single accent wall for the ultimate "wow" moment. All three ideas are playful and tonally in sync with your room—without minimizing the feel of spaciousness in your small kitchen.
Feeling even bolder? Go all-in with deep shades of black, navy, green and even red to deliver major drama to your favorite room in the house. However, consider tempering deep colors with contrasting white or light counters and backsplash.
More Small Kitchen Design Ideas
Inspiration for a Small Kitchen