Small Eat-In Kitchen Ideas
Make the most of mealtime with these design ideas for carving out a space to dine in your kitchen.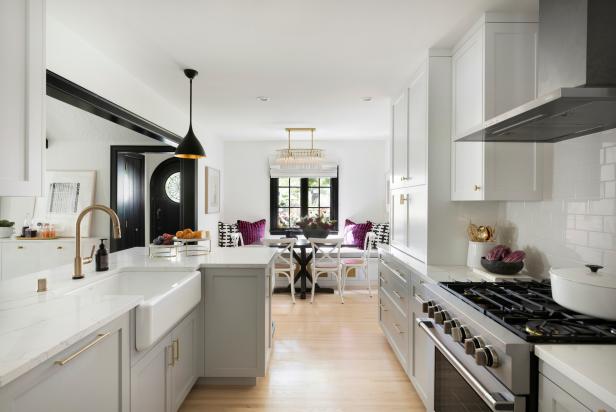 Bright White Open-Concept Living Space Puts Lighting Design in the Spotlight
Bridged by lightly veined quartz countertops, white cabinet uppers and pale gray lowers add subtle variation in this galley-style kitchen, now open to both the living area and a cozy and bright dining nook. Natural light is reflected by woven window shades that can be open from the bottom up, or top down, simultaneously offering ample sunshine and privacy from close neighbors. The home features chic lighting selections by way of a sleek chandelier in the dining nook and stark black pendant overhanging the bar.
Spacecrafting Photography
No matter its size, the kitchen is undeniably the heart of the home. Even if you have limited space, you can combine the spaces for cooking and dining by applying some small eat-in kitchen ideas.
Rather than relying on a single floor plan to transform your kitchen, choose from a variety of eat-in kitchen configurations that will maximize space and style in your small room. From dining tables and central islands to built-in banquette seating, here are layout ideas for making your eat-in kitchen an ideal gathering spot at every meal and in between.
Perhaps the most traditional kitchen layout is the family table—a table, chairs and lots of conversation. Though this eat-in kitchen layout promotes togetherness, it can often make an already small kitchen appear quite cramped. One solution is to seek out tables with a pared-down silhouette. Think round designs with a single pedestal base, or try tall bar-style tables that take up vertical space instead of spreading out horizontally. It's a smart idea to pass up the bulky chairs with arms, in favor of slender bistro chairs. However, if your small kitchen just can't handle the addition of a table and chairs, then it's time to island hop!
Centralized kitchen islands are not only a stylish focal point to anchor your room, but in the case of an eat-in kitchen, the island serves double-duty as a cooking prep space and a dining table. Simply pull up a stool to the island and watch the cook in action. It can be the ultimate workhorse in your kitchen, if shelving and cabinetry is built into the island. To this end, consider an open-base kitchen island; it offers a lighter look and visual access to kitchen supplies and gadgets. Some eat-in kitchen island designs feature a table extension, called a peninsula, that serves as a dining table or a buffet space for entertaining. Another idea is to tuck a narrow table under the island's ledge for the same effect with no construction needed—unless you opt to attach locking casters for flexibility. Though your small kitchen is likely bathed in neutrals, the seating, such as upholstered bar stools, is a design opportunity to introduce a small dose of color and pattern into your small kitchen.
Perhaps the most charming of the eat-in kitchen configurations is the breakfast nook. The often L-shaped restaurant-style setup showcases built-in banquette seating with a fixed table, creating a defined mealtime zone. Because it can be eased into an awkward corner, the footprint of this eat-in kitchen configuration is surprisingly small. Traditionally arranged around a bay of windows, the cozy seating area takes advantage of natural light streaming in, which gives the impression of spaciousness in a small kitchen. A major benefit to this style is the potential for storage space under the built-in bench for tucking away appliances or other bulky items.
Inspiration for a Small Kitchen