Small Kitchen Decorating Ideas
Enhance your small kitchen with great decorating ideas. A little goes a long way in a small kitchen, so get inspired by pictures of inspirational rooms that deliver a balance of form and function.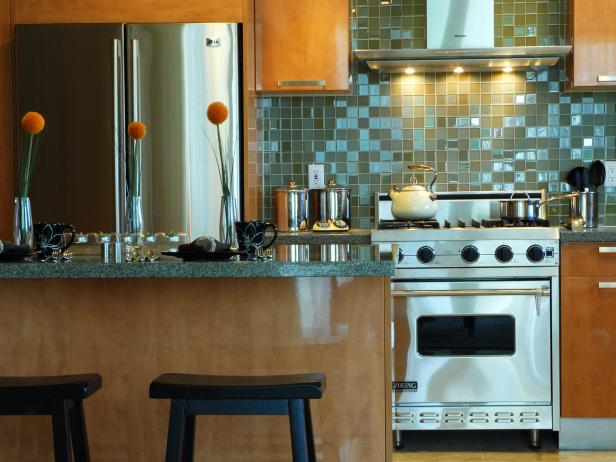 Unique Contemporary Glass Backsplash
Designer Ammie Kim wanted to give this kitchen a modern look by creating a unique backsplash. The glass tiles in the backsplash alternate between glossy and etched, complementing the glossy stainless steel appliances and honey maple cabinets.
"Less is more" when it comes to applying small kitchen decorating ideas, but that doesn't mean you have to do away with all of the extras.
With a dose of restraint to balance your kitchen's small scale, you can proudly display a collection, hang window treatments, and accessorize your kitchen to reflect your style.
Small Space. Big Style
Small doesn't have to mean boring. See how these designers packed a ton of style into small kitchens.
Space-Saving Ideas
Here are our favorite, creative, space-saving ideas for all of you tiny kitchen dwellers out there.
Don't believe what you've been told! Small kitchens do indeed have the potential to charm as much as their larger counterparts. Because visual clutter can minimize an already small space, approach your small kitchen redesign with the charge of keeping things simple. Attain simplicity by keeping countertops clutter-free. Take advantage of unused space, like a bare wall, the alcove above the cabinetry or an empty window sill to add decor sparingly. Uniformity also produces simplicity, as evidenced in a monochromatic color palette and grouping similar items. For example, create visual continuity by pairing like items such as a collection of decorative plates, a set of storage baskets or a grouping of photos in coordinating black frames.
Color plays an important role in decorating the kitchen, especially if you bathe the room in a flattering tone-on-tone palette that gives the impression of spaciousness. For a bold and unexpected design touch, not to mention a departure from play-it-safe white, consider painting an accent wall in a vibrant hue. An attention-grabbing wall adds depth and style, and it will even highlight architectural elements particular to your room.
Explore options for adding a splash of color to the kitchen with these inspiring photos.
Not committed to a broad stroke of dramatic color? Then infuse color and pattern through window treatments, a room-anchoring rug, or upholstery in a built-in banquette. Both basics work to soften the kitchen and are a reflection of your personal design style, be it casual or formal, classic or modern.
During the decorating process, remember to look up and assess your lighting situation. Although recessed and under-cabinet lights leave the smallest footprint in a small kitchen, a pair of pendant lamps above the center island or a trendy drum shade above the built-in breakfast nook will give the kitchen a finished look.
Everything in a small kitchen must serve double-duty, so cabinetry and shelves aren't just for storing dishes. With proper styling, floating shelves or glass-front cabinets are easily transformed into chic vignettes for treasures or a stack of cookbooks. If storage space is limited, then bring in a freestanding cabinet like a bookshelf or a baker's rack to hold your kitchen essentials.
More Small Kitchen Design Ideas
Inspiration for a Small Kitchen