Architect Ben Herzog applied his skills to his own kitchen and dining room, creating a space where family and friends love to gather.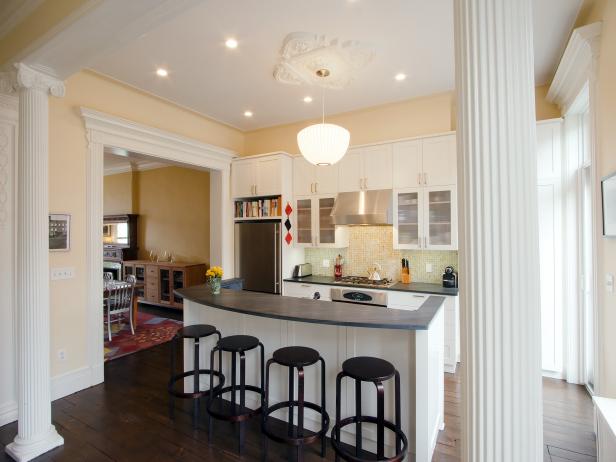 Yellow Kitchen Combines Traditional, Contemporary Styles
A whimsical blend of styles characterizes the small kitchen in this Brooklyn, N.Y., townhouse. Traditional architecture is emphasized with Corinthian columns, appliques and an ornate ceiling medallion, while a contemporay pendant lamp and sleek finishes add a contemporary touch.
When New York architect Ben Herzog needed to redo his kitchen, he turned to himself. Who knows the space better, right?
Ben shares his story about this townhouse kitchen makeover and what he loves about the design – and what he wishes he'd done differently.
What was your wish list for this design?
We wanted a nice, roomy kitchen where people could hang out while we cooked. We also wanted a deck off of the kitchen, both to increase our living space and to let in light.
What was your single biggest issue in this makeover?
Designing and installing the range hood was more convoluted and difficult than I anticipated. In retrospect, I wouldn't have bothered with the time or expense, since I rarely run it.
What was your biggest obstacle?
The columns! They're beautiful, but working around them made the space difficult to plan.
What's one design tip you'd offer our readers?
If I had it to do over, I would have opened the rear masonry wall to let more light in. I didn't want to spend the money then but now I think I would.
What was your favorite "surprise" of this design job?
We put a cubby in a 6"-wide space next to the sink for paper towels and cutting boards. It's been really useful.