Gather info on kitchen design styles, and prepare to install a stylish and functional kitchen in your home.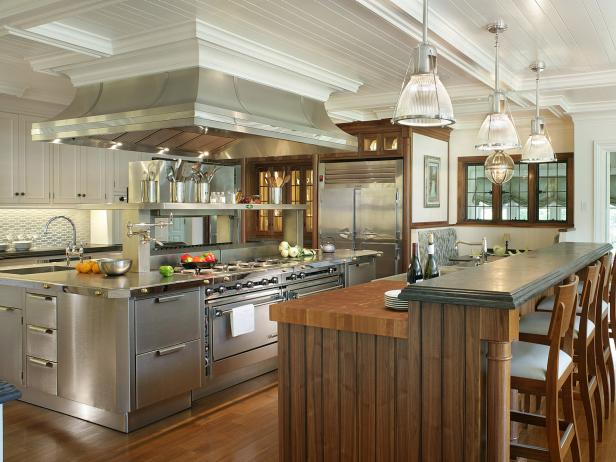 Traditional White Kitchen With Stainless Steel Island
This traditional kitchen features white cabinets, lots of natural wood and industrial-grade stainless steel appliances.
Peter Rymwid
This traditional kitchen features white cabinets, lots of natural wood and industrial-grade stainless steel appliances.
If you're considering a kitchen remodel or planning to install a new kitchen, you'll first want to peruse the wide range of kitchen design styles available.
From solidly traditional designs to strikingly modern ones, there's surely a style that will suit your design and functionality goals. With a little research, you're sure to end up with a kitchen design style that works seamlessly with your home's overall aesthetic and reflects your personal style.
A convenient way to think of kitchen design style is to start by dividing the many styles available into two main categories: traditional or modern/contemporary. Each of these categories contains many subcategories and offshoots, but by first identifying which of the two appeals most to your personal style, you'll go a long way towards narrowing the list of styles you'll have to choose from.
In general, traditional kitchen design styles reflect a period of historical inspiration, and they incorporate a variety of looks including Arts and Crafts, country/rustic and Old World/European. Traditional kitchen designs tend to feature more adornment and decorative flourishes, like cabinets with intricate woodworking or paneling, hardware and accessories inspired by their respective historical periods. In some cases, they may feature distressing or other weathering techniques to inspire a more cozy and inviting design aesthetic. Color palettes for traditional kitchens tend to feature neutral and lighter colors, as well as historic or period colors that contribute to a warm and welcoming feel.
Conversely, modern and contemporary kitchen design styles often incorporate up-to-date, present-era materials such as metal, glass and lacquered wood or laminate, and their design is often fairly unadorned, sleek and simple compared to their traditional counterparts. Angular cabinetry styles, simple and straightforward hardware, and flat, efficient surfaces are common in modern kitchen designs. Additionally, these styles may feature bold colors as an opportunity to express a bit of style personality, whereas traditional designs tend more toward muted or historical color schemes.
Some kitchen design styles resist categorization as simply modern or traditional. They may include references to nostalgia, or specific historical periods of the not-too-distant past. Vintage and retro kitchen designs are two of these outlying categories, and they may use the classic kitchen designs of the 1920s and 1930s to reflect a vintage vibe—or the post-war styles of the 1940s and 1950s for a space-age, retro twist on kitchen design.
Another unique kitchen design style inspired by rural traditions is generally categorized as rustic or country design. Extensive use of natural woods and colors brings the outdoors inside in these designs. Exposed beams and wood grain are other common features in country or rustic kitchen design.
Lastly, homeowners with an eye for global style may choose to feature a kitchen design that reflects a specific region of the world. French, Italian or Tuscan, Mediterranean, Asian and Spanish kitchen styles offer a wide variety of unique design choices, all of which are infused with the cultural and design traditions of their countries of origin.
More Kitchen Design Styles